Okay, so I got an email request for moar pics of the build, and any other info I could give. I took the build apart tonight to do a little bit more work that I haven't really had time to do, and took some pictures while I was in.
Here's a picture of the computer before working on it tonight.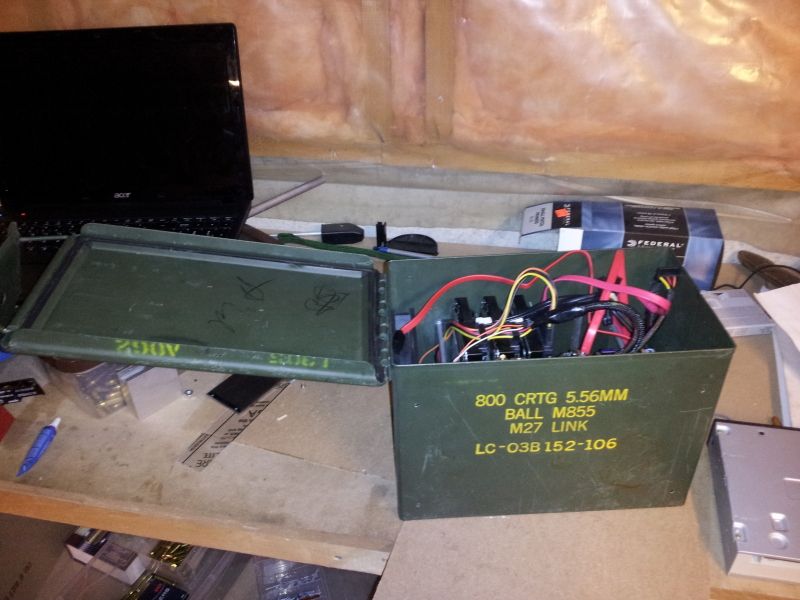 A picture of the drives that are stuffed in it. Note that I moved to an SSD to run ubuntu, over running freenas on a usb key. I'll talk more about this after showing detailed pictures of the build.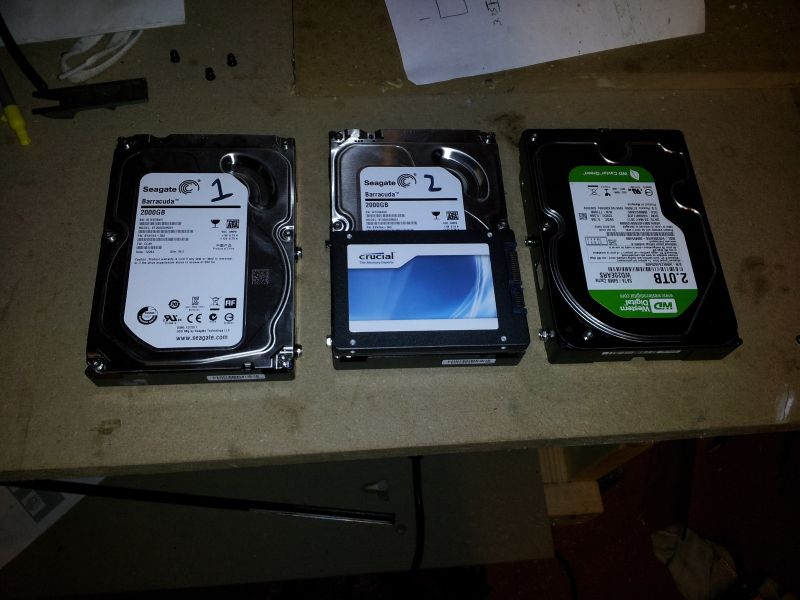 A picture without the HDD's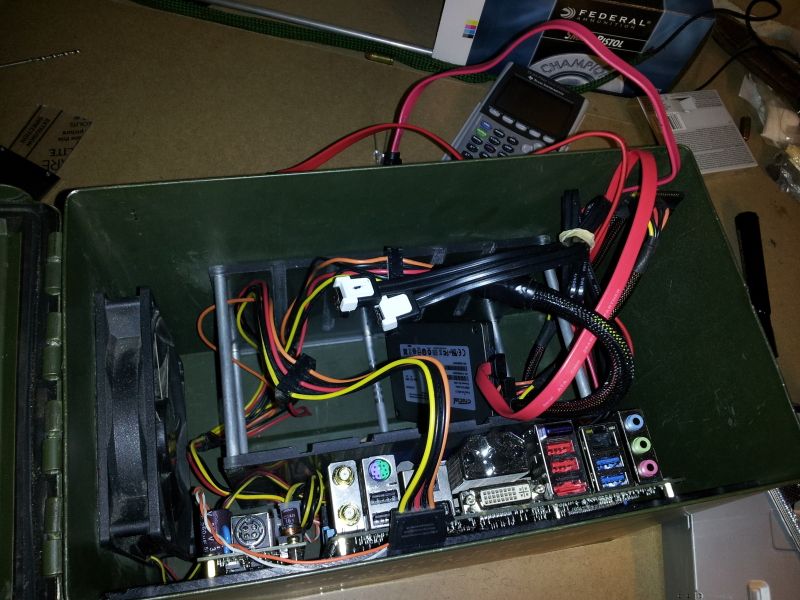 A picture of the hdd rack I made.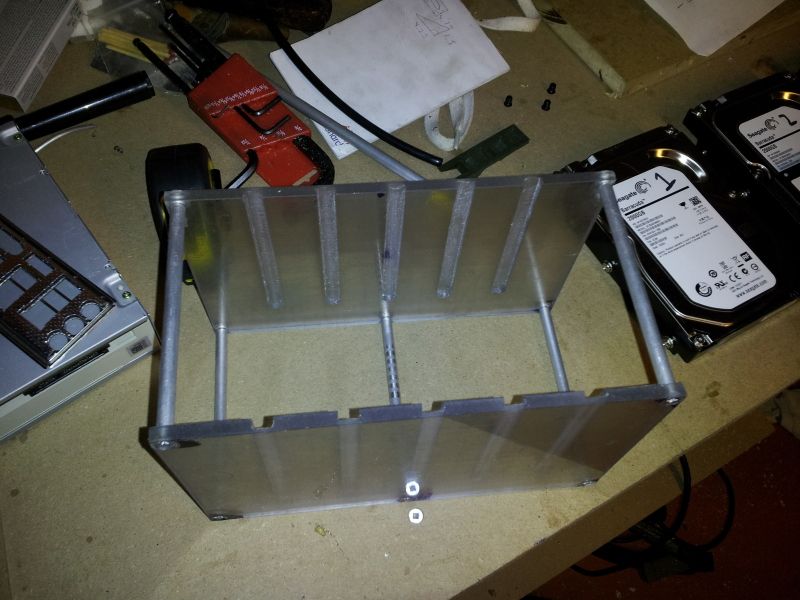 Note the build method. I drilled and tapped some aluminum rod in my lathe to act as supports.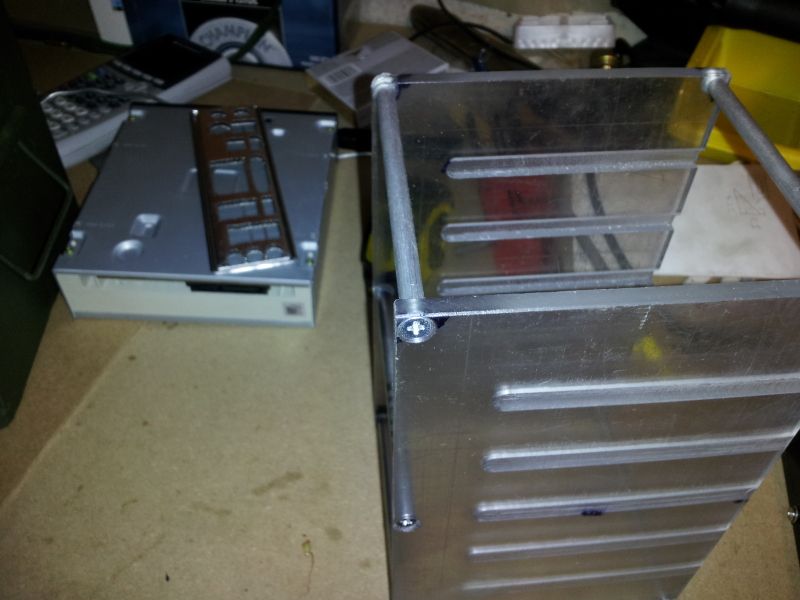 I decided to take the easy route, and make the slots in the acrylic the same size as the hex screws that are extremely common in computer cases.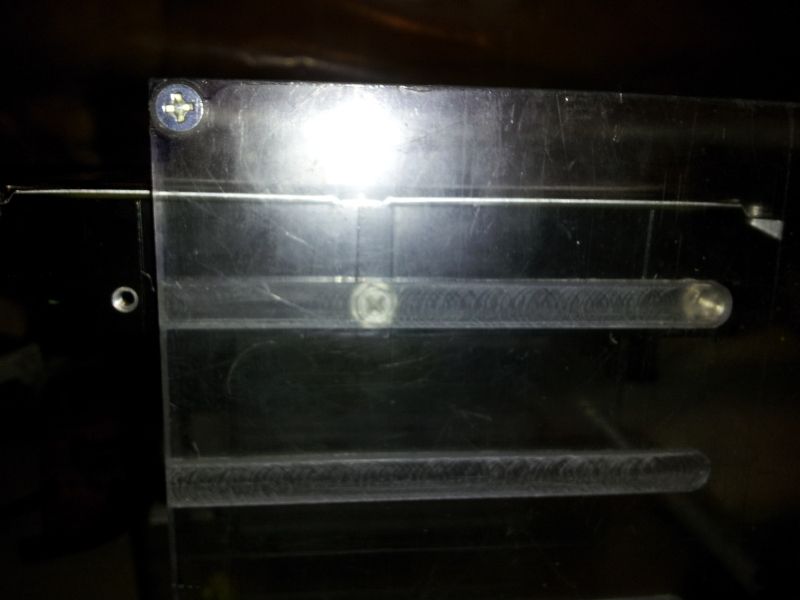 Homemade wiring harness that I made by cannibalizing a couple of PSU's. It's a molex connector with 7 sata plugs attached.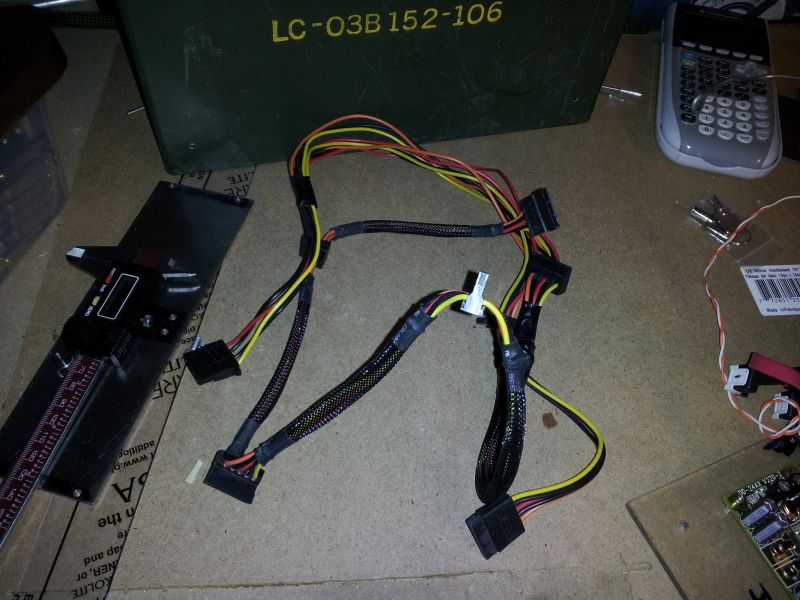 One of the initial build errors: I can't fit a full size 5.25" drive in the computer, as the MB is slightly too far over. We'll fix that.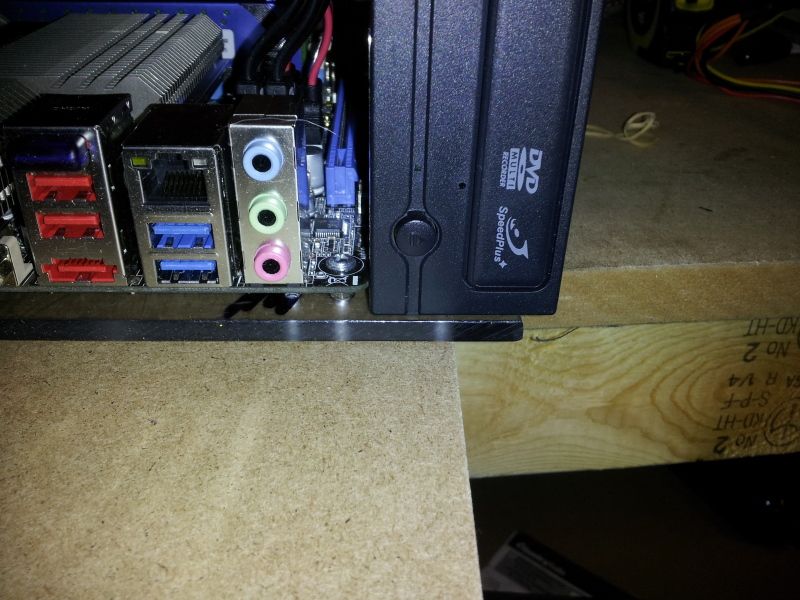 A picture of the acrylic board that holds the mb.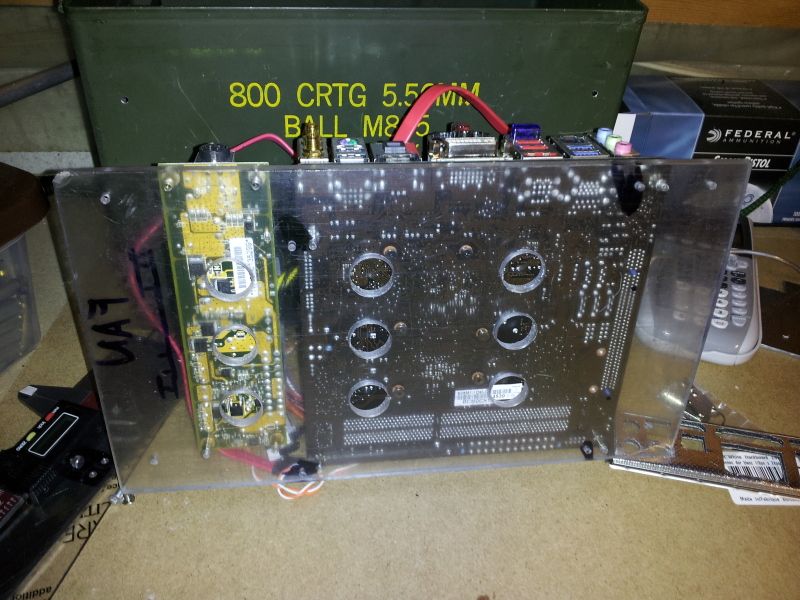 Remove the boards, and use this punch to mark drilling locations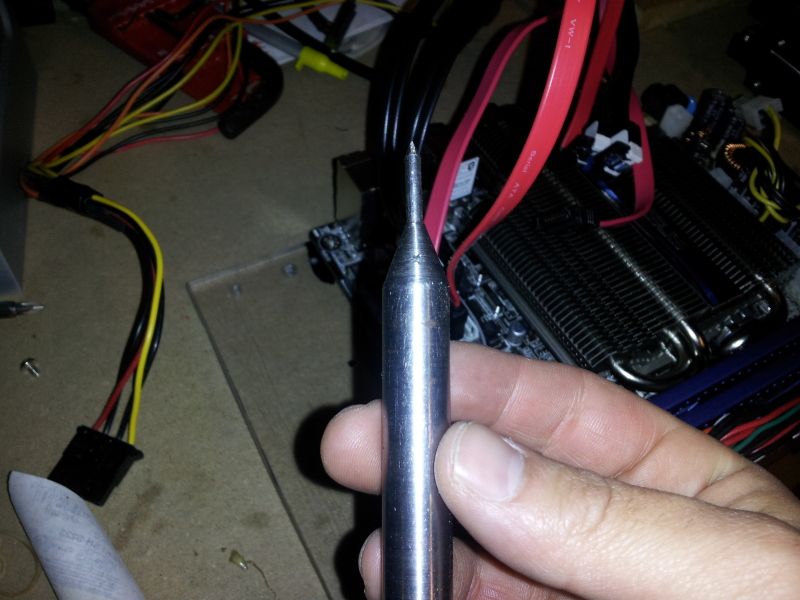 after drilling to 1/8", the board standoffs can be screwed into the acrylic without tapping at all, and hold quite well. picture of this completed, with a 5.25" drive fitting properly now.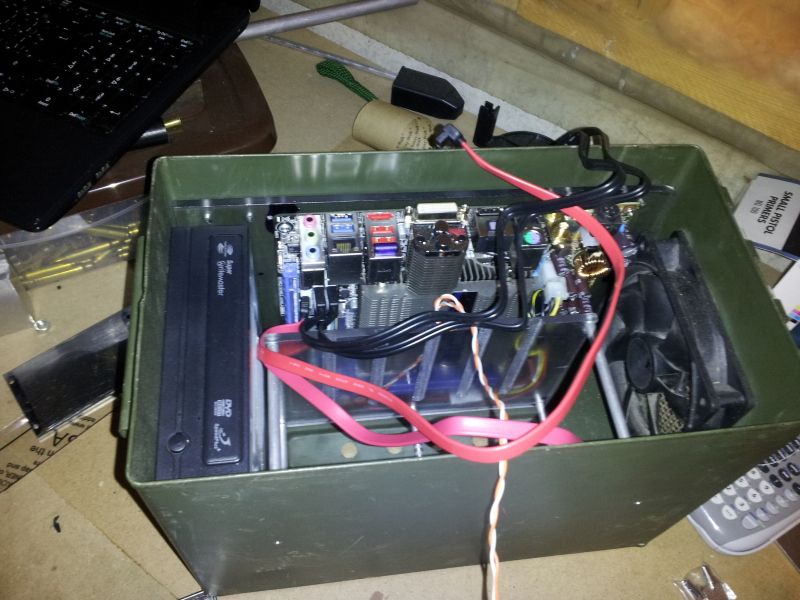 Here is an example of what I would consider the NAS to be at it's capacity. I'm not sure whether the PSU would be able to reliably run all of this.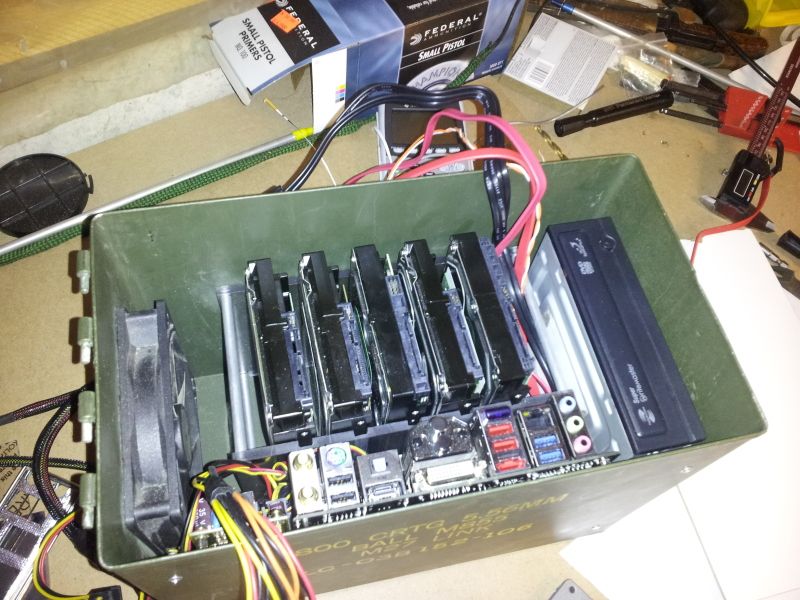 With the original 3 drives, and no optical drive. ( I don't even own any blurays, and my dvd's are packed away somewhere in a box that I haven't seen in ages) Allowing room for the optical drive was simply to allow for upgrading in the future. You can also see that there are rivets in place holding the acrylic board in place.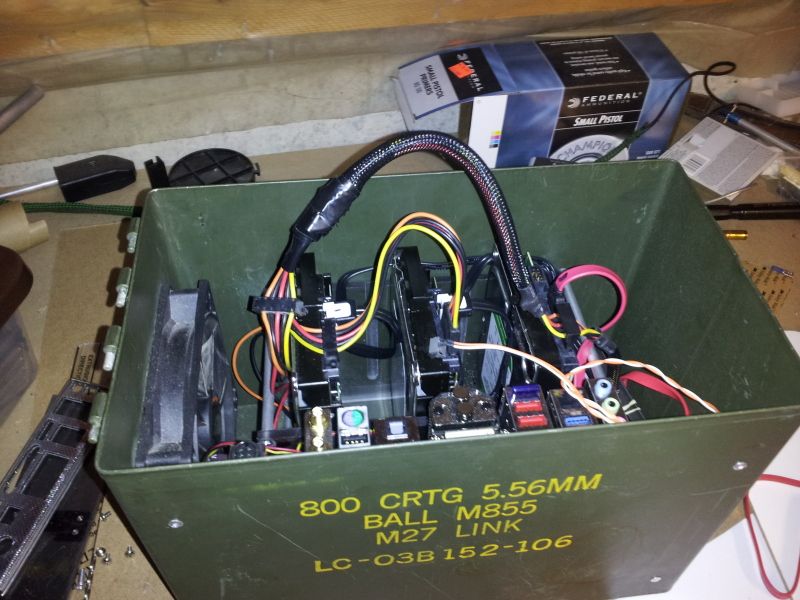 Here with a rubber grommet after drilling through the lid. I'll do a couple more tomorrow, 7/8" drill at 2:30 in the morning is liable to wake someone up.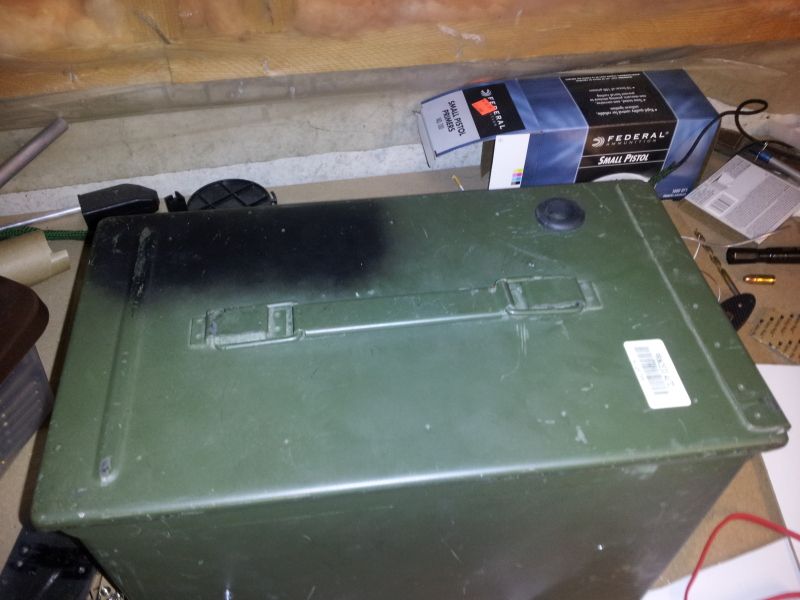 Luckily, it meets up with the power jack. I still need to acquire a nice looking momentary switch that I can install in the lid. I think finding a toggle style momentary switch would look pretty good.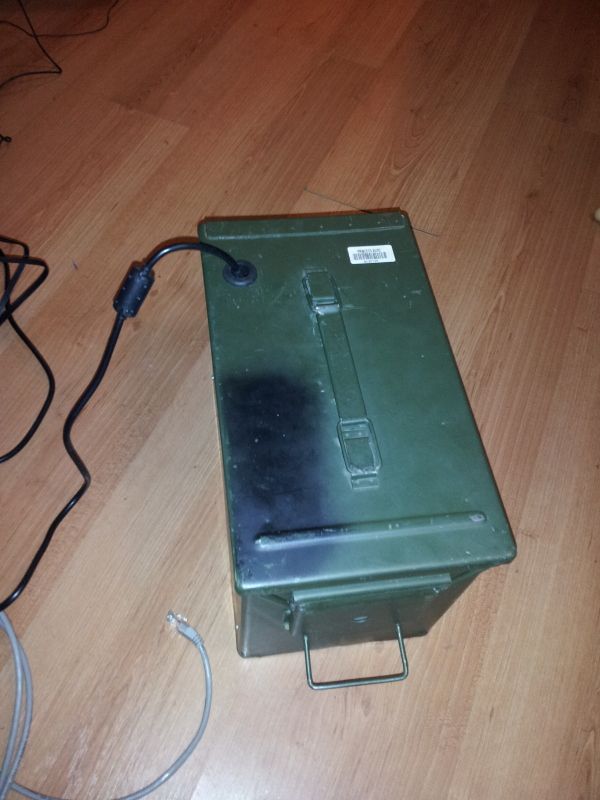 and here are some files being written to it.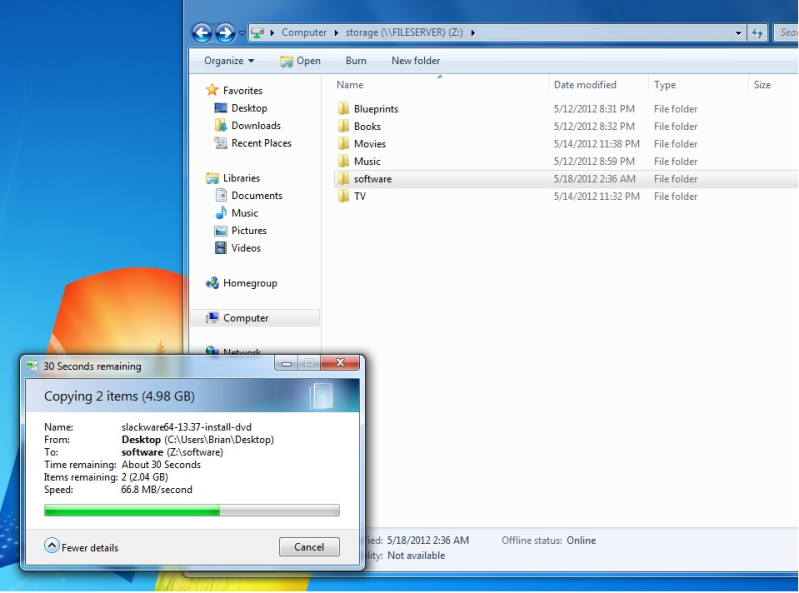 Software:
I chose ubuntu desktop 12.04 as my os after deciding to expand the computers capabilities past freenas.
Reasoning behind this was essentially to cease using my WD live TV box. My dog ate its remote, the android/ios remotes were a bit spotty, and it had occasional connectivity issues.
My first issue with ubuntu was simply trying to update. It turns out that the canadian repository for software doesn't work... at all. I changed the repository to the main one, and all was good. From there, I installed XBMC. This went fine.
I managed to install zfs for linux, as 2 of my hdds were in a zfs array, with many files on them.
While zfs was installed, i spent a few hours attempting to mount this array, but had 0 luck. Finally, I ended up booting freenas and just transferring these files back to 2 other hard drives.
I managed to partition the drives into a reiser file system, simply because the example I was looking at online used it (I'll be determining what benefits of downfalls this provides, and may start shifting data around to replace the file system on these drives). These hard drives were added to lvm. I chose to use LVM as It allows easy addition and replacement of disks with one accessable volume.
I then created several folders for members of the household. I mounted these folders, and tried to create a samba share.
It took a bit of reading and fiddling, but I managed to get the permissions set up, and used windows' "map network drive" after the samba share showed up on all of the computers.
Initially I had terrible write and read speed. I was getting 25-30mb/s over the network. This is apparently a common issue, and fiddling with the socket options in the smb.conf file increased write speed to a settled speed of around 65mb/s (can see up to 90ish for short initial bursts).
I have not completed working on the software side of things as of yet, drivers need to be played with, as I cannot get audio over hdmi as of yet. I would also like to see if I can get wake over lan working, as it's currently constantly running.