Little info on Boxers
A lady I know has a beautiful English Boxer, classic tan coat, but I think he's a little odd. Has 'Issues' as the shrinks would say. He is left alone about 6 hours a day, and stands in one place just drooling a 2 foot by two foot puddle.
He can't keep his weight up due to losing enzymes from the slobber?
Any and All Suggestions are welcome.
Prozac.
How old is he? They change alot after about 2 years of age. Calm down and stop chewing on stuff.
Overall there are great dogs very smart and loyal a bit sneaky and definitely have a mind of their own.
Here is my bud Brutus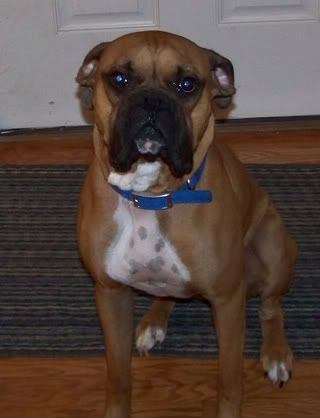 Now that is a fine looking Boxer.

I think this fellow is just about two?, not certain.
The drooling? Is that normal? And diet suggestions?
I've never had one and this is my first exposure to this breed.
They say some drool and some don't. My experience is they all drool some. They tend to drool the most after playing (just being active), Eating and Drinking. It isn't hard to keep to a minimum. We just keep a couple of wash cloths around to wipe him off if he gets messy. He has also gotten better as he has gotten older.

They don't seem to be picky eaters mine will eat anything. I would guess if the boxer your looking at is under weight, he probably isn't getting enough calorie's to the amount he is burning. They are very active and have fast metabolism's and their weight can fluctuate fast.


Here some other things about the breed:

They love affection being petted and played with
The will use a dog bed if you provide one for them
Most all of them are gassy but it's always nice to blame it on the dog
Rock solid and strong as can be
Make lots of noises grunts burps snorts
Will listen very obedient and easy to train

I can tell you I have no regrets he is an awesome friend....
Thanks
The fellow I'm referring to is so skinny, his owner is embarassed to take him out. But he shows beautiful muscle defination, his back end looks like a greyhound's

Maybe my Lab will mellow him out?
He may have worms then......
Update on Mr. Boxer:
He now has a fat Lab 'stable mate' and is a totally different dog. The slobbering has stopped, he's mellow and affectionate, 100% improvement in every aspect of his behavior.
But he still likes to lick the TV screen, which I find yucky, as occsasionaly, I like to do so myself ;^)
Thanks for all the info
Originally Posted By SevenPaul7:
Update on Mr. Boxer:
He now has a fat Lab 'stable mate' and is a totally different dog. The slobbering has stopped, he's mellow and affectionate, 100% improvement in every aspect of his behavior.
But he still likes to lick the TV screen, which I find yucky, as occsasionaly, I like to do so myself ;^)
Thanks for all the info
That's great news. I'm raising my second boxer now. The one I currently have I took in as a troubled youth (1yrs old). I find that most all of these cases are directly related to their living environment. As with your, my current fawn male turned around 100% in just a couple weeks. The people I got him from didn't do anything harmful, they just didn't do anything. Guy was a doctor and wife worked with him as well. They had three girls so by the time they got home he was all alone pretty much 15hrs a day. You leave a boxer alone for that long everyday and he/she WILL entertain themselves somehow and you probably wont like their way :-)
Some of the smartest and best behaved dogs you can ever own. It's comforting to know you have a dog that's so easy going in life that he loves people and other dogs equally. I will always own at least one boxer for the rest of my life, OK I might get a Boston (mini boxer) when I'm really old :-)
Thanks for the info. The more I'm around him, the greater is my impression. This fellow just needed a bud so to speak.
Some of y'all may have seen the TV story about the blind guy who made it to the top of Mt. Hood - in Oregon.
He had a sighted companion, but his guide dog was a female Boxer, complete with little snow booties and a coat.
I suspect all the time invested in this fellow will be repaid many times over. He is really sharp! (actually crafty :^)