We left Yakima a little later than usual since we dropped the kids off at my parents house at 7 am, but I didn't figure it'd make a whole lot of difference, we had all day to fish and if the fish are going to bite, they'll bite, if not, it doesn't matter what time you get there. We filled up our coffee mugs, loaded up our gear and hit the road. The sky was cloudy for most of the trip there and the roads bare and wet with just a hint of frost on the shoulders from the previous night. I had checked all the weather reports the night before and fully expected to get rained on, but was presently surprised by the lack of rain clouds once we started decending onto the river. A thick fog hung low in the river valley, but I figured it'd blow off later in the afternoon.
We got down onto the river and the density of the fog became apparent. If I was hunting, I'd seriously consider heading home at this point, but luckily, this kind of weather is typical for November steelhead jaunts.
Some turkeys at our gear up spot.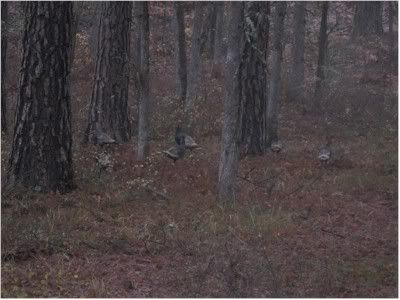 We met up with Craig and Esther and started gearing up.
Me: "So Craig, here's those beads I painted up. I've got some red ones, some yellowish ones, some in-between ones. Which one do you recommend?"
Craig: *silence*
Me: "I know you said mottled were hot last week compared to solid, what do you think?"
Craig: *silence*
Me: "Okay, so probably the red since visibility is low huh? Or more natural do you think?"
Craig: *silence*
Me: "So what you're saying is, it doesn't make a shit load of difference huh..."
Craig laughed and said, "He finally GETS IT!"
Funny guy that Craig...
Once geared up and rods on the rack, we headed to "the hole". Craig had already made it VERY clear that Amanda will get first shot at it since it's her first trip. She made her way to the water's edge and began following his instructions. In the meantime, the rest of us headed above her and started flipping our lines. After thirty minutes of trial and error, Amanda began to get the hang of it and was actually doing quite well. I know at least once she had a good solid bite, but being new to line management, she was a split second too late on the hookset so the fist was off as fast as it was on. Anybody who's nymphed from the bank will understand.
She made her way to the end of the run and we started following suit. I had one good hookup and started scrambling back up the bank and reeling to get rid of the slack only to have the hook come unbuttoned. That's steelheading! Chris, Amanda, and I decided to walk up to the next holding water and give "the hole" a rest. On the way there we ran into a big spawned out chinook making his way up the river. Amanda was so excited she almost fell in the water trying to chase it down to get a better look at it. After a brief biology lesson, we moved on through. That fish was so beat up and discolored...he just needed to DIE. Their suffering is utterly amazing.
I set Amanda up on a section of water and proceeded to move above her. Within 10 minutes I heard a loud shriek and noticed her reeling line in with a bend in her rod. She finally pulled it out of the water...a medium-sized whitefish. "Well, at least she didn't get skunked now." is all that ran through my mind. As the thought disappeared, my line went tight. I pull it in and it was a nice 19" whitefish as well. Same thought, "...at least I didn't get skunked...even if it's not what I want." Soon after that we headed back to pick up the rest of our fishing party.
By this time it was mid afternoon and we were in desperate need of food and drink. Nothing a big sandwich, PBR, and some old crow couldn't fix. We made our way down to another stretch of water that has produced in the past for Craig and was large enough for 5 people to fish. We fished for another hour or so with no fish and Amanda gave me the cue. You know the look that says, "I've had a GREAT time, but I'm tied, cold, and ready to go home." Can't say I blame her, she'd done a great job, got lots of experience, even had a hookup. What more can you ask for in a day?
We made our way back to the trucks and stripped off layers of clothing and waders and pilled them in the back of the truck. Craig and Esther decided to hit one last spot, so we said our goodbye's and went our seperate ways. The weather was beautiful on the way home. We couldn't have asked for a better day from work.....
End of the road for this guy...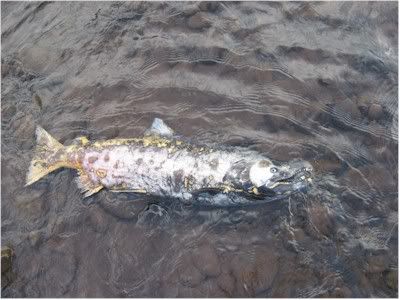 I take that back, it would have been better if we would have caught some fish. Oh well, "the fish of a thousand casts" has elluded me again. By my calculations, I've got another 18 trips to go before I will be blessed with the chrome.
Damn...that just sunk in.
*copied from my blog:
http://finer-things-in-life.blogspot.com/
Great report and nice pics! Well it sucks that you didn't get into any chrome, but at least you got to try. Because of work I am pretty much going to miss the chrome season this year. Actually I am pretty sure that that little creek in my last report will be my last report till next year. Who knows I might be able to sneak out of the weeks I am back home (but who knows because they are both holiday weeks.
Oh and it is good to see different reports besides mine
Yea, we've got one more trip planned before the season comes to a close, hopefully we'll get lucky then. If not, oh well, still another day in paradise. I'll keep you posted...