Wolf tags in Idaho being filled
My brother purchased a tag some time ago in the off chance he would encounter a wolf while out for deer/elk.

This is photo from a family friend who's son recently took this wolf on Soldier Moutain which is approximately 70 miles north of Twin Falls, ID and 50 miles southwest of Hailey, ID. Don't have the stats on the wolf.

The wolf hasn't been designated as big game in Idaho. I'm not aware of other northern state designations for Canadian wolves but I thought I'd throw this story in the forum. To date, 72 of the authorized 220 wolf kills have been made in Idaho for the 2009-10 season.
glad to see it. I was living outside of Stanley when they planted the first ones practically in my back yard.
Excellent! I hope they get all 220 filled.
Good need to get rid of more.

Too bad they couldn't take more than 220.
That thing looks huge. Would hate to come face to face with that and no firearm.
80 Wolves currently harvested on Idaho Fish and Game site. I only saw wolf tracks while hunting..but I wasn't attempting to call them in or anything.
I'd love to get a chance at one....might have to try calling them here shortly.
That wolf is huge!


Wolves are the devil. Good job I would love to have a devil on the wall.
Still trying to fill my tag!!
I hope they fill all 220, and he sure will make a nice rug!
That's pretty big.
I stole this pic from another forum. I believe it was taken in Alaska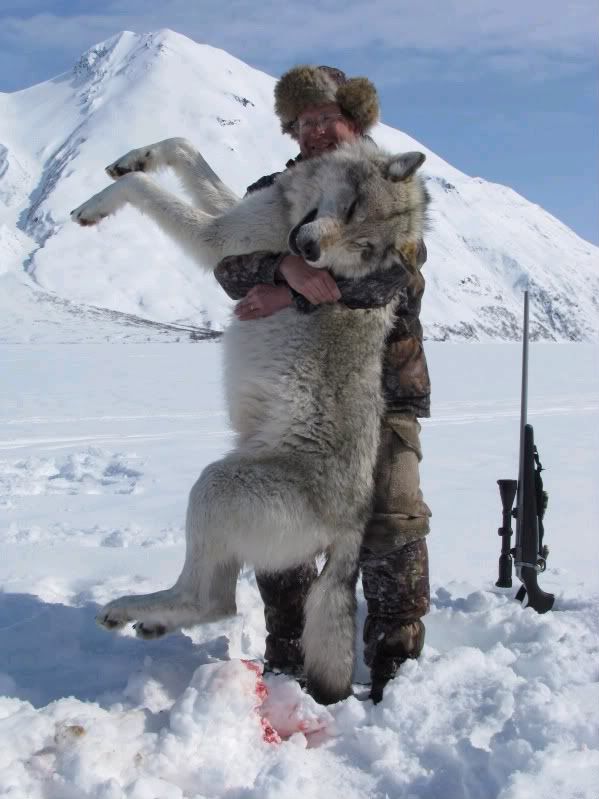 Good! I hope they have more than 220 tags available next year.
You know the older generations got rid of wolfs for a reason. I hope some day we get a chance to kill every wolf. Damn tree hugging hippies!
I love wolves. They're my favorite animal (next to horses.)
But I have no problem hunting them like every other large game animal (once they are at their scientifically determined populations.) Not sure why anyone else does.
btw: I totally looks like you are giving it a big hug, lol!
glad to see they are controlling the numbers.
I hope to never see them in CO...our Elk population would be decimated.

kill them all, worst thing that ever happened here. They eat everything, im not kidding. Our deer, elk and moose are GONE. Good luck to those in WA and OR, you will never be able to rid yourself of this man made plauge. We are lucky to try to rid ourselves of them but they are hard to hunt. Thanks Fed. Gov. for bringing us this animal and destroying my hunting.
Bring them to iowa, we could use our deer knocked down since our hunters seem not to phase them.... Yotes aren't big enough to take out an iowa deer, not a grow one anyways..
Dam, he shot him in the ass !
Beautiful creature th