Hi,
In my (many years of ) experience a 4 pack of various mouth calls will do the trick. In GA it seems that the "3 blade" raspy calls tend to work for me better than the 2 blade higher pitch calls, I also carry a couple of slates but mainly use an "Old Yeller" (yellow) slate and a wooden peg. Sometimes birds gobble back to some calls and wont hit on others, if its a finicky day I'll swap around to see if I can find what they hit on. Note that if they dont gobble back it doesnt mean they arent coming to the call, sometimes they come in silently. I also carry a gobble tube, owl hoot, crow call and hawk shriek for "shock calling".
You also don't have to be a championship class caller (Ive called them in with a push button box before), just know the different types of call (yelp, cut, purr, putt) and know when to make them. I'll typically start at dawn with yelps, feeding purrs and the occasional cut, I use a mouth call and slate at the same time to simulate multiple hens. If I get a gobbler inbound I'll drop the slate (so I can hold my gun) and just use the mouth call.
I'll also add that you need to be very still and really limited on your calls if a tom gets within view, he *can* see you, if he decides you aren't normal he's gone. When they come in I'll typically only make tiny purrs and yelps/clucks to get them interested and make them think the decoys are actually alive, if you get heavy with the calls when they are within sight of the decoys you'll probably spook them. If he gets within 45 yards flatten him, if he look at the decoys then looks back the way he came a few times you better flatten him, he's getting ready to run. Be aware they may also fly in to the decoys, especially if there are other gobblers in the area gobbling back to you (early bird gets the pie!) I've called toms in and never knew they were coming until I heard the wing beats of them landing 10 yards away.
Also know the different times of day and what the turks are doing then.
1) day break is best, if you can get gobblers to gobble on the roost before daybreak and "flydown" you can get fairly close and setup. gobblers will typically roost around hens, if they fly down with hens you wont be able to call them off. Its for this reason that you should also know the feeding purrs and yelps so you can try and call the hens to you, if the hens come, the toms will follow.
2) mid morning/day. if the toms are "henned up" they wont leave until the hens nest up about mid day at which point they will start to troll for "free hens". In my experience they wont gobble back to calls during this time but you can still call them to you, dont walk and hunt during this time, setup in a known good area and call them to you.
3) dusk. you can try and catch them going to the roost, it's also a great tactic to just sit off in the distance with binocs and watch toms roost up and come back to them at dusk the next day (see #1 above).
The earlier in the season you are the better your chances. Keep in mind that a "12 gauge, turkey extra full choke" with a 2 3/4" or 3" #4 is deadly out to 45 yards, I shoot for the base of the skull always, some people shoot for the base of the neck, personal preference I suppose.
I love turkey hunting more than any other hunting, its fun, exciting and is a great hunt for two people. If you are sitting shoulder to shoulder you can whisper with headnets on, the birds wont care as long as they don't see you move.
Here's you some turkey pron:
I saw this one mid morning with a group of six hens and couldnt move him, I went back at 3pm and got him by himself (check that beard):
A "double" I called in (2 birds with one shot) the bird in the back was older than the front one but he had been shot through with an arrow the season before, he didnt act wounded at all and was strutting when I got him: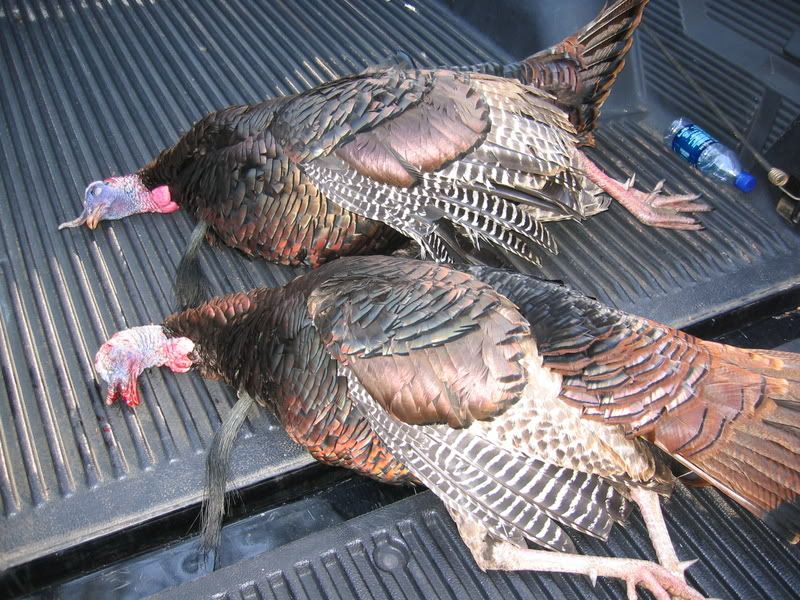 pic of the arrow wound:
pic of the exit:
eta:I didnt eat the wounded one
On a side note, see the way i plucked that breast off? I typically take off the beard, fan and legs below the knee (for the spurs) and take the breast fillets off, the yotes can have the rest as there isnt much meat on it beyond that.
Man, that is a GREAT post, thank you very much! I'm going to copy it to my email so that I won't have to worry about losing it. We are getting excited already and it's still a few months till the season starts here in TN.


Originally Posted By TNBayou:
Man, that is a GREAT post, thank you very much! I'm going to copy it to my email so that I won't have to worry about losing it. We are getting excited already and it's still a few months till the season starts here in TN.
Just trying to get you started off right! Our season starts in mid March, my six year old son is going with me this year
I was born in Chattanooga btw,
Go Vols
!
*bump*
Turkey Season opens in 2 weeks here
Mouth calls are sexy and all that and the TV shows and DVDs all use them. But I really like a good slate call. I carry two of them and two box calls and that's pretty much it. They are simple to use and can make every sound a turkey makes that you would need. Mouth calls sound great though and it all comes down to whatever you like.