American Tactical Ammunition
Personally, I haven't heard much in the way of feedback about our branded line of ammunition. There has been two large shipments of it so far released in the USA with more always on the way. If you have purchased any AT ammo, please let us know what you thought! How did it run? What have you fed it through? Do you have any questions concerning it?
You have ammo and you're in NY? Other than paying $ 550/1000 to some gunbroker bandit, where would one obtain this ammo?
Originally Posted By Aimless:
You have ammo and you're in NY? Other than paying $ 550/1000 to some gunbroker bandit, where would one obtain this ammo?
Just our normal channels. The ammo comes to us -> distributors (see our website) -> gun shops. So you check out our distributors then go to your gunshop and find out if they order from any of those distributors (or obviously if you're a dealer you just buy from them).
OK, another ATI product I just got, a case of the 7.62X51 ammo. Comes in a 1000 round case (55#) and is very clean. Marked MKE 08 and the case came with a Quality Certificate and computer generated test target. Of course paper is just that, paper. I'll test it out this weekend and update everyone on results.
Are there any specific requests for testing?
Mark

And for what it is worth- I do not work for or with ATI. Just a veterinarian here is Bristol TN. www.animalmedclinic.com
OK, the ATI ammo worked very well. There were a few shooters trying out some, and most were happy with results. The point of impact was about the same as our regular rounds, and one MOA was done easily at 100 yards. No funky smell like some Russian ammo, and seemed pretty clean. It has staked primers so reloading may be iffy.
Mark
I would buy your 5.56 by the pallet if it wasnt for one thing.....
I had two double feeds, which resulted in the bullet being pressed into the casing. Is there no crimp on the bullet?
Aside from that it performed just like Prvi M855, but i got amazing groups with it.
HERE is the review I did
part aabout double feed
Firing the steel cased stuff wasnt a good idea because i got two double feeds, but not like any other double feed i have ever had. The fired case failed to eject and another round tried to chamber, which resulted in the projectile being pushed back into the case like this: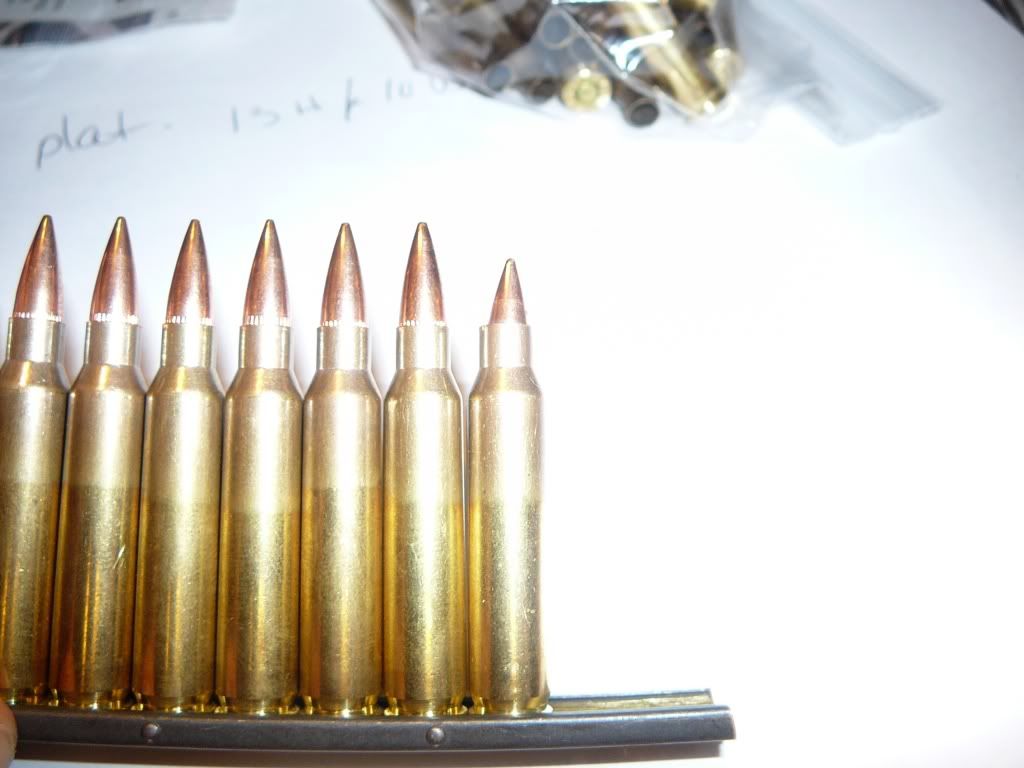 Now this occurred twice and then i added some clp which fixed everything. Now i let someone else shoot (my father) and he fired one of the rounds like above, and the case now has a hole in it , im glad its the case that has a hole and not my receiver!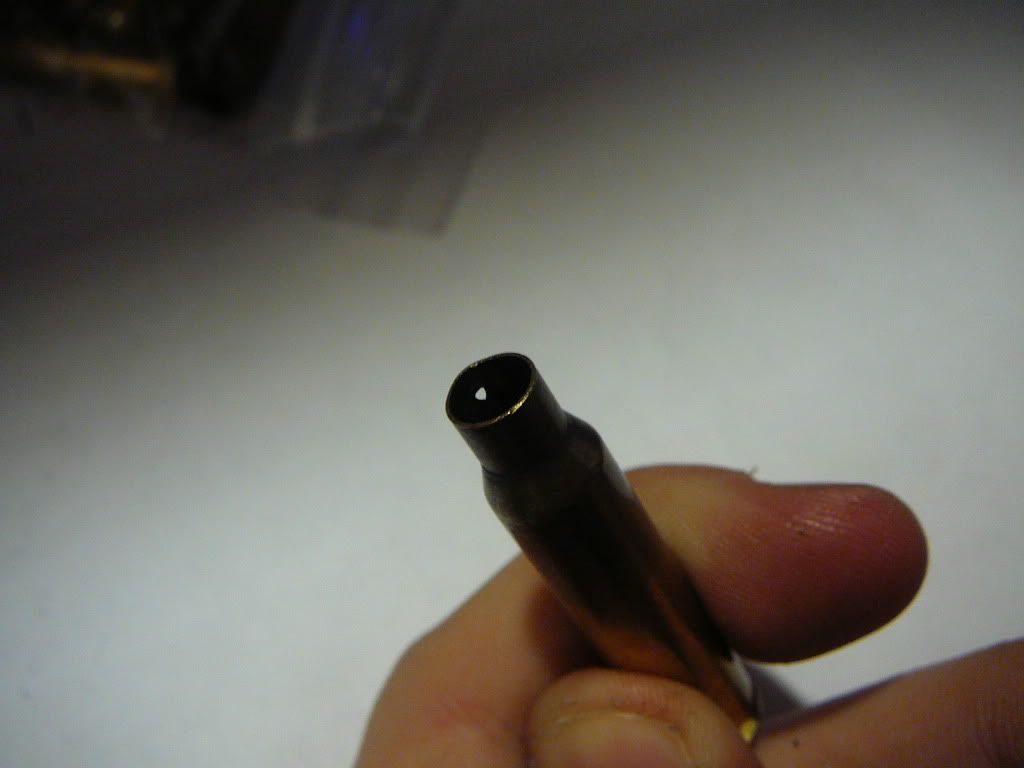 the tip has been sort of flattened with a large scratched on the side of the projectile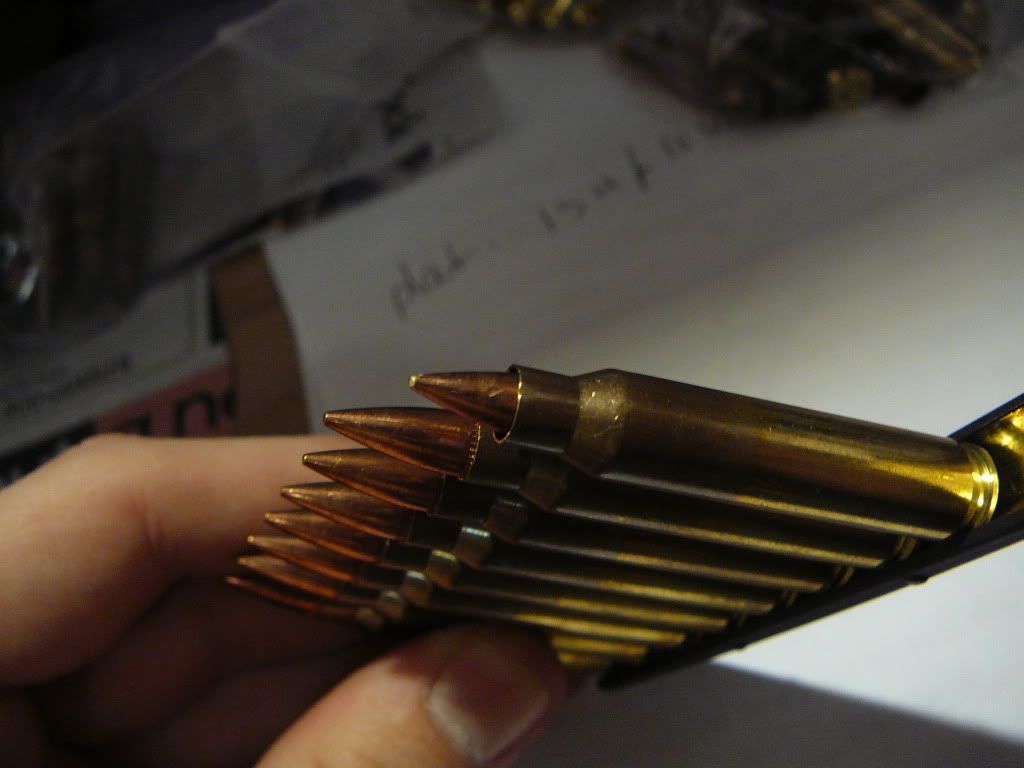 ETA: fixed picutre linkk
Is there a crimp?
Originally Posted By InfiniteGrim:
Is there a crimp?
ATI, im just wondering how well you guys are doing sales wise?
My local army navy just sold out of this stuff, they werent sure if they would restock, but aimsurplus says they werent selling fast enough so they arent going to carry any more?
I'd love to buy more, but it seemsl ike everywhere that had been selling it has decided not to restock.
It seems like both your 5.56 lines and .308 lines are being tainted by reports of casings getting stuck and failures to extract.
I was wondering about buying some of your 5.56 and decided to check the ammo forum.

http://www.ar15.com/forums/topic.html?b=3&f=16&t=505181

It doesn't appear people like the 556 or 762x51 ammo. Even Arfcom ammo guru MOLON panned it. Guess I'll probably pass on buying any.

If this posting was just for someone who had purchased your ammo, then maybe i shouldn't have posted the above reviews.
What happened to the ATI 410-gauge rifled slugs? I bought half a case a while back for my Safir Arms AT-14 upper and love them (one of the few 410 brands that fit in the AT-14 mags), but haven't seen them on any of the usual ammo dealers lately. I'd like to know if anyone else tried them out, especially for the Judge.
I've gone through 2000 rounds so far with no problems at all. I'm liking it so far :)
I have tried both the 5.56 and the 7.62.
For the 5.56, the ammo was beautiful and shot cleanly and reasonably accurately, but I had the same no-crimp, push the bullet back into the case, problems the poster above did. I solved my problem by running the remaining rounds through a lee factory crimp die, so problem solved.

The 7.62 was a bit better, but I didn't have as much to play with. Again, it was reasonably accurate and I didn't have any jams in a FAL or a DPMS.

My overall impression is that this is good blasting ammo, but it's not quite up to the same standard as, say, Winchester Q loads, thus should be cheaper. Not as cheap as the steel cased stuff, but cheaper than the .mil-ish loads [Q loads, XM, etc.] If you aren't going to crimp or seal the bullets, then stop crimping the primers and make life easier for reloaders like Black Hills...
I have tried 30 rnds through my Steyr AUG A3 with no problems at all. Was shooting indoor 25 yrd range so cant say how acurate it is, a local company has some for cheap I plan on buying and trying more.

Khest