Several months ago I purchased a CMMG dedicated upper and my first attempts to use it resulted in multiple light primer strikes - The BHOA fit very tight and prevented the bolt from closing fully. My silly tries at fixing it being unsuccessful, I sent my gun and mags to CMMG, and when it returned it was eons better, but I still would get some light primer hits. I took a shot in the dark and ordered a wolf hammer spring(comparing the wolf and my default DPMS hammer springs were like night and day in terms of quality), and today I went to the range for my first extended session with the gun.
I am happy to report that function is greatly improved, although I still noticed a few quirks, such as the second round out of each magazine not firing. (round chambering but trigger not resetting) I noticed this with Winchester and Federal Bulk, but not with Blazer. Also, after firing a few hundred rounds the bolt catch release would no longer release the bolt to close on a loaded magazine. It would release the bolt on an empty magwell though. I assume this is just due to gunk buildup preventing this function. Best news - all day, only 2 light primer hits.
I am on my way to "breaking in" my rifle I think
I hope with more shooting it will only get better. I have already buzzed the chamber and now will polish the feedramp. Maybe optics?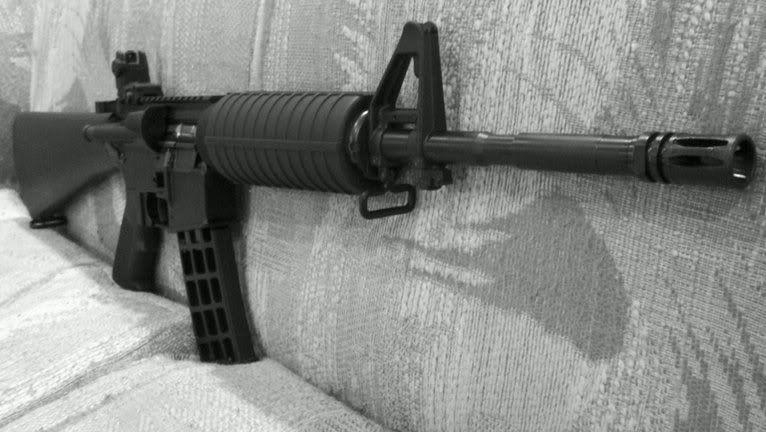 Great news, in reference to optics I have been chasing a decent rimfire scope myself. I pretty much had decided to go with the PA scope due to quality and price. However the new Nikon series came out and BP has them on sale with mount included for $179.99-199.99.
Things will settle in as the round count goes up. Sounds like you may have too much lube,
causing faster build up. Only takes a drop here and there on the friction points. I have
several of the Wal Mart Center Point Scopes. If you can handle the size it's unbelievable
Quality. They have had a few bad ones here and there, you just exchange those...
http://www.walmart.com/ip/CenterPoint-Illuminated-4-16x40mm-Scope/17173797?findingMethod=rr
Dave S
had mine out this weekend also , same model. shot about 300 rounds of wolf target ammo and shot a 1 inch group at 50 yards consistantly with a 4x . No jams at all , used very little clp on it.