Nikon P223 or Redfield Revolution
I am looking for a better low priced scope, I need 9 to 12 power for my old eyes. A lot of the real cheap under $150 scopes get real blurry when past 6 or 8 power, but I need the power for shooting MOA at 100 yards and 200 yard shots.

Lots of people have the Nikon M223, I was looking at the Nikon P223 in 3-9x40. But also looking at the Redfield Revolution scopes. Even their 3-9x50 mm only weighs 12.6 ounces, much less than the Nikon at 15 ounces. And the Redfield 4-12 x 40 comes in at 13.1 ounces. Both the brands are about the same length ~ 12.4 inches. The Redfields have slightly better eye relief.

My Scottish heritage likes the Redfield having $30 back, mad as all the Nikon promotions are over.


I have the redfield 4-12X 40mm and like it. Both are good scopes.
Scots-Irish myself. The Revolution is made in the USA, in Oregon. Redfield is owned by Leupold.

Note that the Revolution is made in the USA, but not the Revenge.

I'd pick the Redfield Revolution with the Accu-Range reticle.

Mark H.
I have a Redfield Revolution 3 - 9 with the accurange reticle and really like it. The reticle is uncluttered, and works for me. Glass is great for the price point. Made in the USA, with a good warranty. eye relief is very good.
From one Scot to another...
When I get budget optics, I get redfields. Happy with both. My father in law has 4
RedField has a $30 rebate going on now:
http://redfield.com/rewards/

I really like my Revolution 2-7.
Love my Revolution 2-7x with Accu-range. The glass is gorgeous, the reticle easy to use. I like the circle-in-a-crosshairs design, it makes getting on target very intuitive. The price is right too.

While I can't speak for the Nikon first-hand, a couple of online reviews citing their being fragile swayed me from them. Again, I'm working from other folks' opinions on the Nikon.
I too have the 2-7x Revolution w/ the Accu-Range reticle. I was popping clay pigeons at 200yds with it a few weekends ago. From the McDonald clan, I'd say you would make a good choice there lad.
Just to make the decision harder, I bought the nikon p223 with the mount and am very happy with it.
I purchased a Nikon P223 and their mounts to go on my new CMMG ar-22. So far I'm very happy with it.
I don't know about the 3-9X P-223, but I bought the 3X model earlier this month. It didn't last 24 hours.
I had some extra coming on a trade, so used it to get the Nikon P-223 3X. There were other scopes I'd rather have, but that 3X was in the case.
I mounted it on a new 6920, took it to the range, zeroed it and played around with it a little doing snap shots at 50 yds, then brought it home. I put maybe 40 rounds through the rifle after mounting the scope.
When I got home, I uncased the carbine, verified empty, took a quick look through the scope, and leaned it against a rack. About 30 minutes later, I came back, picked it up, snapped it to my shoulder...
and that scope looked like a kaleidoscope inside.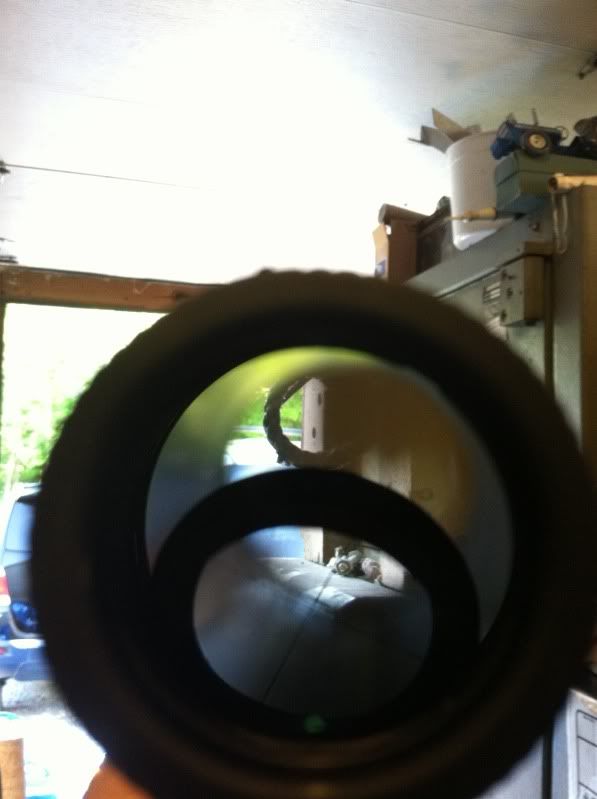 I sent it to Nikon Warranty Repair (lifetime warranty) in CA. A little over a week later, I got a letter from them with a Service Order, giving name, numbers, etc. A url was listed to check the repair status, which I checked. It showed the status as "Replace Product".
Still waiting.
To make me even happier...
This letter came on a Friday. I thought about it over the weekend and came up with a plan: If they have to replace the scope anyway, I wonder why I couldn't pay the retail difference and have them put an M-223 1-4X in the box instead? That's what I really wanted if getting a Nikon, but the gunshop didn't have any. I'm sure I'd have been money ahead to do a variety of other things, but was eager to get out from under this thing. I'd have been willing to swap for binoculars or just about anything they had, because I knew I'd never have any confidence in the 3X P-223.
I called Monday morning and asked. After the nice lady (who thought it sounded reasonable) consulted with someone, she came back and said "no". OK, thanks for trying.
The more I thought about this, the more it bugged me. No, they are under no obligation to do anything but fix or replace my scope. But, I run a small business (OK, a tiny business) out of my home, and if something I made crashed and burned within hours of leaving here...and the customer called, not to complain, but
to offer to give me more money
to get another product of mine...I don't know what my exact response would be, but it wouldn't be a flat "No".
I emailed them saying this, and after two or three days, got a form reply saying they don't take trades.
Sigh.
Still waiting on the replacement scope to arrive. The date of the decision to replace it was May 11. That's 16 days, which isn't a really long time, but it means they've had my scope 16 times longer than I have.
So count me as checking the box against Nikon.
I would get the nikon prostaff with bdc. Plus you can use their spot on webpage for your shots if you want. I just looked at the redfield and didn't like the accurange.
The EXACT same thing happened to me on round 43. Returned it, and bought the 3-9x40. 200+ down range, and ZERO issues.
I own a Redfield Revolution 2-7x and I think it's a really good scope for the money.
The $30 rebate (if you actually get it
) makes the Redfield a no-brainer. (Not that Redfield makes a habit of screwing people out of rebates, but I don't place too much trust in "rebates").
My vote is for the Redfield. Currently have a Redfield 2-7 and Nikon Prostaff. I give a slight edge to the Redfield.
I still have not got a replacement for my Nikon P223 3X yet. Their repair status site showed the repair decision as "Replace Product" over a month ago. Repeated calls and emails have got me a total of one response- Eight days ago someone was going to check on it. Nothing since.
Here is the response I just sent:


Enough.
I want a refund.

I have been more than understanding. I got less than one day's use out of this scope. Forty rounds fired through the rifle it was on. You have had it over a month, and the decision to replace it was made then.

I have tried to find out what was going on, and got nothing except one response saying he would check on the replacement. That was over a week ago.
I even offered to pay the difference in retail price to upgrade to a better Nikon scope and got treated like some clown trying to trade-in a 20-year-old scope.

I don't want a replacement anymore. I have zero faith in the scope and the company. I want to wash my hands of you.

The price of my scope was $151.95. Send it, and let me be done with Nikon.

So yeah, I vote for the Redfield, and I haven't had a new Redfield in 20 years. I'd vote for a 3/4" tube Bushnell .22 scope like they sold in K-Mart in the 70s before Nikon. At least that might get backed up.

Someone who is sipping a Glenmorangie over ice checking in. Redfield is your best choice, especially with a $30 rebate. I am not thrilled that the accutrac has to be zero'd at 200yrds to work, but their standard plex edition would work perfect for anything you have in mind