Norinco Silver Box
I picked up 100 rounds of norinco in a silver box at the gun show today for pretty cheap. The bullet is non-magnetic in a dark brown almost black colored steel casing. Can anyone tell me about this ammo as i have only ever heard of the steel core norinco. Is it corrosive? Rare? Should i go buy some more from the seller as he had about 20 more boxes at 5 bucks a piece.
What is the headstamp? Does it have a red primer seal or clear? I've not actually ever run across copper jacketed Chinese 7.62x39mm in the 20+ years I've been shooting and collecting this caliber. Are you 100% sure a magnet does not stick to the projectile? It's always been "bi-metal" in my experience but to be honest, I never checked all of the various the lead core stuff to see if it was copper clad or just copper. It never made a difference to me. Most of the Chinese 7.62x39mm made after 1990 (for import to the US) had lead cores instead of steel due to the ban, and I suppose it's not out of the question that they made some lots of lead core with a copper jacket...

Does the box state what kind of bullet is used?

$5.00 per box is not a bad price. I never had any problems with any of the Chinese ammo I've used.

1DD
The headstamp has a 71 and 88 on it. Has a red seal, and the bullet is definitely non-magnetic. The box only states that it is steel cased and non corrosive.
Heres a pic of the box, i tried to get one of the head stamp but my iphone wont focus on it.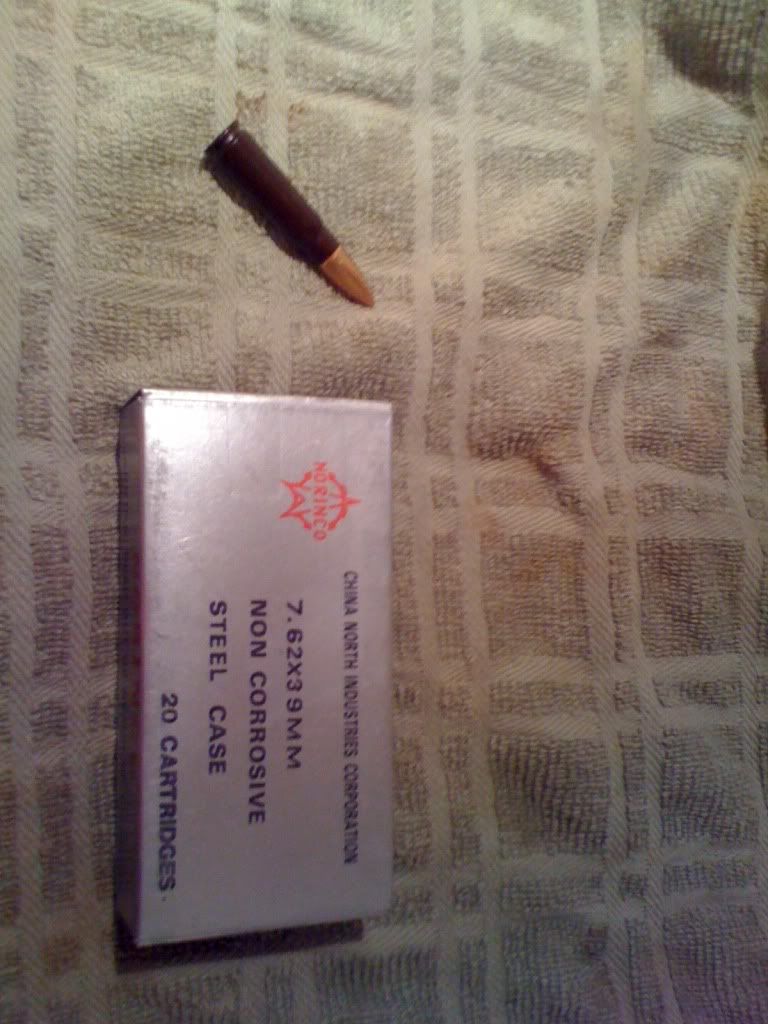 The presence of the red primer seal on Chinese 7.62x39mm from factory "71" indicates a non-corrosive primer. 1988 is one of the earliest years for lead core and non-corrosive in this caliber from China. I must admit that the copper jacket is a surprise and really defies the usual assumption that all Chinese projectile jackets are/were bi-metal. But, every now and then something unusual like this turns up. I've been collecting 7.62x39mm cartridges since the mid-1980's and just last year learned that the Chinese made brass cased 7.62x39mm back in the mid 1960's. Some were imported way back, mixed in with odd lots of the usual assortment of 7.62x39mm surplus from China. It looks very much like the brass washed steel case stuff that was out there, and everyone pretty much assumed that it was and it got shot up without a second thought. Eventually someone tried a magnet to the case and discovered that it was brass instead of steel...

1DD
Thanks devildog, very good info. I guess ill start looking for that seller at gunshows from now on and buy some more, because i know he didnt sell all of what he had, and he looked like a local individual rather than a store.