Why is reloadable 7.62 x 39 so expensive?
I never understood it. The cheapest I've seen it is roughly 45 cents a round.

Do you guys foresee it ever becoming more affordable?


Low demand. Most guys don't reload for this caliber so cheap steel cases are the way to go. I've reloaded 7.62x39mm, did not save a penny, and for my kind of shooting did not see any improvement in accuracy. Besides, the way my AKs throw brass, I always lost a few each range session...

DD
Agree with Deveildog, got the dies to reload, but it is a lot of work to hunt down the brass after shooting, and mine usually have a large dent in the side.
Cost of commercial ammo basically comes down to components and materials cost used to produce them. Foreign labor is cheaper than American labor and steel cases and bullet jackets are cheaper than brass and copper bullet jackets.
It's all about managing the cost of the components you put in your ammo vs. what you want out of it. For general purpose plinking and small game loads I shoot cast lead bullets out of my SKS rifle,MV runs right at 1400 to 1900 fps. depending on the load i use. Average cost per load is 8 to10 cents per rd. swapping to a premium bullet and using a higher volume slower burning powder to obtain factory MV runs the cost up to about the same as steel case ammo. On a side note using 12.5 grs. of Alliant 2400 and a 170 gr. cast bullet in my Chinese SKS the brass drops right at my feet,the higher velocity 14.5 gr load will toss the brass out to around 15 ft.
If you don't like dealing with the lead plated bullets are available now from
http://www.berrysmfg.com/product-i14848-c34-g8-b0-p0-7.62x39_.311_125gr_SP.aspx
there about half the price of traditional jacketed bullets and can be fired up to 1800 fps.
If chasing down your brass is a problem the cast bullet load will work and keep it closer but there is a more useful modification that will work for everything else which is the
http://www.sksboards.com/smf/index.php?topic=41391.0
Basically it a series of holes drilled in a spare gas tube that affect bolt speed which in turn effects the ejection pattern and distance the brass is thrown. You can tune that by the size of the holes you drill in the tube and the modification doesn't affect MV.
Originally Posted By WTex:
Agree with Deveildog, got the dies to reload, but it is a lot of work to hunt down the brass after shooting, and mine usually have a large dent in the side.
This again
If the steel case stuff has a boxer primer you can reload it once.


Just lube it up before going in the die. Sizes just like brass

I tried it with 223 a couple of times. The neck cracks on some after the 2nd firing.

.
I have not seen any boxer primed steel cases from Russia except for .223 and .45 ACP. Steel reloads fine, but you do get neck splits every now and then. You can reload steel 7.62x39mm if you can get the berdan primers. It's just a PITA to get the old primers out. I once ran a batch of 100 steel .223s through five reload cycles. Got a few neck splits each cycle, but then again, I've gotten neck splits with factory new rounds. Just the natuire of steel cases... I just did this to see how well it worked. It will be an option when there is no brass to be had, but I will not be using it as a regular practice...

1DD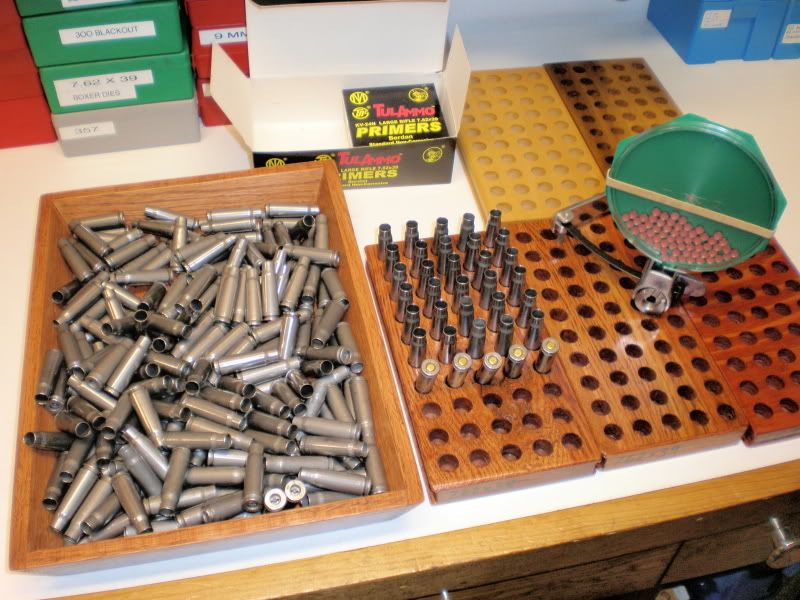 Berdan brass is free, just pick it up off the ground.
My cast bullets shoot fine and function through my AK's.
Homemade brass catcher. Frame can also be made of PVC pipe. Mesh is from a laundry bag.