Slr-100H photo shoot.........Lets see them ––parts list bio would be helpful Its seems that these are the best made receivers on the market. So many configurations have been buillt on these slr-100h blanks
Show everyone what you got. Any likes dislikes about them.
Mine was all together when i bought it ,I just put some russkie vood on.
Vector build on a left over G-Tech receiver
I love it except for the parkerizing, it is hard to tell on my crappy cell phone pic but it is more of a really dark grey than black. I'd much more prefer it blued. Also I refinished the original wood myself because the protective coat and sheen looked to be fading in areas and yes she is a safe queen
Link
to full size pic
Just got this one.i dont know who made it(no markings other than intrac import info and a S/N) It has laminated furniture and a welded on brake.Any body have any ideas of who put it together?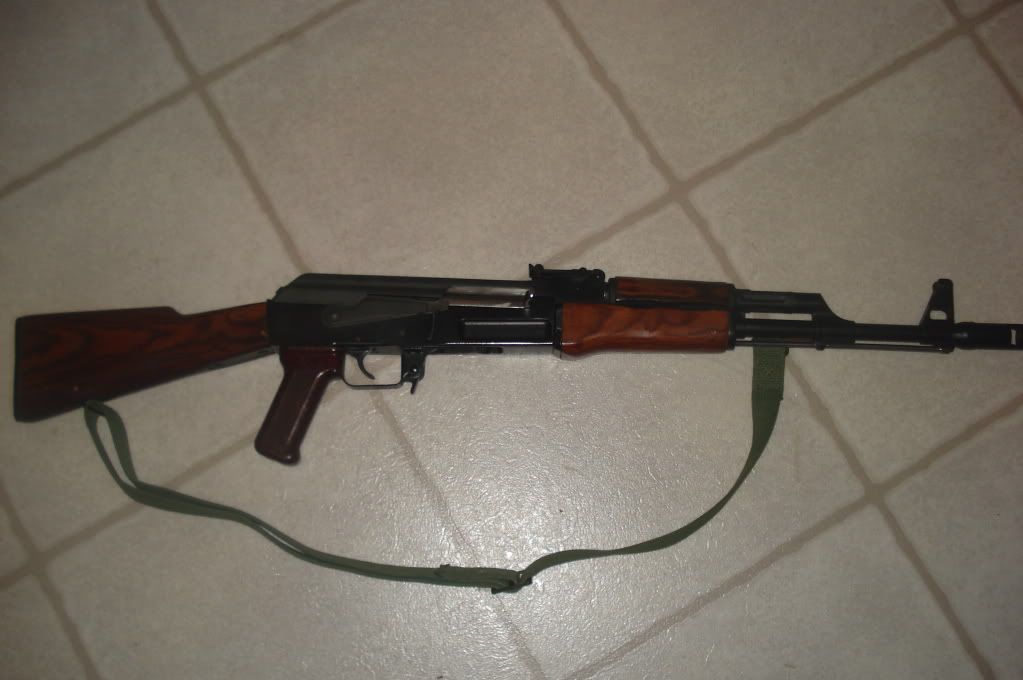 700th post!
Mine is a Gordon Tech also. I have replaced the stock set, FSB, and rear sight with Bulgarian units. I also drilled the receiver for the sling loop. Note: the flash changes the color of the wood in the picture to have an orange hue. The actual color is more like the picture at the bottom.
Just picked mine up today. The entire thing looks brand new including the bore. BlueRidge.
My SLR-100H with the G-Spot, Polish wood set and an AAC Cyclone.
CSF
Could be a parts build.
The slr-100/h receivers were brought in by Intrac from Bulgaria and a few companies (Gordon Tech, Blue Ridge, MSC, and Ohio Ordnance) used them to build 'classic' style milled ak's (mostly with Hungarian parts kits). Some of the left over receivers were sold to Vector who built rifles, and some were sold to the public. As far as I have seen online the ones that were built by the companies have their marking on them, so I'd assume yours was built by an individual. Check the parts to see if the #'s are matching and what nationality they are, could be a cool story in itself!
Great rifles and receivers. I used one of my Gordon Tech rifles as the foundation for a North Korean Type 58 project (the wood furniture as since been changed out, though):