is there Sites on the net they are selling the wood ?
Looks like you have an Hungarian AMD65. I believe lower metal handguard is longer than a standard AK and would not interchange. The gas tube is a different design that does not have a lip on the muzzle end of the gas tube to firmly secure the upper handguard. Any AK type grip should fit and there are even wooden foregrips for this design. Also, you have a folding stock/trunion so you couldn't readily make it a fixed wooden stock. Besides, the one pictured is select-fire so I'd leave it as is.
IronWood Designs makes fancy wood grips. As already stated the AMD-65 had a different attachment forthe lower handguard and standard wood will not fit. You can try picking up a cheap take-off set to see if it can be modified to fit before spending big money on nice wood. You could try purchasing a standard gastube and cutting it down to see if it will work. If so then you could get an upper handguard on the rifle. Krebs makes an adapter for the rear of the AMD-65 that allows the use of an ACE type attachment. Somebody posted a fixed wood stock that was converted to a folder using an ACE hinge recently.
http://www.ar15.com/forums/t_4_64/138108_So_I_made_a_wood_folding_stock_for_my_AK.html
Whatever you do wood will not be cheap or easy for you.
Good luck..
I would find the original FEG blonde grips for it.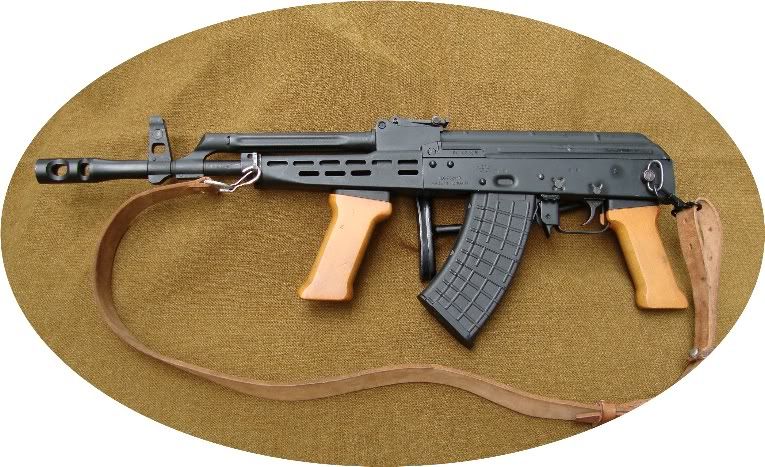 Many AMD65s were issued with the gray plastic grips, so they are also 'correct'. You will also need a screw and nut for the front one. BTW, it's just one grip that fits either front or rear. The vented steel forearm is certainly interchangeable with a standard AK lower handguard, but if you want wood also on the upper, you'll have to make a short gas tube out of a standard one with the hand guard retainers. I don't recommend changing to wood on these but some feel like they have to anyway. If you do, you'll have to do some minor fitting on the lower guard to fit the retainer unless you use a genuine FEG lower guard. You might find them here on the Equipment Exchange.