Muzzle device
Muzzle devices/flash suppressors, which is the best? pics in action if you got them!!!
Which device is "best" depends on what you're trying to accomplish.
Reducing flash?
Reducing recoil/muzzle rise?

A flash hider won't reduce recoil/rise. A really effective brake doesn't reduce flash.
There are devices that do both, but those won't work as well as a device designed to perform only one function.
I see...i'm more interested in recoil reduction...well management anyway. I'm looking for something that will help push the rifle straight back during recoil as opposed to moving towards the left
I run an ak-74 style on mine. Works great. There's not much flash and the recoil is definitely less. I tried mine with the brake and my buddies without...way more controllable.
Thanks for the advice!
I have a Tapco Slot brake coming next week. $7.99 from
Tapco brake
It's an RPK copy. Most places have it for $13+. I've heard good things about it. For the price, what the hell?
Let me know how that works!
The brake was delivered today so I stopped by the range. I compaired the Tapco slotted brake to no brake at all. I have a slant brake but as I shoot lefthanded, the slant brake just sucks and I don't use it.
Between the Tapco and no brake, I did notice a reduction in recoil. I'd guess maybe 20% less. It threaded on fine but not tightly with it timed correctly with the plunger. Seemed quieter from the shooter's standpoint than having no brake as well though I have no equipment to confirm. 1 and 13/16" long. Worth the $8. Made in USA so it counts.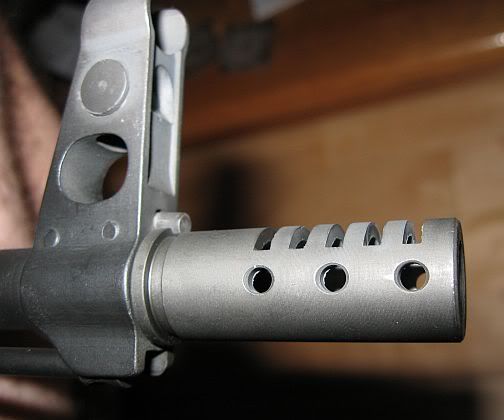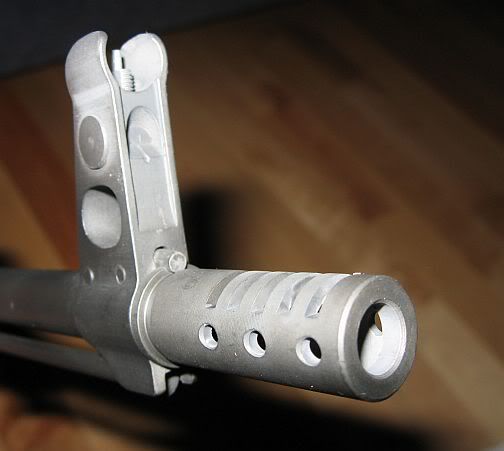 To time the brake and get it snug, lay a flat fine mill file on a table, supported so it won't move. Lay the back of the muzzle brake flat on the file so the hole where the bullet exits is facing the ceiling and very slowly and evenly, ensuring that it stays flat on the file surface all the times, work it on the file to remove a little metal at a time, checking the fit and timing on the rifle every few strokes, until the brake is tight against the FSB and the notch just lines up with the detent to lock it place.

Once this is achieved, apply a bit of Cold Blue (Midway or Brownell's, or your LGS are all good sources) to the exposed metal according to the directions on the bottle, and let cure. Keep it oiled and clean it regularly and you are good to go.
i have the same tapco brake and it seems to work well compared to the slant brake that came with my wasr.