My SBR build (pics galore)
Most recent pic: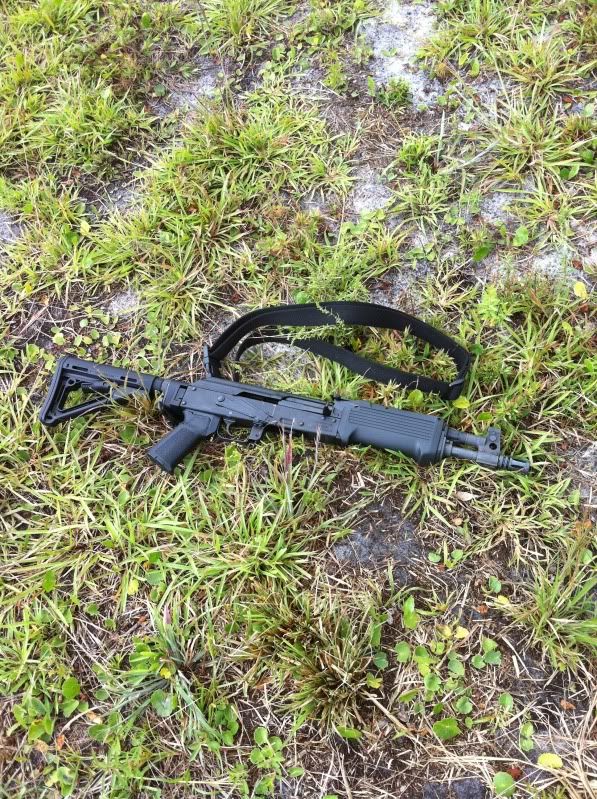 Disclaimer—
Like a lot of gun enthusiasts, I have added and subtracted a lot of items on my guns. They have changed their appearances over the years as I've tried different things. For this one, I decided to keep a running log. I am a police officer and firearms instructor, but this weapon will not be used for work. I have no training as a gunsmith or AK armorer. If all goes well, I'd like to take a rifle course over this next year. I've never taken a course with an AK. If I can find an AK specific course nearby, all the better.
I have no affiliations with any of the companies listed.
Background––
I've always liked the AK. I have had a SAR-1 for a few years now, and have previously owned a Mak90. I have been able to put my hands on a full auto AK, and would love to own one some day. I have always planned to pick up additional AKs, possibly a 5.45 variety. I have had my eye on an RPK, and more recently a Krinkov.
I have tinkered with making my SAR-1 more modern. I tried an AR stock, and some cheap plastic, railed handguards. Ultimately, it ended up back in a more traditional configuration.
Old SAR-1 pics: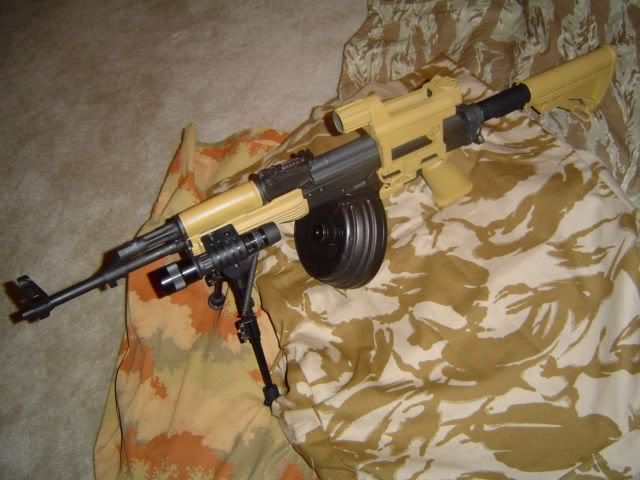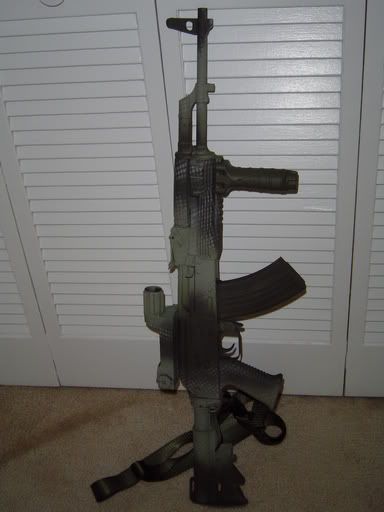 Current configuration: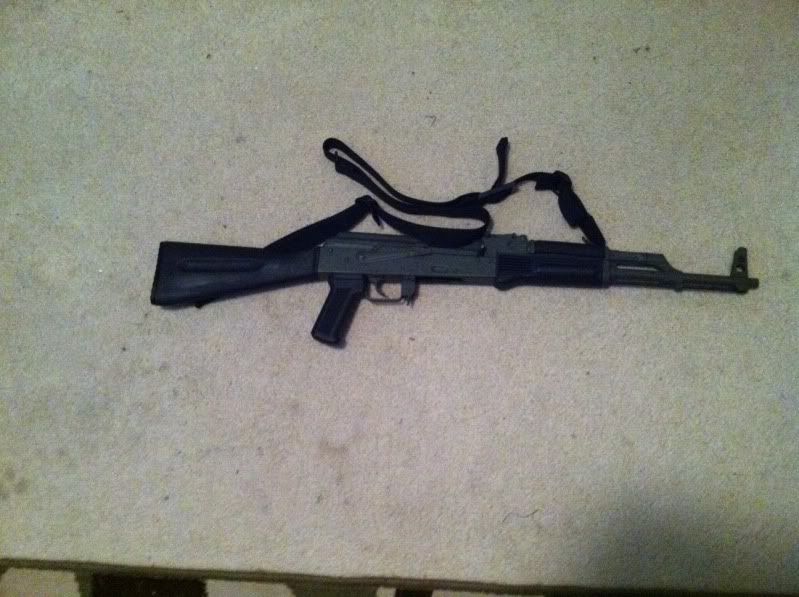 My Plan––
After seeing Travis Haley's Magpul-ized Saiga, I knew I would try the modern approach again. After seeing Gardner's creation of a SBR from the Draco AK pistol on AR15.com, I decided to forego my Krinkov plan (at least for now), and build a similar Draco SBR. The Draco offers an 11.5 barrel in a ready to go package. Unlike building a Krink from the ground up, or cutting the barrel on one of the Arsenal rifles, the Draco simply needs a stock screwed on the back of it.
Travis' Saiga:
Gardner's Draco SBR: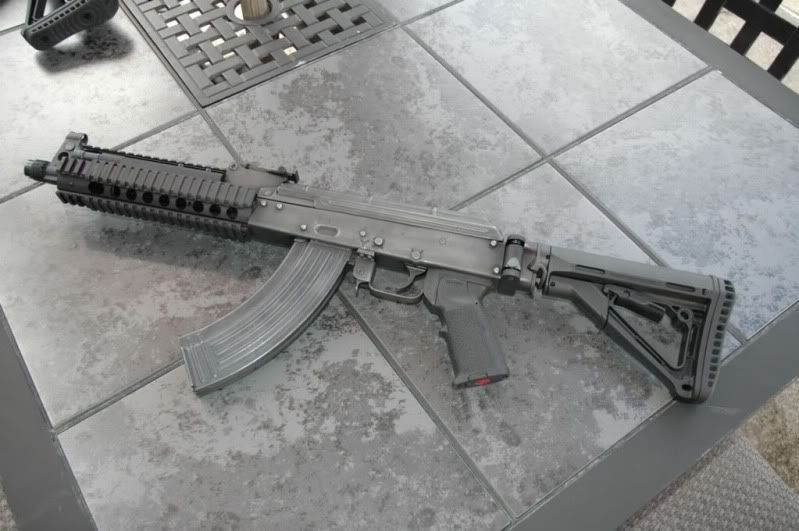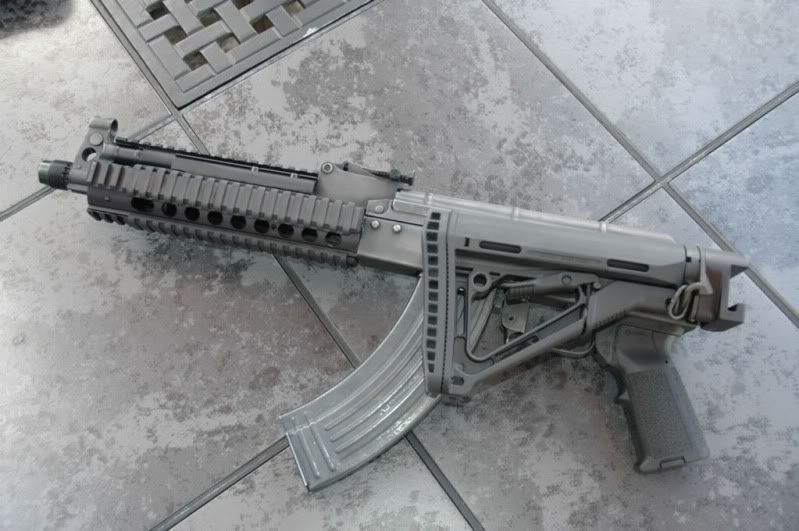 Main features I wanted for my SBR included:
-Side folding stock mechanism.
-Magpul stock.
-Magpul grip.
-Extended railed handguards.
-RDS.
-Ambidextrous or left side charging handle.
After a little searching, I finally located a good deal on a Draco at an online dealer and made the arrangements to get it home. There are two versions of the Draco (not counting the mini-Draco). The C, and the non-C versions. The long story short, the C versions have a trunion that more readily accepts an underfolder stock. I wanted a side folder, so I made sure I got a non-C version.
Fast forward almost 5 months. My approved Form 1 arrives in the mailbox, and the weapon is assembled. The following is the specifics on the build. Everything non-SBR related was completed prior to getting the Form 1.
SBR'd Draco along with my SBR'd Uzi: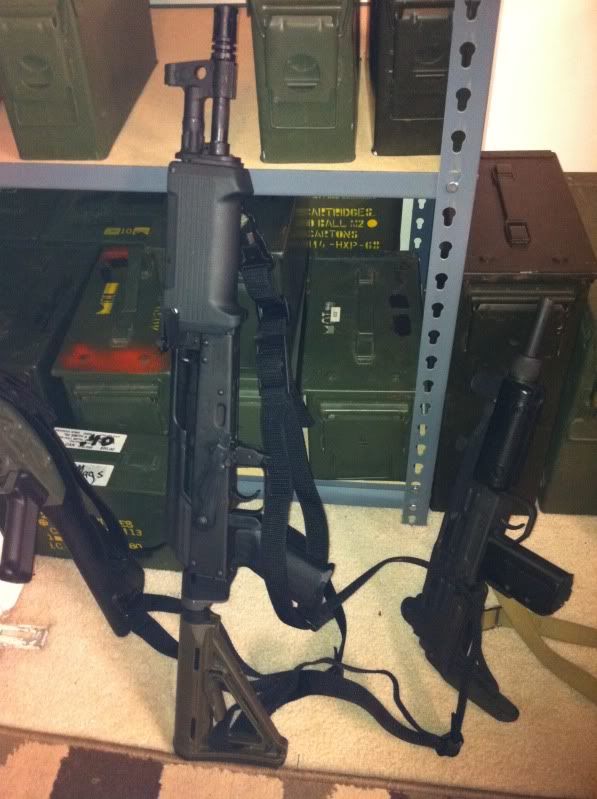 The Draco comes with a muzzle nut threaded on and lightly welded. I used my dremel to remove the weld and unscrew the muzzle nut. It was very easy to do. I was unsure what I wanted for a muzzle device. I am more concerned with flash than sound, so I decided on a flash hider. I narrowed down my choices to an AR A2 birdcage style, and an elongated RPK style. Both have been mounted. I believe I prefer the look and length of the A2 birdcage. Both of these devices are simple, cheap, and are reported to do their job well.
Flash hiders: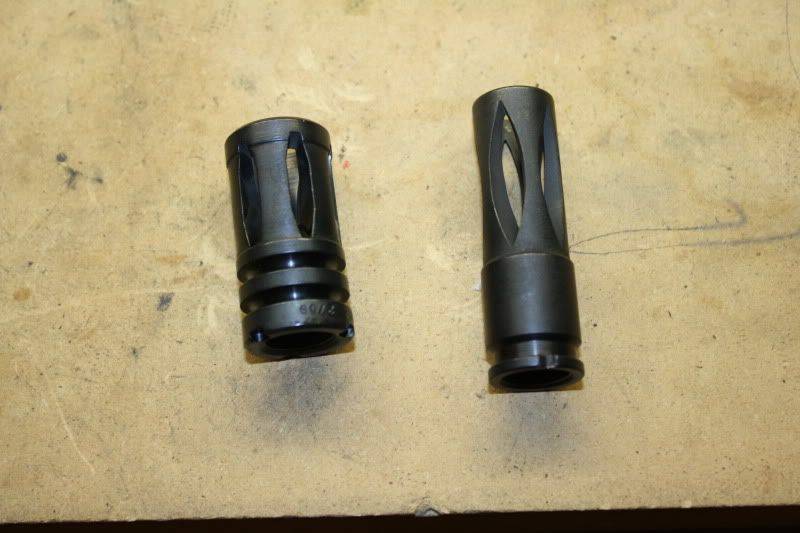 Here is a shot of the finished weapon with the A2 flash hider installed alongside my SAR-1. The second shot shows the RPK style flash hider.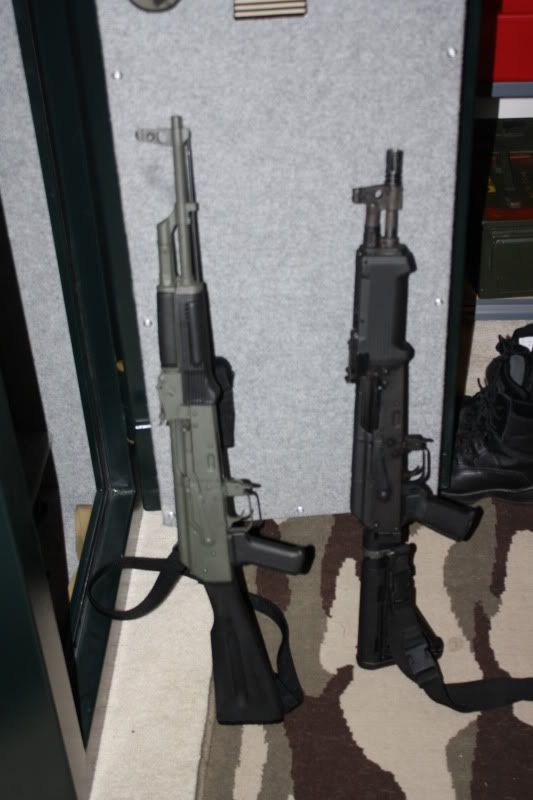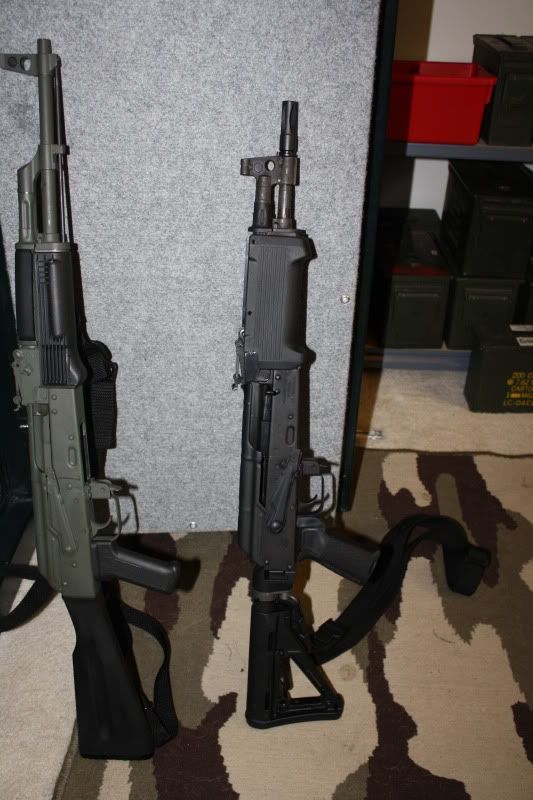 In keeping with Gardner's build, I ordered an ACE brand AR grip adapter, as well as an ACE folding AR stock adapter. Both of these items were also mildly difficult to find. The grip adapter was mated to a MIAD grip using one of the beavertail rear pieces. I got out the dremel and did my amateur best at mating the two together smoothly. It turned out ok. I may still sand it more or use some plastic or resin to smooth out the rough edges and give it less of a cobbled together look. The ACE stock adapter would require me to drill and tap a couple of holes to the rear of the AK. Unfortunately this is beyond my abilities and tool box. I dropped it off at a local gunsmith a few weeks before I believed I would get my Form 1 back.
Grip: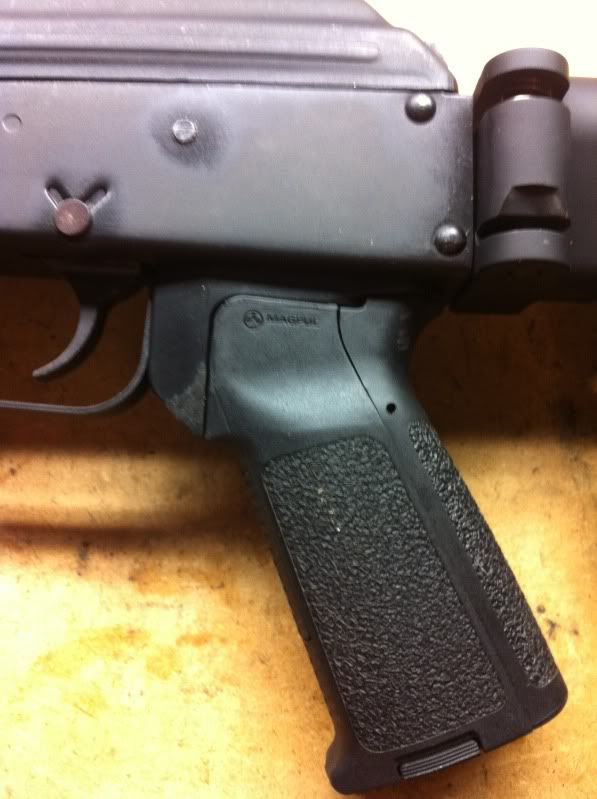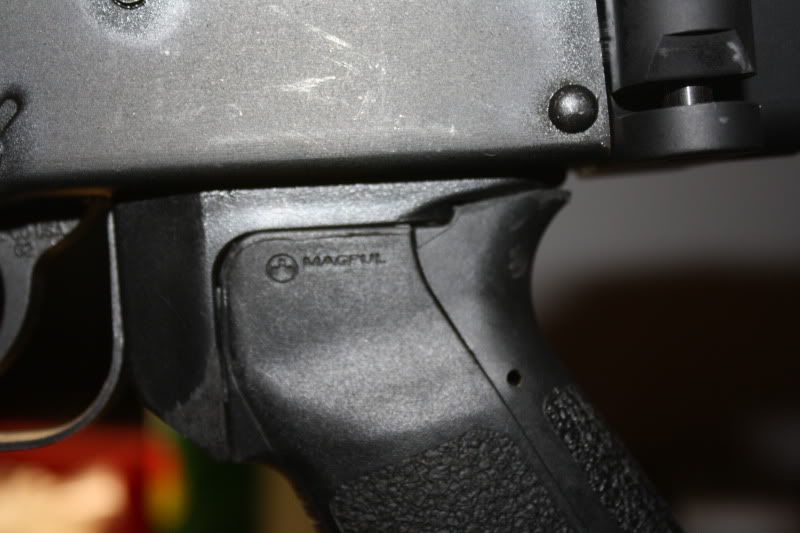 Since I knew my budget would not allow for the complete Ultimak rail system right away, I opted to remove the wood and try out a Tapco Galil handguard. It feels great. Time will tell how it deals with the heat. I left no guard on the gas tube since the Galil handguard runs high on the sides, and I do not typically wrap my hand over top of the tube due to the low iron sights. Recently, Midwest Industries has revealed that they will be releasing an extended version of their popular rail system. The new version is planned to be 9.5" and extend out to the front sight post/gas block. I look forward to seeing the final product.
Galil handguard: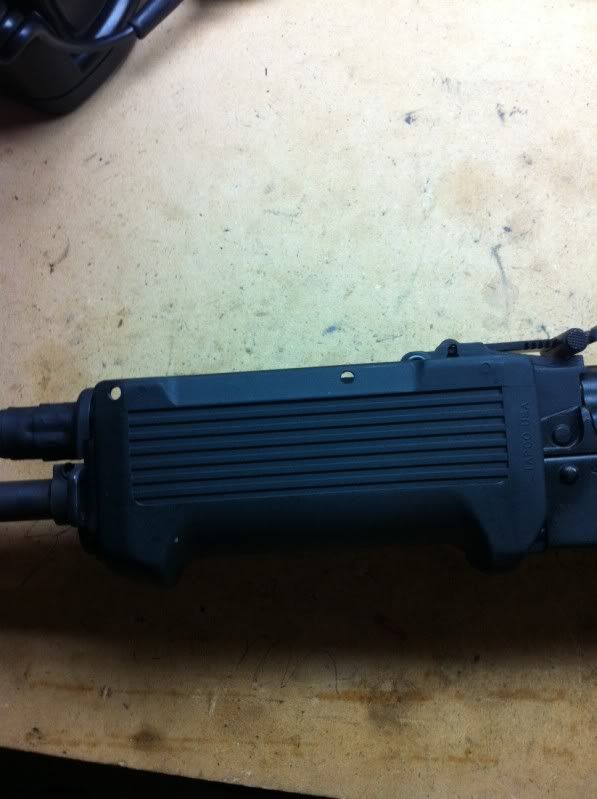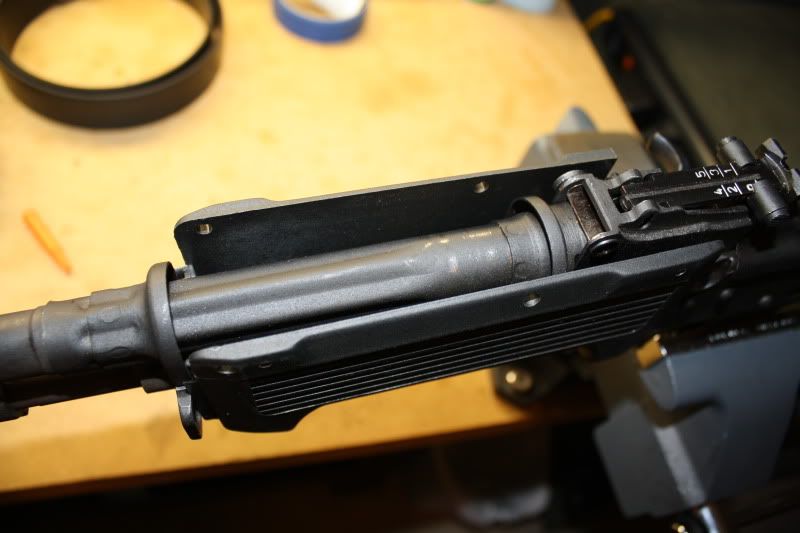 I debated on trying a UBR stock. The heavier stock seemed like a good idea to counterbalance the weight increase I expected to get when I added the Ultimak rails. I found one sample of a person running a UBR on an ACE folding mechanism like mine. The report I got from them was that the cheek weld was a little too high for the AK, and that the CTR stock was better. This didn't make sense to me. since both stocks are subject to the charging handle on AR's, I would expect them to be at the same height. My bigger issue with the UBR was sling mounts. I run Noveske end plates on all my ARs, and I previously ran Tangodown PR4s. I like the quick detach sling mounts and I like them mounted at the bottom of the rear of the receiver. The UBR offers a side mount that is near the rear of the receiver, but it appears this will interfere with the receiver when the stock is folded. I chose to stick with Gardner's plan and go with a CTR/MOE stock coupled with a Noveske end plate.
The ACE folding mechanism has a small notch on the receiver side of the device. It is made to mate with the ACE receiver adapters for the AK. For purposes of this build, no receiver adapter is needed. What many folks have done is grind down the notch, then drill and tap the rear of the Draco receiver to accept the screws that come with the folding adapter. I took the device and Draco to a local gunsmith. We opted to cut a groove in the Draco receiver to accept the notch vs. grinding the notch down.
ACE folding mechanism installed: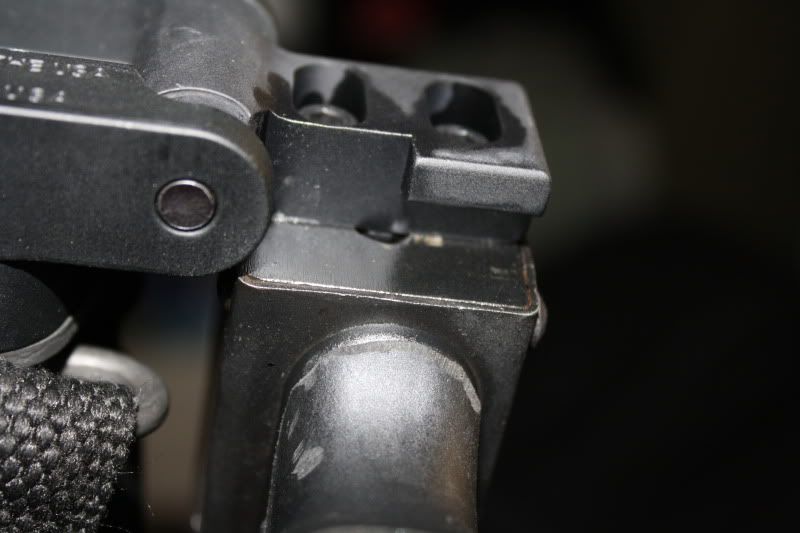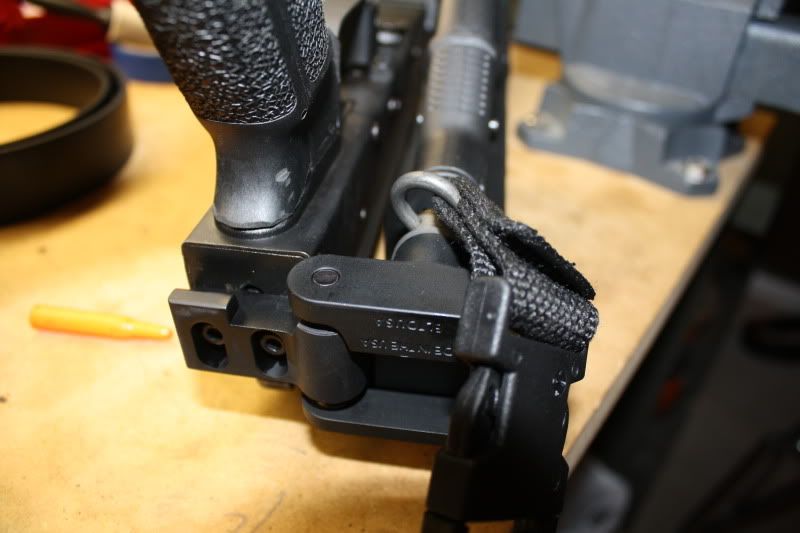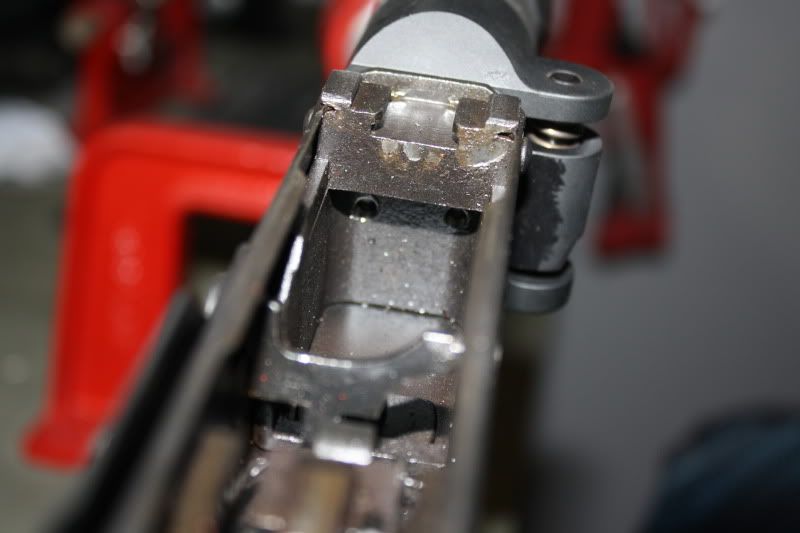 I plan to add a BFG VCAS or Victory sling. It will be attached with two QD sling mounts. The adjustable sling works the best sling for me, and I have these on multiple other rifles. Keeping QD mounts, I am able to have few slings for all the rifles. Until I place a rail system in the front, I'm using a BFG single point sling mounted with a QD attachment at the Noveske end plate, as seen in the pics above.
I made two other modifications to the weapon. One was to the iron sights. I opened up the top of the front sight hood. I also widened the rear sight notch. I will be adding an XS 24/7 tower to the front when funds allow. I have this sight post on my SAR-1. The front sight tower is already open on my SAR-1, and I did the same rear sight mod for it as well. The combo has served me well on the SAR-1. For now, this should work just fine. I do plan to add a Texas Weapon Systems Dogleg receiver cover to the rifle. The reviews have been very positive. I like the idea of adding a rear peep sight in a traditional position. I also prefer the location it allows for a RDS. This could interfere with plans to have a left side charging handle.
Front Sight: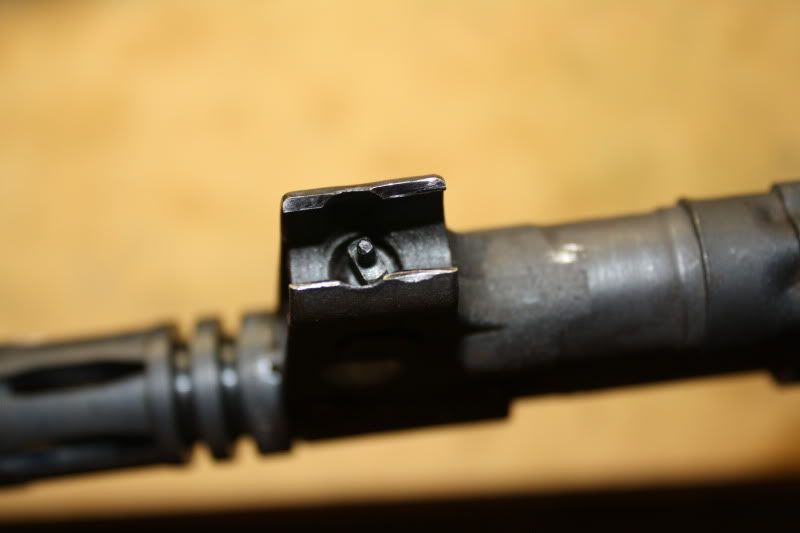 Rear Sight: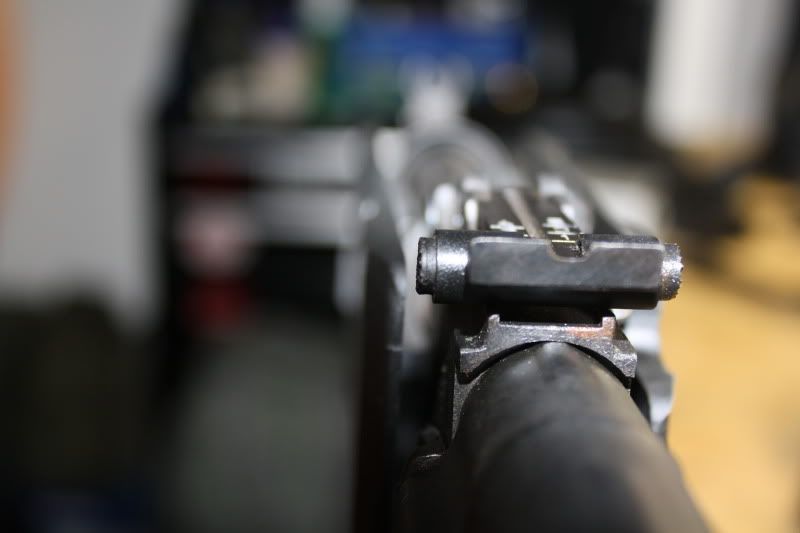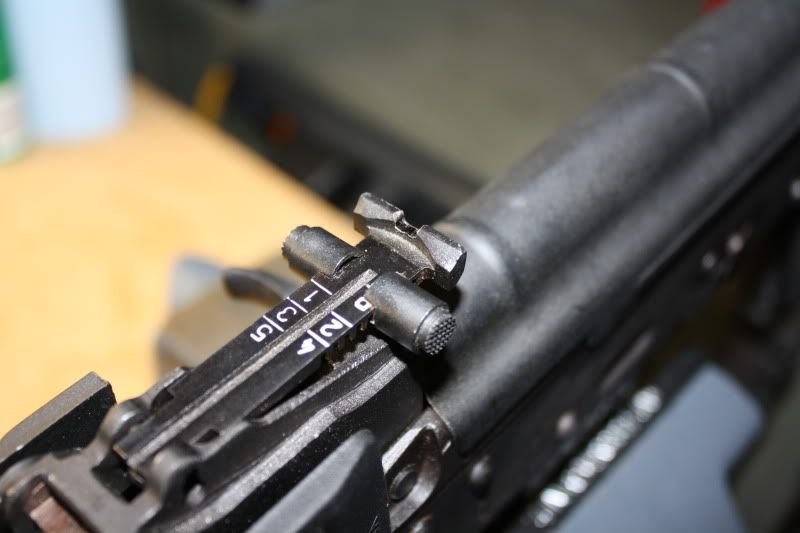 The second modification was to the trigger. I purchased and installed a G2 trigger group. It was my first attempt at removing/installing a trigger group in an AK. Needless to say, it was frustrating. The shepherd's hook is a nightmare. Thankfully, it only took an hour or so until I got it down. Unfortunately, I forgot to add the hammer spring from the old trigger group when installing the new parts and had to remove everything and install a second time. Still a pain, but easier the second time around. Before I started, it was suggested that I get a Kreb's Shepherd's hook plate to make things easier, but I was stubborn. I'll buy one next time.
With the trigger group swap, I had an issue with replacing the safety lever. When reinserting it, I found that it was impacting a portion of the hammer. I could find no way around it. I broke out the Dremel and it quickly trimmed the fraction of an inch of material to allow the safety to rotate. With it all back together, I ran some function checks. The trigger operates ok, but I do believe the original trigger had a slightly better feel. I'm hoping it will smooth out with some firing. I have read that some G2 trigger kits are out of spec, and not as great as they have been in the past. I am still toying with the idea of a modified safety lever, in which case I'll have to possibly make these mods again.
Hammer adjustment: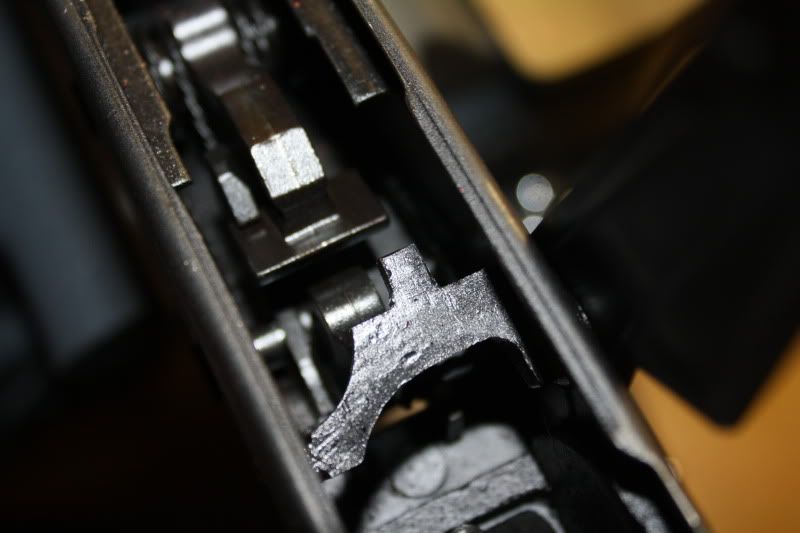 Future Additions––
-TWS Dogleg Rail w/peep sight.
-Ultimak or Midwest Industries rail system (waiting on MI to release their extended rail options).
-Larue Handstops and Index rail covers.
-BFG VCAS Sling.
-Gear Sector rail sling mounts (QD style).
-RDS (Probably a Primary Arms micro Aimpoint clone).
-Light (Undecided what brand/style).
-XS 24/7 front sight post.
-Galil magazine release mod?
-Lighting Bolt?
Function––
Running the Draco in its stock form was a pleasure. The weapon did not have any noticeable increase in recoil as a pistol, certainly less than I expected. I experienced no malfunctions during the session. The round count was about a hundred rounds. Shooting at dusk and into the evening, the fireball was quite impressive!
I shot the rifle a second time after creating the SBR. I only ran about 100 rounds during this session. I only fired at about 25 yards. I kept a high rate of fire, trying to keep the weapon hot (smoking barrel and gas tube). Not exactly a stress test, but I did want to push the gun a little and make sure it functioned properly. I did not experience any malfunctions. All accessories functioned well. The Galil handguards handled the heat well. They were getting warm, but I had no problem holding it without gloves. The open top was avoided because it was definitely hot. No zero was set since I plan more of the upgrades soon, and it's out of the box zero is acceptable for now.
At the range: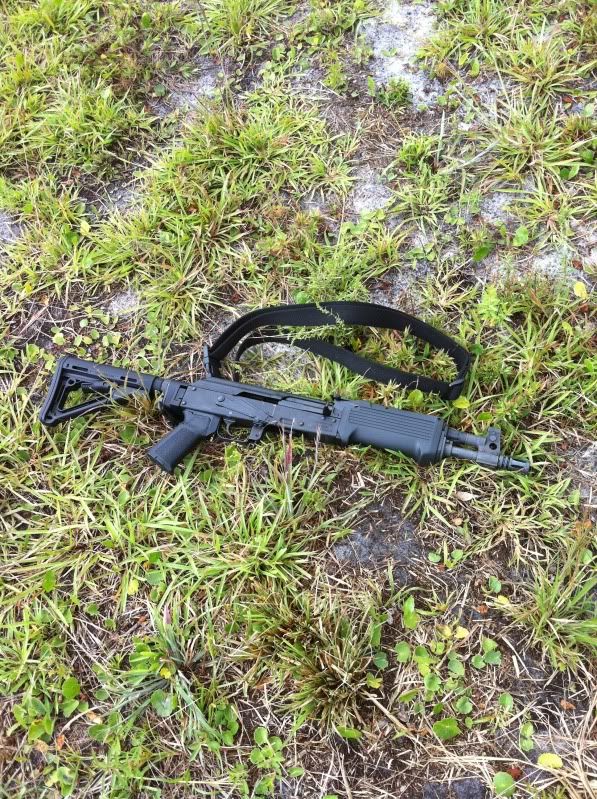 Obligatory Uzi shot: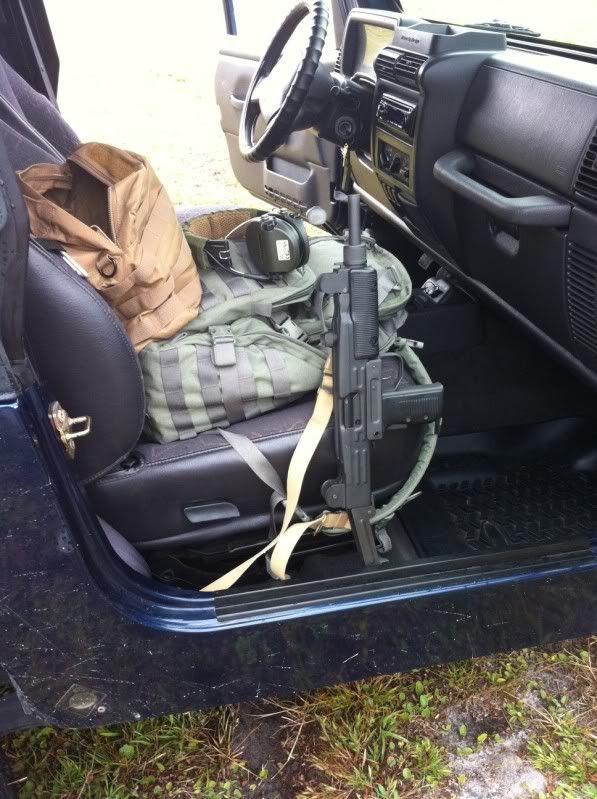 I should make it to the range one or two more times before further modifying the rifle. Ammo supply is getting low, and Florida is getting lots of rain over the past few weeks. When I do get out, I plan to open the distance and do some more focused drills to see if it continues to handle well.
Unfortunately, the holidays, classes, and multiple family vacations have kept me from working more with this gun.

I did go to the range for training the other night. I brought along the Draco to check the effectiveness of the A2 flash hider. I fired about 50 rounds. I was VERY impressed with the A2. At most, I had mild sparking. When compared to my AR 10.5 with a Levang Comp (duty weapon), the A2 was far superior. I'm probably going to ditch the Levang and reinstall an A2 on the AR SBR. Next night shoot, I'll try the RPK style flash hider I have. When funds allow, I'd like to try a Battle Comp as well.

I have iPhone video, but having a little trouble getting it uploaded. I'll keep trying and see if I can get it loaded this weekend.
I would take a look at the US Palm stuff. They have a lot of magpul-ish grips for the AK and some great mags.
I wouldn't mind trying one of their grips. I like the Magpul grip because I have multiple ARs using them already.

I prefer the cheaper, surplus steel mags over the US Palm. No personal experience with the US Palm mags, but the reviews have been less than 100%.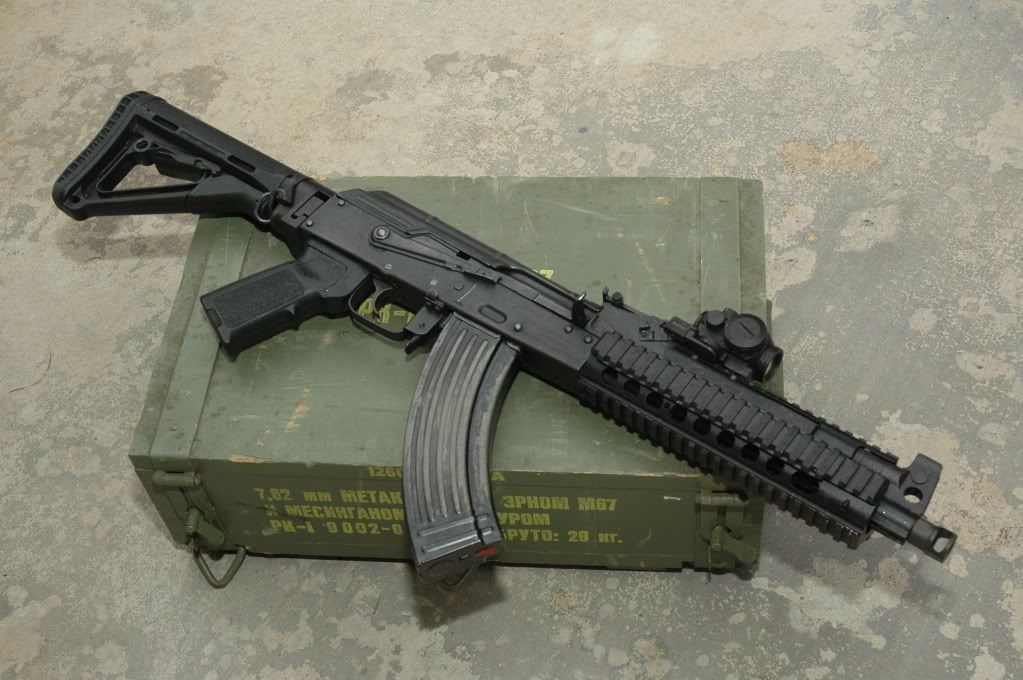 Gardner's most recent photo-
-Custom brake
-Jard 2lb Trigger
-Larue QD Micro Mount
-Lightened Carrier