Series 1
Who has a series one Kimber?
I have been looking for one. Nothing fancy, just a basic Kimber
I have a series I Stainless Pro Carry and love it!!
Not only a series I, but a Kimber compact at that (harder to find):
Compact I. Love it.
I found a SS Custom Series 1
the ICBQ tribute pistol project can move forward
Originally Posted By SperlingPE:
I found a SS Custom Series 1
the ICBQ tribute pistol project can move forward
Congrats! Pics?
I will get some before photos shortly
Originally Posted By ARDaddy:
Originally Posted By SperlingPE:
I found a SS Custom Series 1
the ICBQ tribute pistol project can move forward
Congrats! Pics?
Classic Stainless Target
Series Uno Custom Compact
I have a Gold Combat I picked up in 2005 for a grand. It's the wife's favorite gun in the safe
I have a Custom Classic Stainless 5" that's been hard-chromed. I just added an ambi safety to it, now I need to find a good smith to make the trigger pull just a bit heavier.
I have two Series 1 Custom Classics 5 inch guns. Both were safe Queens when purchased pre owned for under 500.00 each.
One has gone through a couple pistol classes and many range trips. The other was intended as a back up.
Since the first has never failed the second just sits in the safe.
Both are almost as they came from the factory. The user has Novak sights. The full length guide rods in both are gone.

I just sold my Kimber Classic Stainless (Series 1). Spotty fitting in a couple places, and low quality small parts. Quality really isn't better than a Series 2, just no Swartz safety.
Here are my Pre Series II Custom Classic and Pro CDP: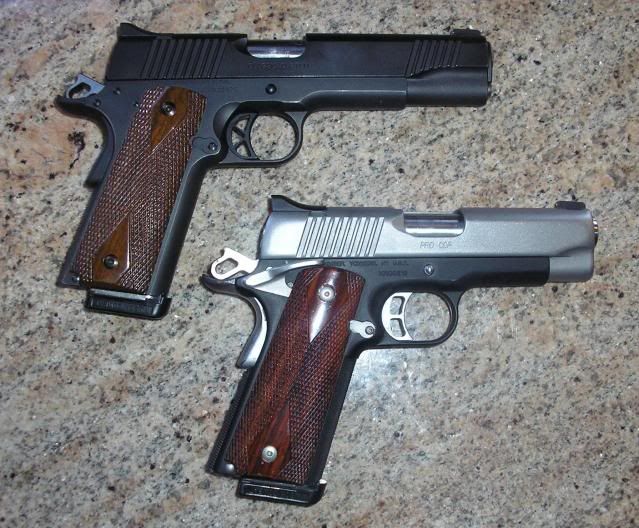 and the Compact Stainless: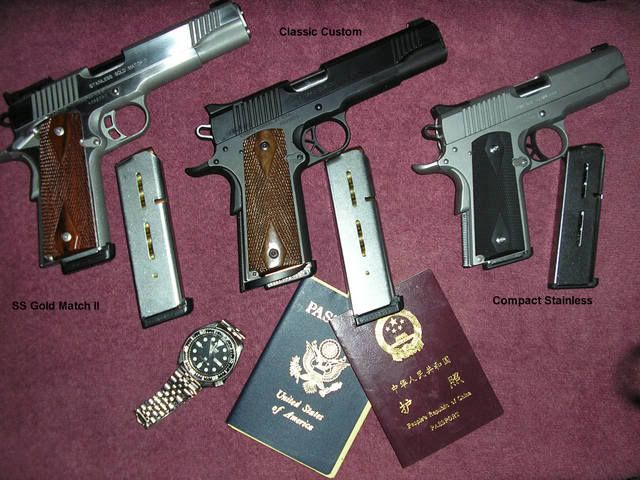 Custom Classic and a Pro Elite here.
basic pro with upgrades..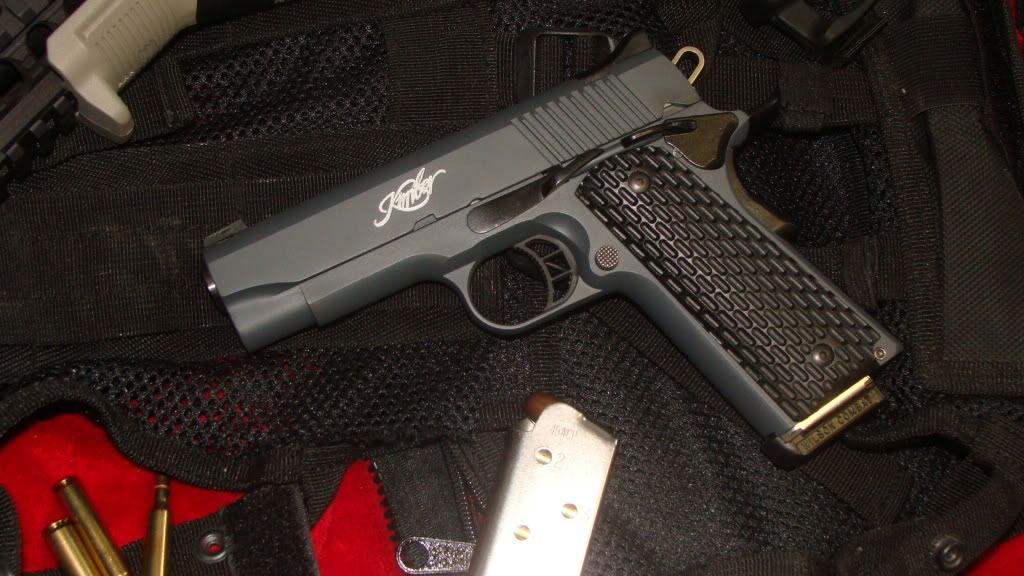 Eddie
I have three Kimbers and they are all Series I. A CDP fullsize, CDP Ultra and an early Warrior. You can tell that they were built in a "different era" at the factory.
Hey partner, I have two LNIB Series I Classic Custom 5", two LNIB Series I Classic Stainless 5", one LNIB Series I Classic Stainless LE (Limited Edition) 5", one NIB Series I Combat Carry 4" BBL w/ Ultra/Compact grip frame, one LNIB SeriesI Pro Carry. I love em, I've had Series II Kimbers and they are just as fine just not as hard to find.....stay away from the Series I's so I can buy em' up, you will hate them, LOL! I also have a 70 series LNIB Dessert Warrior and a 70 Series LNIB Warrior along with a NIB Colt Gunsite Pistol and my shooter "NM" serial prefix Springfield Stainless Loaded 5". Man, I cannot handle another Series I collector on the market, it's hard enough to get them before a couple guys out there (YOU KNOW WHO YOU ARE, LUCKIES!) grab em up. TomC54 and AZHusker, I have heard have the most robust collections around of Series I's. I have had a few Clackamas rollmarked Series I's and by far the best action and triggers for sure!

Cheers!
Since I posted it in the other thread...
Here's my Series 1 Compact CDP. Sorry for the crappy iPhone pic.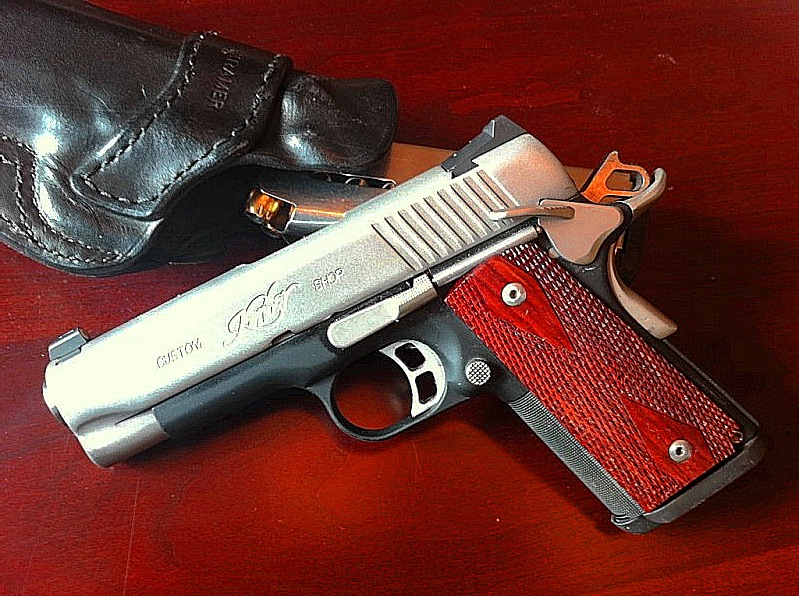 I have 2 custom shop series 1 guns and a Gold Match series 1
I have two:
Compact CDP
Gold Match
Both are unfired,NIB!
Series I Pro Carry HD, bought it for $500 from a friend who shot less than a box of ammo through it. I had it bobbed, added Trijicon night sights and a set of slim Ahrends grips intending it to be my carry gun. By the time it was done it was too pretty to carry so I bought a Glock for that purpose, this one lives in the safe
I have a Pro Carry SLE that is a series 1.
Classis custom fullsize: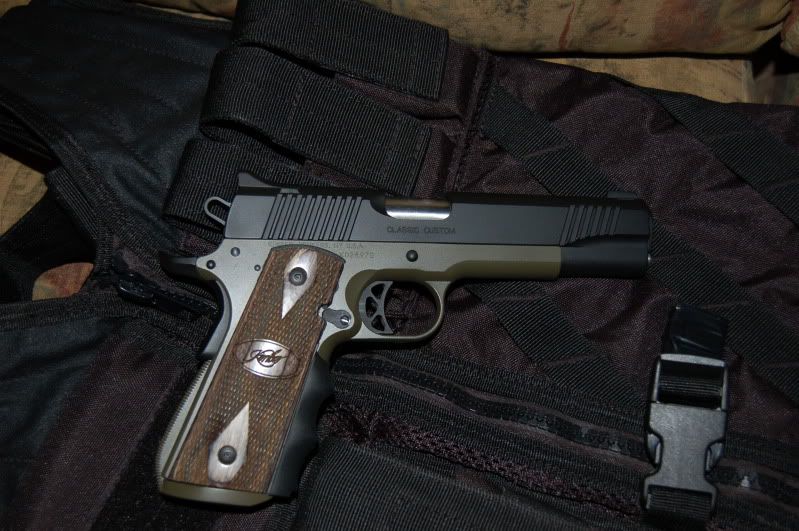 Nothing too special, but its the best 1911 I've owned so far.