In Search Of... A Hunting Revolver
After parting ways with my 629 Classic many years ago, I've re-developed my "jones" for a new hunting revolver. Been doing a TON of reading but my eyes need a rest and I could really use advice from those more knowledgeable than myself. Here's a few talking points...
- Game to be hunted will be primarily northern Whitetail.
- Would like to go with a .357 Mag this time since I'm all ready tooled up to load for it. (All my .44 specific gear went with the 629 when it was sold.
)
- I figure using .38's for practice will save a few dollars as well.
- Range anticipated will be inside 100yards. Most likely inside 50 yards.
- Would like an "out of the box" deer slayer I can build on, or refine.
- Iron sights to start with either a red dot/holo sight or a low power optic in the future.
The Smith mentioned above has been my one and only exposure to the world of wheel guns. I've been looking at different 686 models, but I'm open to any and all flavors.
What say ye?
if your after deer move up to the .44 Magnum......357 will work but when I finally get a shot at a trophy animal I have been watching all year I want the odds in my favor...that being said a great gun for hunting is Ruger Blackhawk/ Super Blackhawk.....inexpensive....rugged...takes a scope well....whats not to like....
The 686 is not a hunting firearm necesarilly 末- sure, it can kill with proper shot placement, but there are better tools for the job 末- (i will add that when they developed the 357 Mag back in the 30's –– Wesson used the darn thing on any kind of animal you could think of and touted it as a "do everything" cartridge –––––––– but those guys' were crazy back then
)
Blaskhawk/ Super Blackhawk that was already suggested is a great choice and the Hunter models can take an optic pretty easy 末 anything in .41 MAg on up 末 the .45 Colt is an awesome cartridge since you reload too. A Set of dies for anything is only 40 or 50 bucks , so setting up for another caliber shouldnt be that big of a deal, (unless you use a Dillon, with the separate toolheads and all that)
Freedom Arms in 454 Casual is nice if its in your budget and you can plink with regular 45 Colt rounds too
If you prefer shooting double action , Ruger Redhawk /Alaskan 末 or another Smith 57 or 29 –– even a Colt Anaconda if you can find one–– they were chambered in .44 and .45 Colt –– they made a Realtree colored variant that came with a Burris scope that was supposedly ready to go ––- being a collectible Colt, it will be spendy, but so is the Freedom Arms
tons of choices –– naturally if you ar e going open sights, the longest sight radius you can get (usually an 8" barrel) would be preferred –– would give you the best possible ballistics too, although some Blackhawk models can go up to 10" barrels
A wise move would be to go right back to a Model 29/629. Something in the 5" to 6.5" range.
I would suggest a simple practice load to get you started.
Light practice load: 8.5 grains Unique w/ 240 or 250 grain cast SWC.
This will allow you to focus on the fundamentals of marksmanship and not be worried about recoil. It is also a great small game load. Once you have achieved your desired level of accuracy with it, bump up to the mid level load.
Medium load: 10 grains Unique w/ 240 or 250 grain cast SWC.
This load is an excellent general purpose load. It will drop large Mule deer, hogs, you name it. It is also easy on guns and wrists. It is a smart choice for long term use.
For the rare times you really need a heavy load, such as an elk or bison hunt I would suggest this heavy, yet Smith friendly load.
Heavy load : 22.5 grains H110 with 300 to 320 grain cast SWC.
I do not shoot many of the heavy loads as they are hard on the wrists. They also fatigue a shooter in short order if he is truly concentrating on fundamentals.
About 20 or 25 in a practice session is plenty to confirm zero prior to a hunt and confirm drops at various yardages. I prefer to have repeated short practice sessions with the heavy loads over the course of a couple of months prior to a hunt rather than one long session.
Choose a set of grips that fill your hand and allow you to absorb recoil evenly and consistently. I prefer smooth wood, non finger grooved types.
These are things that have worked for me.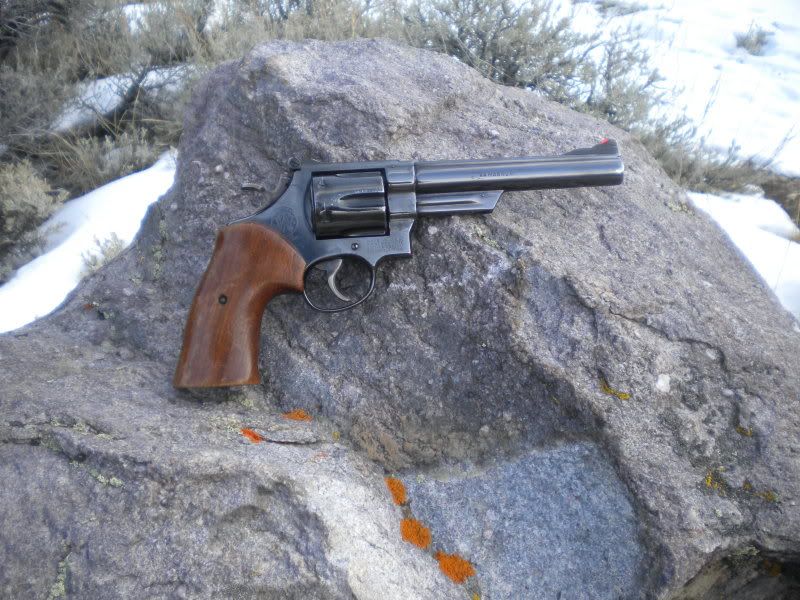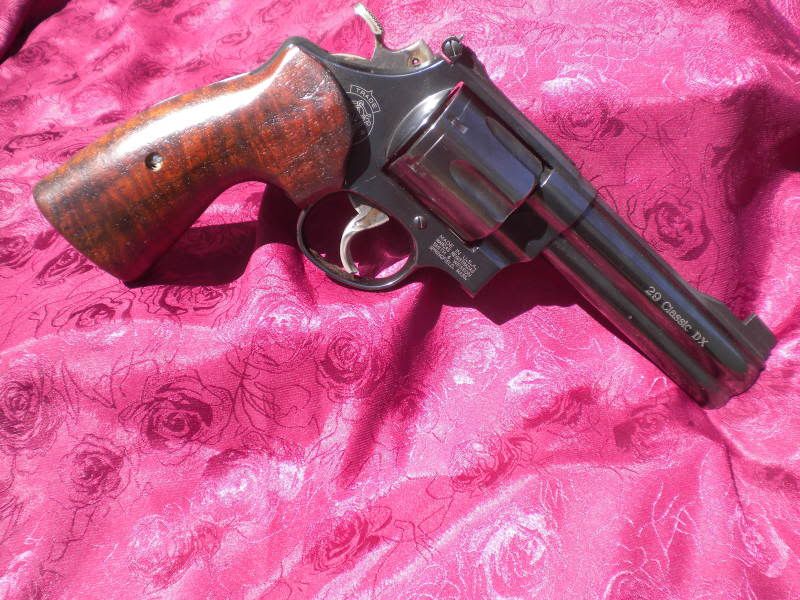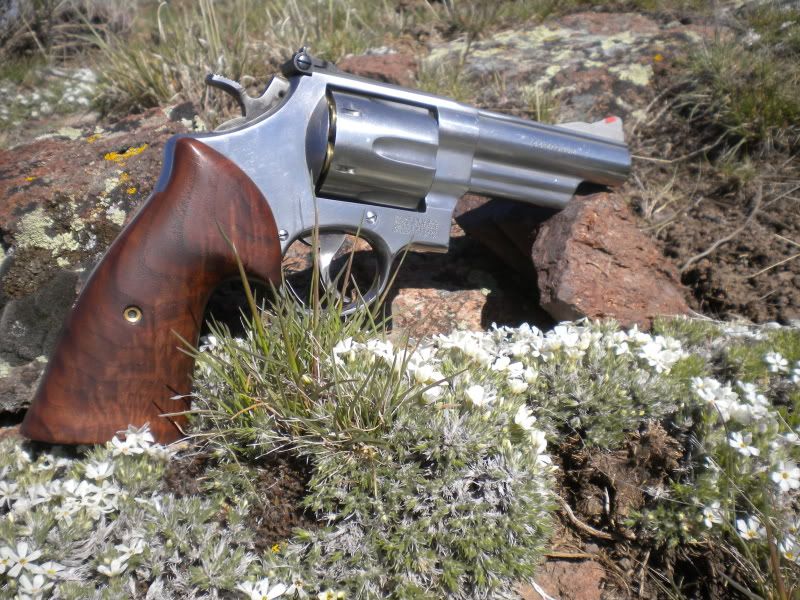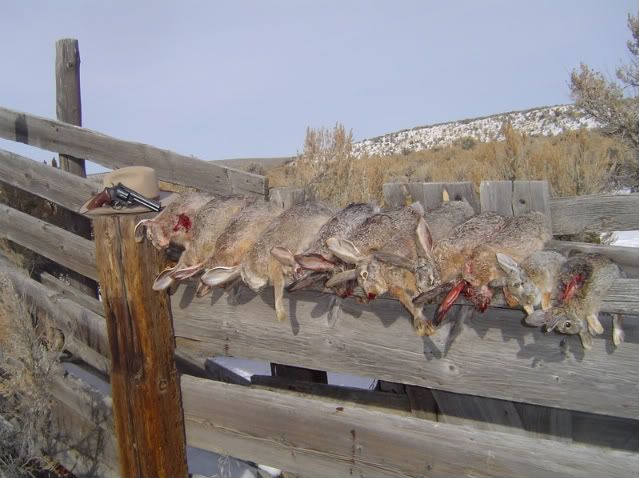 have to agree with the above, regarding a 44 over 357. north whitetails are big, and tilting the scales a wee bit in your favor just makes sence.
hasn killed anything yet cept paper, but as I sat over the holidays it talked to me so I placed a bid
super blackhawk hunter in 44
and just to vailidate my hunting experience and show off a little. its a .50beo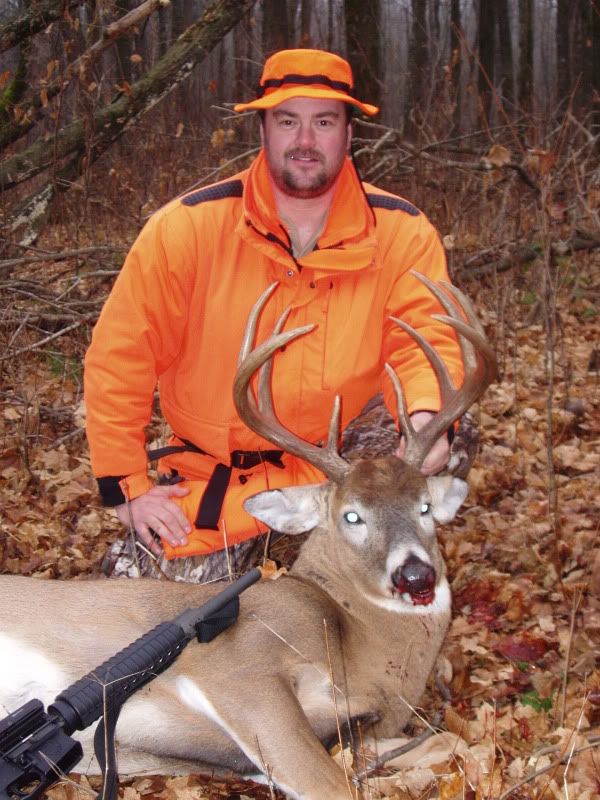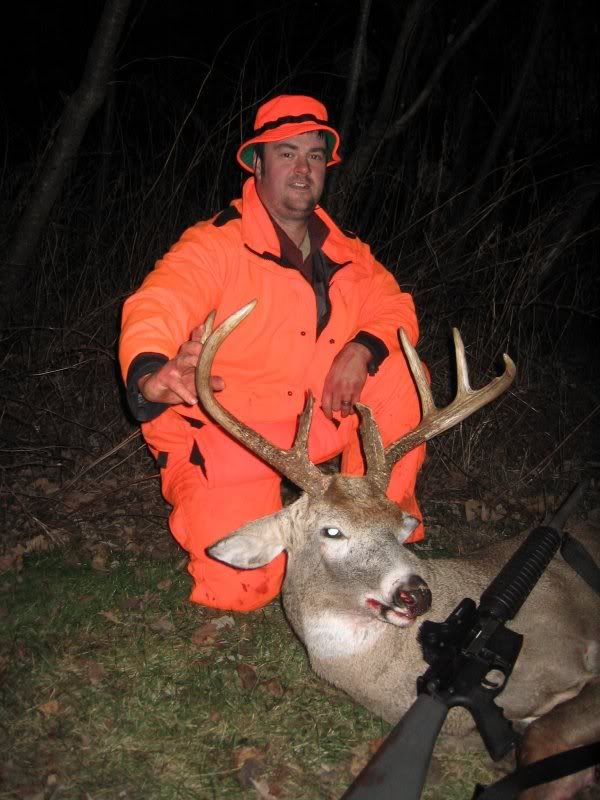 I second/third/fourth/fifth the bigger gun notions above. Warm/heavy .45 Colts out of a Ruger Blackhawk are the bomb.
My son was stationed in Missouri for 14 yrs. and the only deer he got was with a New Model Super Blackhawk using my reloads. Admittedly they were too hot with 21gr of 2400 but the deer dropped where he stood. I've said it before here but my NMSB is the most accurate hand gun I've ever owned.
Well folks... You convinced me to go big or go home, so .44 Mag it is. I was thinking other calibers as well, but decided on the .44mag since ammo is readily available in case I don't hand load for this...

Alrighty... I've narrowed my choices down to two. A stainless Ruger Super BlackHawk Hunter and a Matte Black Smith & Wesson Model 329 XL Hunter. I'm leaning S&W but I'm a bit curious about the frame material. My 629 was stainless (like the Ruger) but this 329 has a "scandium alloy frame with a stainless cylinder". I like the unfluted cylinder of the Ruger and wish that option came on the S&W.

Decisions, decisions...

So what do you all know about the S&W's alloy frame? I don't see my using any super hot loads with either gun. Is the alloy frame a set back in strength?
I would up the power and get a Dan Wesson 445 super mag. I have a buyer pack with one shroud with open sights and another shroud with a scope.
And here is a 445 supermag next to a 44 mag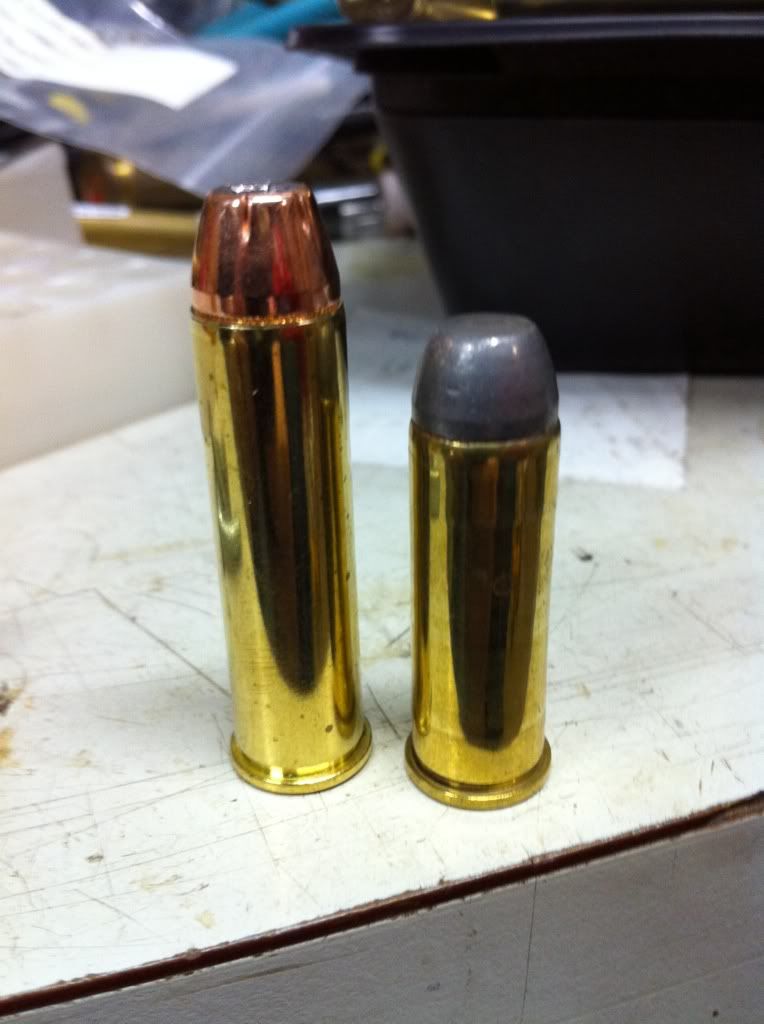 I would definitely recommend .44Mag or larger for a hunting handgun.

If you want something fun, since you reload, look into a T?C Contender or Encore. I have a SSK 12" .44 mag barrel with a 4x tasco, it's fun! And, you can get other barrels in other calibers for different tasks or game type.

Revolvers, I would go with a Super Redhawk in .44 or .454 casul. Comes with scope mounts, and the irons on them are good.

The Super Blackhawks are also a good choice for irons.

Blackhawk in 357 with the 9mm convertible cylinder. You can load it up to 357 maximum levels with no problem.
Smith 460 over
Will give you max range with a pistol.

Another option you might want to look at is an old n frame 357.
OOOOOOOOOHHHHHH!!!!!!! Thats Sexy !
Thanks folks for all the words of Wisdom. And the great pics!!
Alas, I'm now doomed to a special hell and have been beaten by the ARFCOM curse once again. I bought both.
Earlier today, I dropped a big chunk of change to get a S&W Performance Center cannon ordered and in route. I went with a 629, .44mag Stealth Hunter. It's big. It's heavy. and should tame the recoil of full boat loads quite well. I already have a Aimpoint waiting for it's arrival. Then... Just minutes ago, stricken by that damned curse, I ordered a S&W M327 5" Performance Center .357mag, 8 shooter. Get's me back into the swing of wheel guns with something I think is REALLY neat! Besides... I've never had a .357 and it's about dang time, right?
I've been a good boy. Saved my nickels and dimes. Sold off a couple non-essentials... It's only money, right?
And Muskyjerk... If you hold true to your handle, we gotta talk. I'm quite the fan of Esox anything. Missed my 1st 50"er last season by a measly 1/2"!!
Well you still have me beat... the 50's sure do look nice when they come up to the boat, and sink away into the depths..

still chucking wood.....


MJ
Originally Posted By moose-hunter:
Besides... I've never had a .357 and it's about dang time, right?
I've been a good boy. Saved my nickels and dimes. Sold off a couple non-essentials... It's only money, right?
good choice (choices) its only money
That 44 mag will serve you well.
Word of warning though, do not set two 44 magnum S&Ws in a dark safe together unnattended.
They are like teenagers. This is what happens: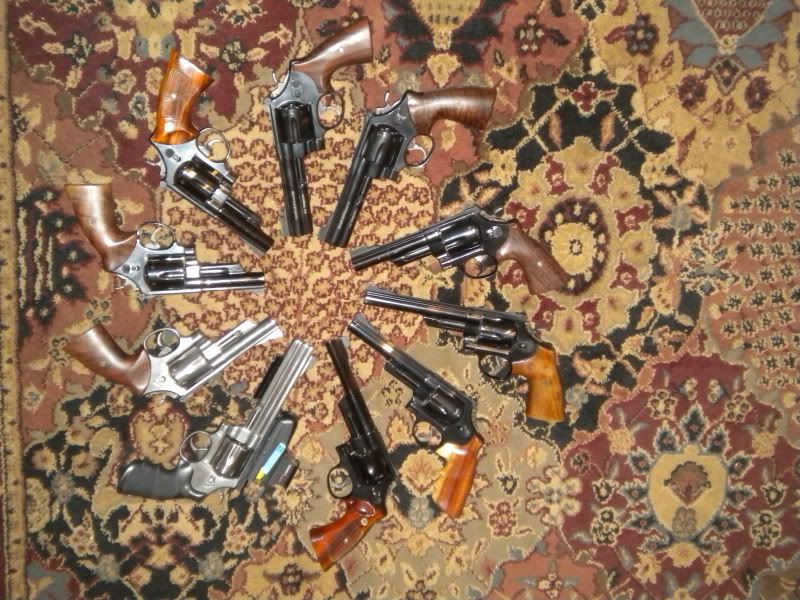 Pretty soon you have S&W 44s all over the danged place!
Colt Anaconda 6" would be my first choice. Most accurate wheelgun I've ever owned, with just about any factory load. 44spl included.
Originally Posted By Slacker:
Colt Anaconda 6" would be my first choice. Most accurate wheelgun I've ever owned, with just about any factory load. 44spl included.
I happen to have an Anaconda as well, an 8" version. It is a nice gun. That being said, I still prefer the N frames. Fortunately there are plenty of both floating around so guys who like one or the other do not have to settle on only one flavor!
Here is an old pic with the old Anaconda:
A great heavy duty, general purpose belt gun is this 4" Redhawk. My bride thought it was a good 10 year anniversary gift. Good girl!
It is shown with a custom 5" Model 29: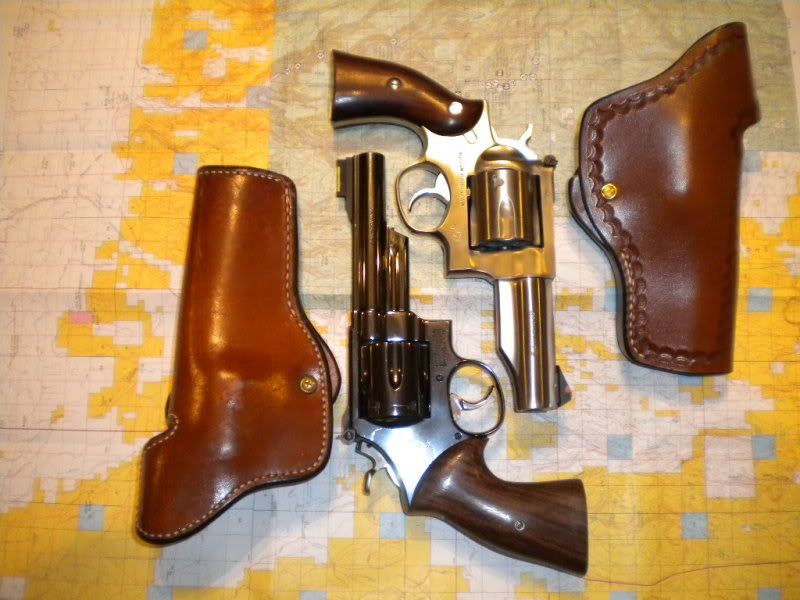 I highly recommend a 44 Mag Ruger Bisley Blackhawk. The ergo's are better than the Blackhawk IMO.