Any Astra 400 Fans Here?
Just added this to my collection. Made for the Spanish Army just after the Spanish Civil War in 1941-1942. Barrel is stamped 9mm/38
Looks like this one was never issued. Shot great using .38 Super brass loaded to .38 ACP specs with a 9mm 115 grain FMJ bullet.
Here's mine.
I really don't know why in all the years I have owned this pistol, I never bothered to take a picture of the other side
Anyway, here you go.
I was shooting a handload of Speer 125 grain softpoints over a 5 grain charge of Winchester 231 in mine but can't get those bullets anymore so I subbed a surplus 9mm 124 grain fmj bullet.'They shoot quite well in my pistol.
I also have a stash of Santa Barbara, 9mm Largo factory ammo.
Nice Astra's. Mine's dated 1937 and has been rearsenaled. I love it.
I have one which looks a whole lot like the one above. Is there much of a market for these?
I dont own one but have kept an eye out for them at gun shows for years. Used to see them on the old TV show Mission Impossible as a prop gun and always thought they were a cool looking pistol. Most of them go for between $300 to $450 in fair to very good condition. Some more if really nice. There are a couple of diffrent barrel lengths and models from what I have seen but I have never really researched them. Not too many at any given show but there always seems to be a few around. I would be interested in hearing form someone who knows the details too.
Source: The Illustrated Encyclopedia of Handguns by A. B. Zhuk.

These all look very similar to each other.

Astra 300, 1922-1947, 7.65mm, 150mm overall length, 99mm barrel length, 700 gms. weight.

Astra 400, 1921-1946, 9x23mm, 226mm overall length, 150mm barrel length, 992 gms. weight.

Astra 600, 1943-1946, 9x19mm, 206mm overall length, 135mm barrel length, 900 gms. weight.

Astra 800, 1958-1969, 9x19mm, 210mm overall length, 135mm barrel length, 910 gms. weight.

Astra 4000, 1956-1986, .22 rim-fire, 7.65 or 9mm short (.380 acp), 164mm overall length, 99mm barrel length.


There is a collector demand for early Astra pistols.
Astrm made some of the very finest of the Spanish guns right up to their demise.
I have been looking for a nice 800 in 9x19 for a while. There is a good collectors show this weekend so I have my hopes up, I would like to get the holster as well.
My father has the 400 and it has run 100% for him, they are a good design and well made imho.
I did just pick up this Astra Cub a couple weeks ago, its in great shape and the SN# puts it date of manufacture sometime in 1958.
Might as well bump this thread with a few more Astra pics.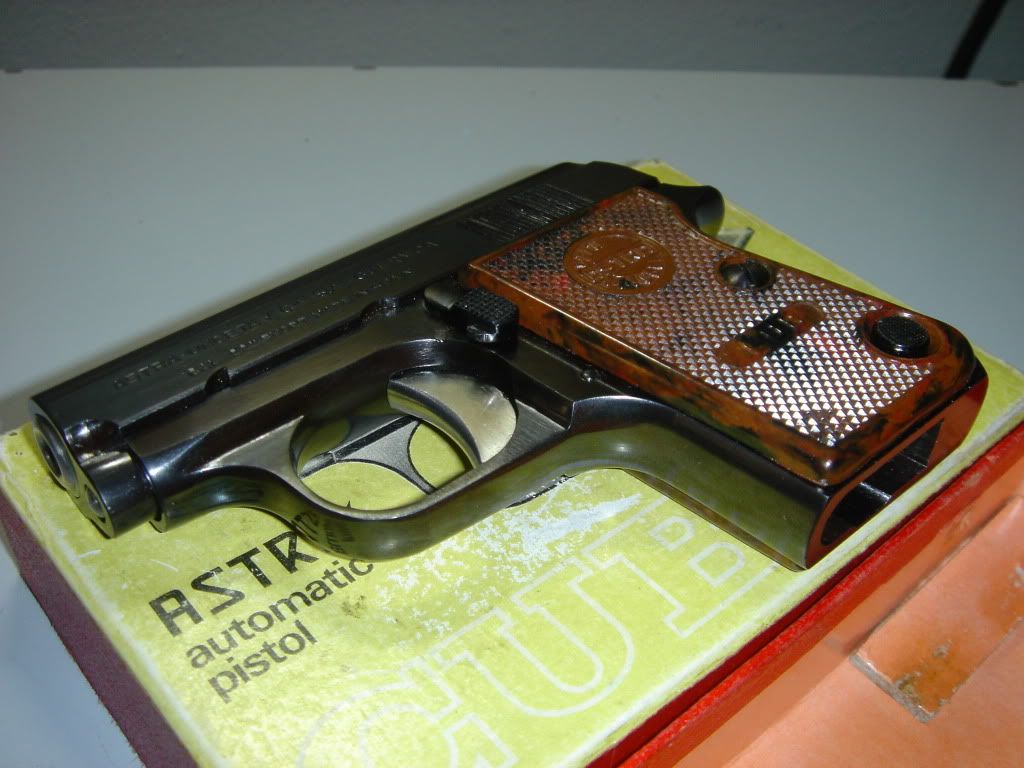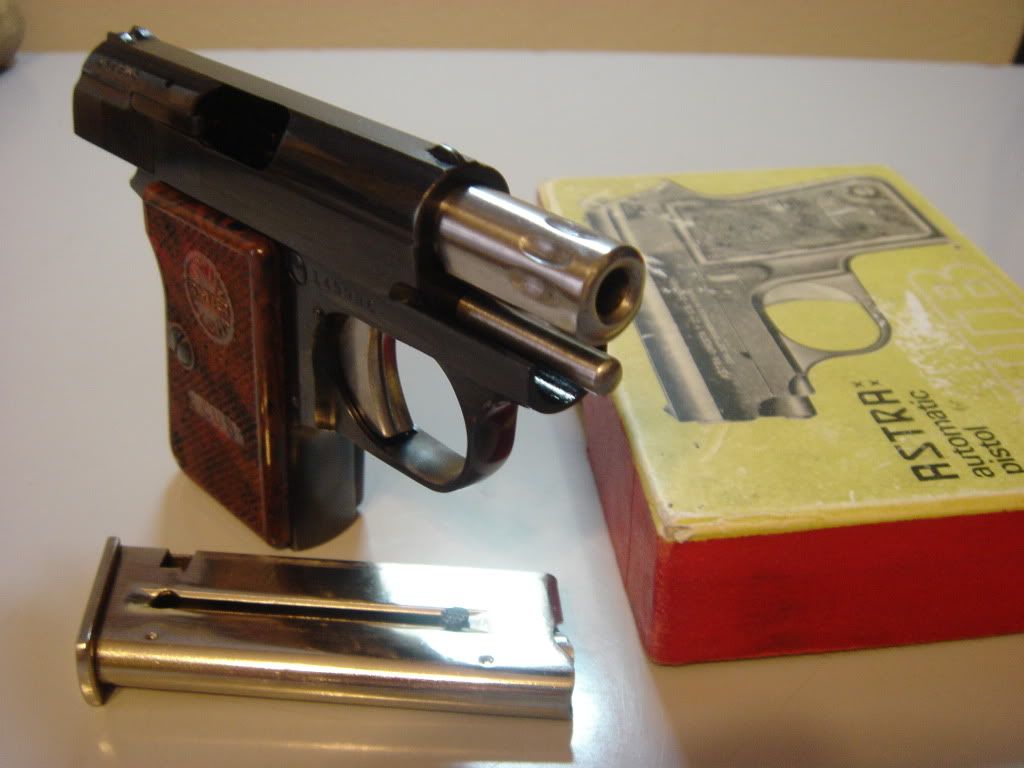 Found in Iraq in 08'. Spanish Astra 600/43 in 9x19 built for Germany during WWII and a Astra 4000 in 7.65x17
CD
I have a 400 and a 600, and today I'm hopefully getting my hands on a 300. My dad has a sequential S/N pair, with their boxes, papaerwork, etc. I saw a decent 400 at the last gunshow for $350, so $3-400 is a pretty solid range for value it would seem.

Long ago, before lawsuits, gun publications said you could fire all sorts of 9mm out of the 400. Being young and stupid I had to try it myself. I loaded a single mag with 9mm Luger, .38 ACP, .380 and mixed them all up with 9mm largo to make a full mag of fun. It ran them fine and actually functioned with them all. Looking back on it, it was a dumb thing to do, because I hadn't gone about researching it properly. I just figured, "Yeah, that sounds cool, watch this!" I recommend against it nowdays, especially with 9mm Largo available. Since I've done it for you, there is no need to try it out yourself, so "don't do this at home".

Anyway, I like the guns, and they are well made, if goofy looking.
There are two versions of the Model 1921/400, well three versions if you also count the copies made during the Spanish Civil War by the Seperatists.

Anyway, the Military and seperatist pistols will have the chamber marked 9m/m Largo.
The Commercial guns will have the chamber marked 9 mm/.38

Having studied a few of the guns, I have determined that the breechface on the commercial guns is machined a bit differently than the military guns.
It and the extractor have been slightly increased in size and depth of claw to allow the use of not only 9mm Largo ammunition but .38 ACP,(NOT SUPER!), ammo as well.

Many guns were imported to places where 9mm Largo was not commonly available but .38 acp was available in abundance.
I regularly shoot my commercial 400 with 4.7 grains of 231 and 130 grain FMJ Speer .38 auto bullets stuffed into .38 Super cases with no problems.
It works just as well with 124 grain 9mm fmj bullets under the same load.
Again I must state, LOUDLY, this is NOT a .38 Super equivilent load, it is a much milder .38 acp load, as safe in my Astra 400 as it is in a 1900 Colt Auto.

I have tried shooting factory .38 Super in my Astra and DO NOT RECOMMEND the practice! The loads show signs of overpressure that could lead to breakage or even complete failure of the pistol, don't do it!
9mm Bergmann/Bayard and 9mm Steyr ammo will work, but really, where are you going to find reliable, shootable quantities of the stuff??

9mm Parabellum? Try shooting .380 acp in your 9mm handgun and you will find out why this is a stupid idea in the Astra.

The Military chambered guns were not designed to shoot the .38 acp, stick with 9mm Largo in these guns or reloads using Largo cases for best results.

Somebody, somewhere along the line put two and two together and came up with the brilliant idea the marking meant the guns could fire just about anything.
People are real good at putting two and two together and coming up with five as the answer.
Folks have been trying this ever since to prove the point.
It is a habit best avoided.