I have a CVA 50 cal. Hawken black powder rifle i have not shot in over 15 years maybe more.I am going to go to the range friday and shoot it.
Heres what i have.I used to use Hodgdon Pyrodex so i bought some fresh RS for it. I got my CCI #11 caps, i have my own lead maxi balls
i cast myself, pure lead.I ordered some TC T-7 Natural Lube 1000 to lube my maxi ball with.Where i'm rusty is how much powder.
I am pretty sure i used a full tube from the flask below, I measured it and its 55 1/2 grains.That sound about right? Suggestions welcome.
See pics....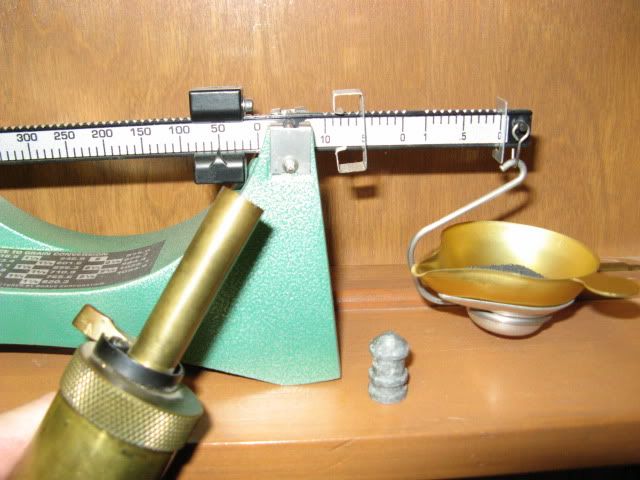 1st mistake, you are measuring pyrodex by weight. Pyrodex is measured by volume to get a black powder equivalent.
A good starting point for any muzzle loader is 1 gr of powder per caliber, so 50 grains of powder in a .50 cal rifle should be a good load to start with. Most modern muzzle loaders can safely handle much more then that, your rifle is probably rated for 100 grains of black powder or pyrodex.
Just looking at the tube it's hard to tell, but I would say it is more then 50 grains, probably 80 or 100.
2nd mistake, do not pour directly from the powder flask into your barrel. You are holding a grenade in your hand, if there is an ember in your barrel when you pour the powder it it could ignite the entire flask in your hand. Very bad thing.
Get yourself a black powder powder measure and measure the pyrodex by volume.
and enjoy shooting your rifle.
Edited to add:
Just found this on Wiki:
http://en.wikipedia.org/wiki/Black_powder_substitute
Pyrodex, and most other black powder substitutes, are formulated to be a volume-for-volume equivalent of black powder, not an equivalent mass-for-mass (weight-for-weight). Pyrodex is measured by volumetric measurement techniques, not in grains on a scale, due to the difference in density of Pyrodex versus black powder. For example, to measure a "60 grain equivalent" of Hodgdon's Pyrodex suitable for use in a muzzleloader rifle, one uses a volumetric measure that produces a volume of Pyrodex equal to the volume of a mass of 60 grains of black powder. Due to Pyrodex being less dense than black powder, a measurement on a scale of 60 grains of mass of Pyrodex would be near a 20 percent overload.
So 20% over, if you are measuring 55 grains by weight would be more like 66 grains by volume, so it's probably a 70 grain spout. That should be a good load in your rifle. Just don't pour directly from the flask.
And I also found this in an article about 777:
http://findarticles.com/p/articles/mi_m0BQY/is_7_48/ai_87413404/
Compared With Pyrodex

Triple Seven is not a derivative of Hodgdon's popular Pyrodex. It is less dense than black powder, but more dense than Pyrodex RS. With a volumetric powder measure set at 100 grains, GOEX FFg produced 100 grains by weight. The same setting produced 71.0 grains weight for Pyrodex RS and 76.0 grains weight for Triple Seven FFg.
That looks like a 29% difference to me, if the article is correct 55 grains by weight would be 70.95 grains by volume. So again that is probably a 70 grain spout on the powder flask.
Damn...I guess it has been a long time.Guess i won't go shoot'n tomorrow.I need to find a black powder measure.
I looked all over for my CVA book that came with the rifle but i have moved three times since i shot it and have no idea where it is.
Thanks for the input...
Update: i was reading a review over at Midway USA of a powder measure and a guys said this...Sound right?
"Great Product. (I have the 50 grain max. model). I use it to measure powder to make dippers out of spent revolver brass. 38 Special is almost exactly 25 grains. 45 Long Colt is 50 grains."
My tube pictured above fills three 38 spl case's with very tiny, a few grains left over,so it must be about 75 grains.
.I have abother tube that just fills one 38 case (25 gr)
I found my black powder measure and put it on 3 and a 38 spl case nearly fills it so that must be 30 grs.
I put it on 5 and two 38 spl case's filled that up so must be 50 gr's...huh?
Guess i can go shoot'n tomorrow now. Start off with 50 for ball...50 on the maxi...but it might need a little more big maxi there.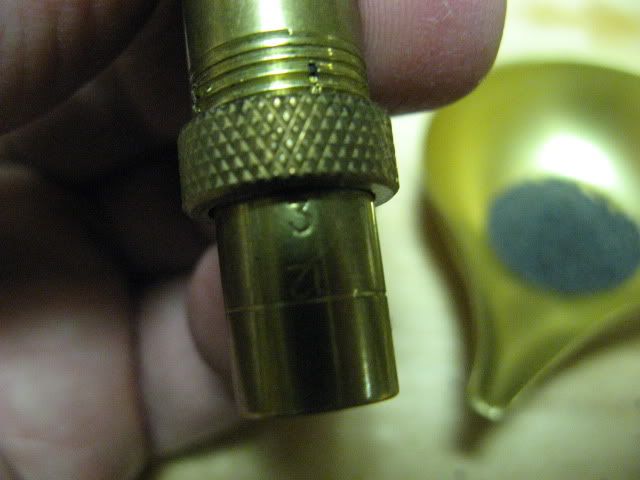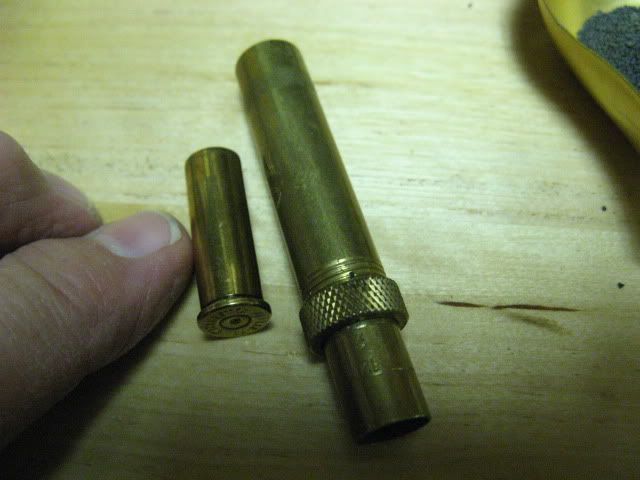 one 38 spl case below so must be 30 grs BP here.
50 grs BP here...below.
Back from shooting. Sure was fun shoot'n ole Betsy again.Was at 50 yards and shot two .490 balls with patch and 50 grains pyrodex RS first.
After first shot i tryed to correct my aim with one more ball. Then put two maxi balls down range with 60 grains of Pyrodex, can feel that but not to hard on the shoulder.
Lot of work shoot'n those 4 shots and man it was hot so packed it in.
Thanks for the help...here's my target...