Hey guys i just bought a 82a1 and am in need of rings and a scope. Im looking to get a nightforce 5.5-22x50 and was looking at barrett zero gap rings. Now with those rings would you suggest the regular rings or the high rings? I will be shooting 600 yards for now because thats as far as the range has around here.

Thanks,

Dan
You will need the Shortest rings that still let your scope's Objective bell to clear the barrel, for a 50mm it is typical to use med or high. John b
The adjustable Barrett rings are popular. You can set up different slopes.
I run the Zero Gap High Rings on my M82A1. They work great.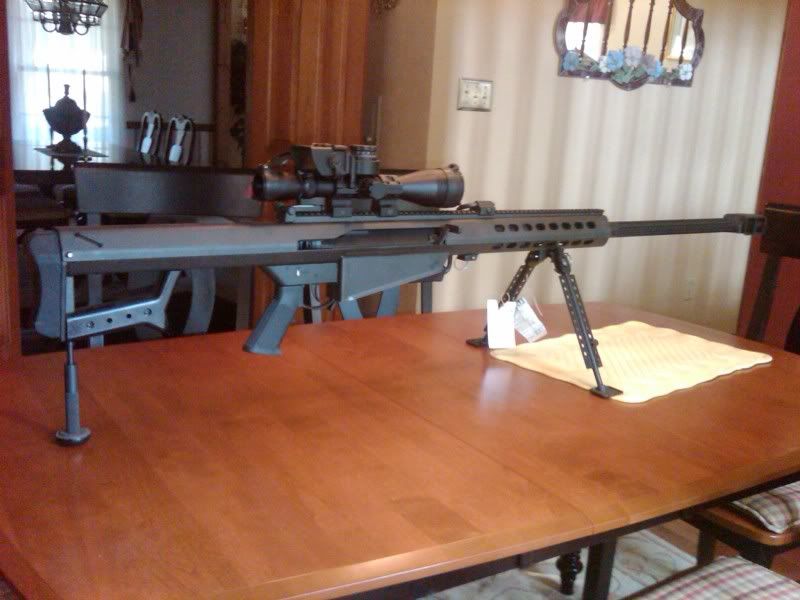 I'm using a Larue OBR mount with my Vortex 4-16x50......zero cant which will coexist nicely with your 27 moa rail.
Here is how to select the proper height ring for you and your rifle.
Have a friend help you with holding the scope and taking a measurement. Now, find your comfortable position behind your rifle. If needed, make whatever adjustments necessary (including building up the cheek area) to have a relaxed, square and balanced shooting position. Then have your friend position the scope to line up with your eye and make a measurement of the height of the scope. Then select the ring that comes closest to the measurement.
The idea here is to place the scope where you will be looking and not making you look where the scope is placed. The difference will be seen at the target. The distance you are shooting, angle of the base and size of the scope doesn't matter. If there is interference between the scope and gun, material somewhere will have to be removed.
Dave
Ferret50