Tigershark in Honey Micarta
another Tigershark in W2 tool steel. this one wears raw honey micarta scales. my favorite model right now. great little slicer.
TPS
Really love the looks of this.
Scales sandblasted?
thank you, sir. no, the scales are just hand shaped on a three inch contact wheel and then i buff them with a little 120 grit foredom tip. i like this finish. it looks cool and it feels so good in the hand. good grip when wet as well.

TPS
I really like the look of that knife. Is it a forced patina? What finish do you leave your blades at? It looks really good, like a user should.
thank you. yeah, that is a mult-layer acid etch. i usually finish down to about 220 or so. nothing too slick, i have found that too fine a finish makes for a bad etch. at least the way i do it. there are as many techniques as there are makers.

TPS
Cool. I finish mine at 220 also. I just got some ferric chloride to experiment with etching. Should be fun. Good looking knife.
Very nice. I'm interested in learning more about micarta. Can you give more information about it the micarta handle- source(s), what thickness you start with, what type of micarta- linen, canvas, etc. ?
i don't have any one source for my handle materials. there are many knife supply companies online. i prefer linen micarta, but i use canvas quite a bit as well. it is just a bit more coarse. i try to use 3/8" thick micarta normally. i like to have plenty to work with when i do a scalloped handle like on the different Shark models.

TPS
Awesome looking knife!!!

Love the design.
Sweet knife, how do you put that tiger stripe finish on it?
I've just finished etching about a dozen blades in W2. It is some awesome stuff once you get the grind lines out, but man is that shit hard compared to 1095! I hand sanded them down to 400 to get the hamons to pop, but if I were making one for me to use in the field there is no way I'd put that much sweat into it. W2 is cool stuff. Love that blade!
much appreciated. it is a multi-layer acid etched pattern.

TPS
Do you mind describing your etching process? I just dunk the blade, scrub it with rottenstone and a toothbrush, and repeat. Eventually they look like this: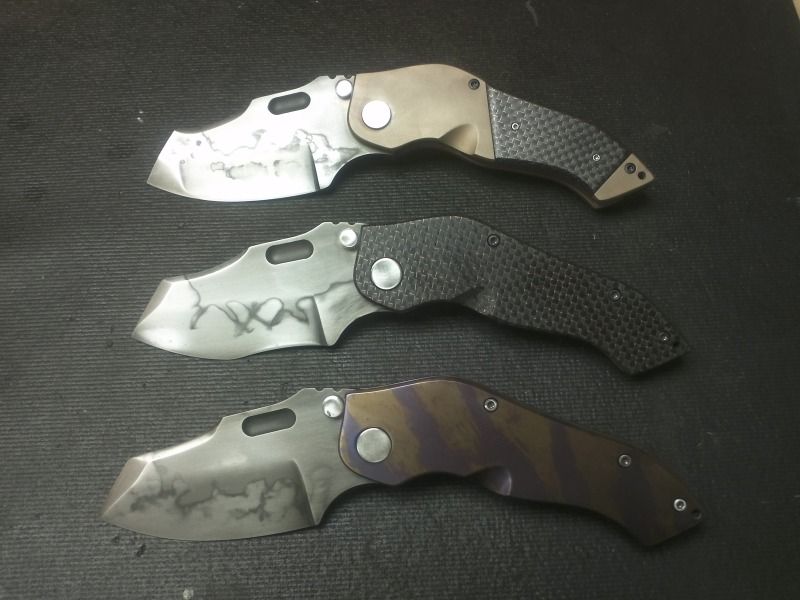 Three recent W2 blades I finished (I just do the finishing, much more talented team members grind and fit those puppies)
Not trying to hijack your thread or steal your look, just curious for my own edification.
this finish is applied with brushes and by hand. the darker stripes are done with ferric chloride and a small paint brush. i let that etch until the color is right and then i do the whole blade with a simple mustard etch. i apply it by hand to give it that unique pattern. i have a ton of solid ferric chloride that i add a bit of distilled water to and make a putty. that is how i can control the design so easily. i used to be a chemist, so i have access to all sorts of goodies.

TPS