I couldn't decide what to get so I bought two Spyderco's and a ZT. I put the Leek in the picture for a size reference .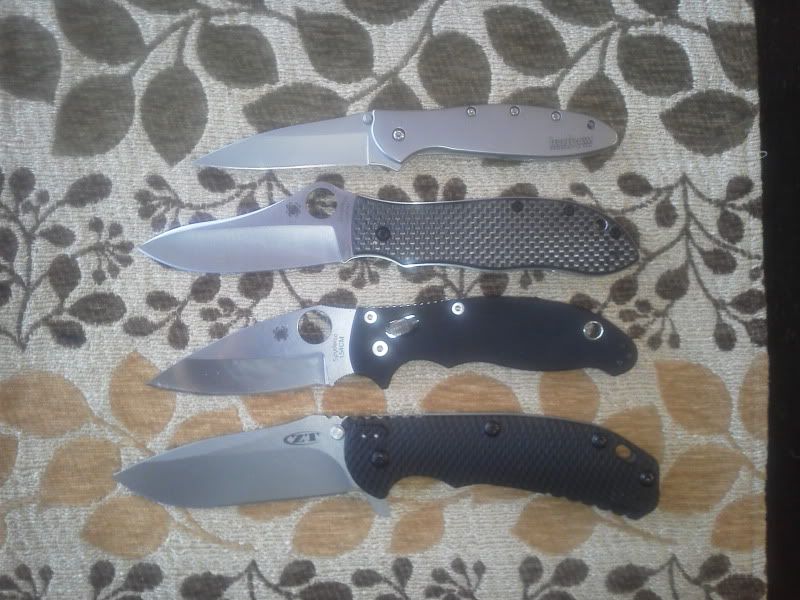 I carried the Manix 2 in 154cm this week and I really like it . The ZT Hinderer (Elmax) is just neat and very addictive to flip all day. I just got the Bradley CPM-M4 today and I think it's gong to be my favorite it's a shame it's not made in the USA.
I'd give you all a review but that's just not my deal they are all great IMO..
Love those ZTs, going to have to get one for myself.
I just did something similar. I've been carrying Leeks for years. Probably a half dozen or more- when I get bored I buy another one. But recently I've been bored with the knife itself. I want a larger blade. So I bought a ZT0350. This thing is a badass knife, no doubt, but far too much knife for my EDC. So I just ordered a Kershaw Shallot and a Blur. All US mfg, all in the 3+" range. I'm keeping the ZT with my zombie stuff. This thing is more weapon than EDC.
It's hard to find the "one" sometimes you have to try a few out. Honestly I think the ZT might get sold it is a bad ass knife worthy of the hype just not for me