I don't have too much gun experience, but the MSAR STG-556 is the most comfortable rifle I have held
Everything about the size and the way it fits into your hands and against your shoulder seems perfect. Now I really want one and my list of firearms to buy might need to be re-prioritized, if only I knew someone who had one I could test out.

Have I just not held enough guns or is it really that nice?
I've never handled an MSAR, but I have a fair amount of time behind various AUGs...and yes, they are nicely balanced.
I've owned no telling how many firearms over the years and shot many, many more. I currently own more than a hundred rifles alone. FWIW, my two MSARs are two of the most
comfortable
rifles I've ever handled/shouldered/fired IMHO.
IOW, no, it isn't just you.
Which is one of the reasons it should be a crime that NO ONE is currently producing them for the civilian market.
So glad that I bought my MSAR E4, have always had "AUG" envy but the prices kept me out of the game. Until MSAR and TPD came out with their clones they were out of the reach to most of us, here's hoping MSAR as a company survives(although new ownership would be nice
).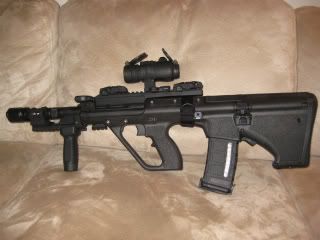 All my other rifles suddenly felt like non-ergonomic antiques from the 1800's once I handled my first AUG.

This is especially true when you add a sound suppressor–– the AUG still feels well-balanced. ARs and the like feel awful.
No, trust me I use my STG a lot more than I do my AR's and the balance difference is immediately and significantly noticable. Especially with some AR's like the SR556 by Ruger you'll notice a big change in the balance with them being a lot more front heavy.


Same with me, the ergonomics are just right for me, and I shoot my MSARs a lot more than my AR's.
They got it right when they designed it in the 70's, that's for damn sure.
This past Saturday I placed 1st in a carbine competition shoot and 2nd on Sunday.
Love my 4th gen STG. Great feel. Well balanced. It has become my favorite 556 gun to shoot but I also ahve the SIG 556 classic and it is becoming my second fav...