RANGE REPORT:::::
I loaded the separate tubes with trap loads on one side and magnum 3" 3 shot steel on the other side.
The first thing is loading takes some getting used to. Unlike a normal shotgun where the shell just stuffs in one hole,you have to push the rounds in directionally according to the tube your loading. Probably something that will get easier as I shoot it more.
The second thing to note is the switch that changes tubes is much harder to operate when the tubes are loaded. When you switch from one tube to another the switch physically pushes the rounds forward about a 1/16th" . It won't clear one tube to work unless the switch is covering the other tube. I think this could stand some improvement but was acceptable. It should also be noted that to switch tubes you have remove one of your hands from the weapon. You can't reach the switch which is located approximately 3" rear of the pistol grip with your hands in the shooting position. This also may not be a big deal after some practice.
Next shooting the weapon.
I topped the KSG with an Eotech 516 red dot sight as the weapon has no sights. I think the sight needs to be raised about another 1/2" to line up and give ME, the correct ergonomics. I also added a handle to the picitinny rail on the ejector slide. This is a must in my opinion for this weapon! It gives you a better grip of this short monster and assist in leverage to eject the rounds. (more on that)
The shells ejected hard after being shot. They eject easy if not fired. I had to pull hard enough that I was glad I had the forward handle to assist. I'm hoping it will break in and get easier.
The ergonomics of the bull-pup style weapon were great. I really like having that kind of fire power in a short controllable weapon. It felt good and it can be swung around to acquire new target's much faster than any standard shotgun including folding stocks. Because of the stock being flat and in line with the barrel, there is almost no muzzle rise even with the Magnum loads, so follow up shots are as fast as you can pump the weapon. The trade off for that is, all the energy comes straight back into you. Not a problem for me, but if you are recoil sensitive know that this kicks as much as most single shots.
One last thing to note.... the empty shells come down and out hitting the wrist of the hand you have on the pistol grip pretty hard. Not a big deal unless you don't have a glove or long sleeve on. Then it's a little annoying and even left scratch marks on my wrist.
Over all I would give it an A-. It is a very cool, good handling, close quarter weapon, that could use a little refining. None of the negatives I've listed were enough to take away from that feeling of have a lot of firepower in a very small, very controllable package.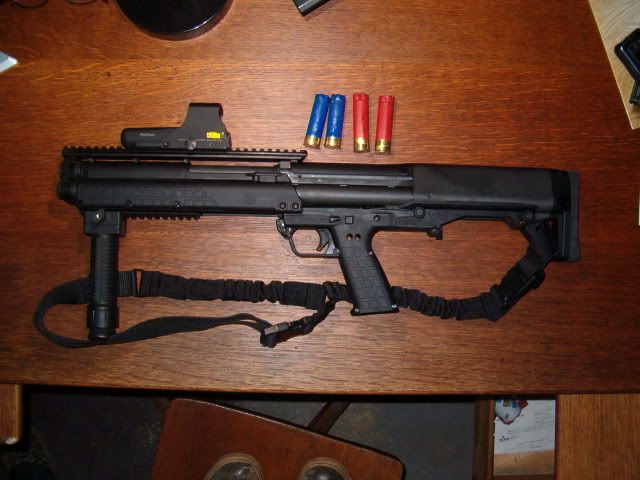 Your negative aspects mimic my buddie's. He had to have one, and shot it for the first time just the other day.

1. Heavy recoil (let's be adults, it doesn't mean we are pussies if we say it kicks hard....:))
2. You have to rack the slide firmly to kick out the empty and have the tubes release the fresh round (Like the NOVA...in my experience)
3. Shot it alot from the hip to save his shoulder..haha. When shooting from the hip and racking it firmly, empties smack you pretty good in the wrist.

He still likes it, he just said he won't be running boxes after boxes of ammo through it.
All you took was one pic???
I wonder if the tube selector switch is any easier to manipulate when running 2 3/4?

That is a sick piece, congrats on ownership, and keep the reports coming.
Good report...
The mesa tactical side saddle changes the rail to a taller one (so risers wouldn't be needed):
http://bullpupforum.com/index.php?topic=483.0
Thanks for the great information and report.
Originally Posted By MP0117:
Cool.
That VFG/bi-pob thingy looks a bit out of place.
I'd replace it with a Magpul AFG. YMMV
My guess is you would remove the AFG within the first few rounds. The AFG is designed to put your thumb over top of the barrel. In this case, it would be one hell of a reach, and the thumb would hinder pump action.
Shot one a bunch yesterday.

I didn't find recoil too bad, but it could use a sorbothane pad.

The loading was a hot mess. No way to do a good tactical reload, and forget it if you have something jam up in the feeding system. You'll have to take it apart to get at it.

Ergonomics were iffy. The forend really needs a flange on the front to keep one's hand from creeping out in front of the business end.

It didn't like Winchester bulk from Walmart at all. Probably the aluminum shell heads expanded too much or something, but they wouldn't extract without a lot of effort, and some had to be mortar cleared.

It did pattern extremely well.

I give it a C-. A competent shotgunner with a Maverick 88 could run circles around someone with a KSG in a working environment.