Production Quality of Current Production 1895 Winchester .405
I am in the market for a few new firearms and am wondering if anybody has any experience in the new production 1895 Winchester chambered in .405 Win ??? I have seen them in the case, but have not handled one. I have handled an original 1895 in '03 Springfield and it was quite well constructed. I know the new models are made in Japan, and some other rifles from there have nice woodwork such as Browning. Is the metal construction/ metallurgy/ machining of good quality? Or should I look at something else?

Would I be better off to spend a little more and get a Wild West guns Co-Pilot????? OK, a lot more, but it would at least get me some added options.!

Any comments are appreciated and welcome.

-PC-
Come on!, I know this is a tech forum, and someone has to have had some experience with them??????
Even, if you have no experience and just have an opinion about them, I am listening!
-PC-
I have one in .405 Win made within the last few years and I really like it. Though the wood on mine is plain, without any figure or checkering, the craftsmanship of the rifle itself is quite nice, easily as good or better than the Marlin 1895 that I have. The process of cycling the action is a bit of a mechanical marvel and great fun, and as this is an older design, the rifle points differently than a more modern piece; it is very slender and elegant. The recoil seems to me to be akin to dropping the hammer on a 12-gauge - you feel a bit like Teddy Roosevelt during your range sessions.
Originally Posted By PrivateContactor:
I am in the market for a few new firearms and am wondering if anybody has any experience in the new production 1895 Winchester chambered in .405 Win ??? I have seen them in the case, but have not handled one. I have handled an original 1895 in '03 Springfield and it was quite well constructed. I know the new models are made in Japan, and some other rifles from there have nice woodwork such as Browning. Is the metal construction/ metallurgy/ machining of good quality? Or should I look at something else?

Would I be better off to spend a little more and get a Wild West guns Co-Pilot????? OK, a lot more, but it would at least get me some added options.!

Any comments are appreciated and welcome.

-PC-
have a 2010 production Miroku built 1895 in 30-06. I'm impressed with it. For a long lever throw its smooth and also for a lever gun it has a nice trigger. With the iron sights and using Greek HXP M2 ball I'm shooting about 2-3MOA at 100yds.
Only thing about the 1895 even with the shotgun style buttstock is that it definately has some recoil to it. Nothing rediculous but about on par with either an Enfield Jungle Carbine or a M38 Mosin carbine
here's a pic of mine along with my Uberti 1873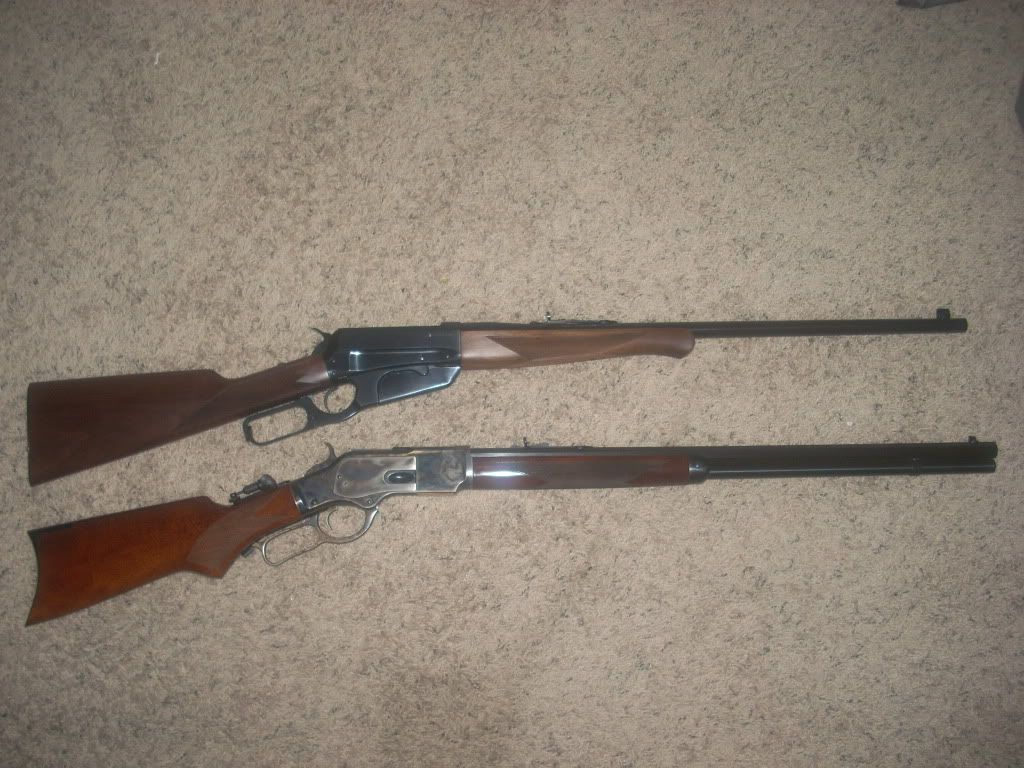 ultimately I'm happy with mine, the only thing I might add is a reciever peep sight to it. However had Winchester NOT added the tang safety and the rebounding hammer, I'd like the rifle even more, but still its a good rifle
Unless things have changed recently, the limited number of Japanese made Winchesters and Brownings i have examined have always had very good workmanship. The grade of the wood seems to vary by the grade of the firearm and a bit of luck.