SPF to robbf213
I will sell as a package, or part it out after the upper has sold.
If you want more pics, PM me your email addy, and I'll take whatever you want and email them evenings.
I panic bought all the bits and pieces to build an N6 back during the last election rush, and can't justify having it around any longer as it all just sits dissasembled. So its gotta go.
Parts are all unfired. I've assembled the take down pins and pistol grip to the lower to mock it up and see how I liked the Magpul stock, but that is it. Buffer tube was not torqued down, just screwed in loose to feel it up.
There are a couple rub marks that should buff out from being in and out of the box, and mocking up, but no scratches or dings, except for the tube. There is one ding on the edge of the tube, shown in pic below, that I think happened when I mocked it up with no spring and buffer and the carrier caught it coming back with no spring.
Buffer is from 762SASS.com. Dont' know brand or weight. I basically called them and said I want the right buffer and spring for 18" Noveske and Mapgul UBR, and that is what they sent me.
If sold as a package, the lower will ship to your FFL, the rest of the parts will ship directly to you.
I will need your FFL's first 3 and last 5 numbers to put in ATF EZ check. No exceptions. FFL will need to take a package from an individual.
Package includes:
-Noveske N6 18" upper
-Noveske N6 lower
-Armalite LPK
-762SASS buffer and spring
-buffer tube/receiver extension
-Magpul UBR
-2x 10 round mags
-Your choice of new grip from photo
-Package price with Mapgul UBR: $2150 shipped lower 48
-Package price without UBR: $2000 shipped lower 48
-Upper Only - $1400 shipped lower 48
-Will price out other bits after upper has sold
-Payment by USPS money order only.
I want the cash, but will consider trades for a Colt "CAR-A3" marked lower, or HK guns, stuff, parts accessories, swag.
*->ETA: I've been asked a couple times about just putting it all together and going to town, so I'll put this blip here. The standard Noveske setup uses the Carbine tube. I wanted a UBR. I know it had been done before and could be done, so called up 762SASS, explained what I wanted to do, and they set me the appropriate parts (the tube, spring, and buffer). I had read that these guys know what they were doing, and trust they sent me the right parts. But this is not a standard Noveske setup, as it has the different tube, spring, and buffer from 762SASS. I'm no AR-10 expert, I haven't put it together, so can't tell you with 100% confidence that this will all be plug and play without messing with the buffer and weights. With all that said though, you are practically getting the buffer and spring for free with this deal.
http://www.762sass.com/product.php?p=569&cid=7&session=0b81386e12af5c39cf11394a95673e13
Choice of grip with the package deal: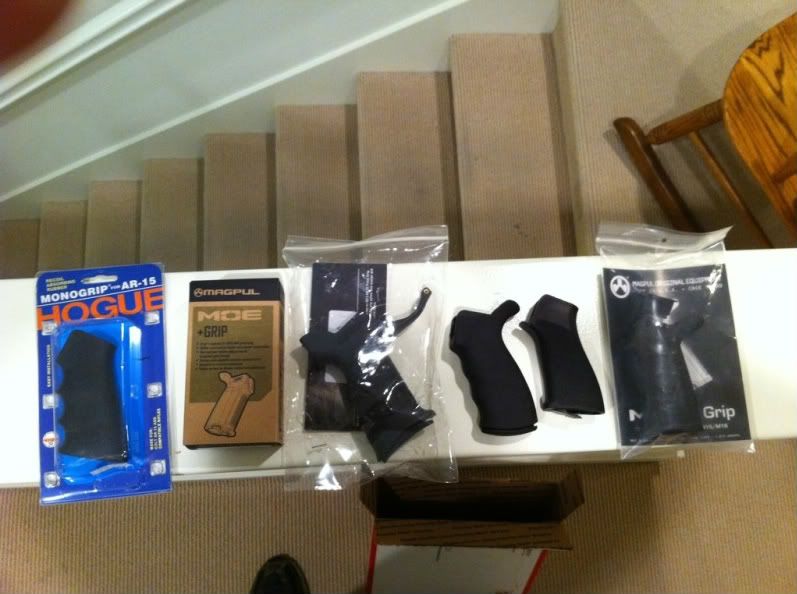 email inbound....
I want the buffer and spring if you part out.
I'll take the whole package, payment sent.