SOLD:

(1) NIB PWS Mil-Spec Buffer Tube
Brand Spankin New
(1) SOLD to Rival904
I have (1) of these remaining for sale. I know they're a little difficult to find right now and someone may need them more than me. Selling to get one of those purty Noveske Gen II Chainsaws from a buddy. Specs are as follows:
The PWS Enhanced Buffer Tube is an impact extruded 6061 aluminum version of our original billet 7075 aluminum buffer tube. This version was designed as a more cost effective alternative to the original.
The Enhanced Buffer Tube will resolve any carrier tilt symptoms exhibited by a short stroke piston AR and will reduce felt recoil. The most notable features on this buffer tube include:

One piece construction eliminating the castle nut and ensuring that when installed, the buffer tube cannot become loose.
Attachment system automatically indexes the buffer tube perfectly straight.
The bottom of the interior buffer tube extends a lip into the receiver, supporting the bottom rear of the bolt carrier, reducing the carrier tilt present in some piston systems.
A dead blow buffer is securely installed in the rear of the buffer tube to reduce carrier speed by an average of 10%, and dramatically reduce felt recoil.
Two QD sling swivel attachments are machined into the front of the buffer tube allowing ambidextrous connection of your QD slings.
The buffer tube is fluted to allow debris to be pushed out of the way, and a drain hole has been placed in the bottom of the tube, allowing for draining of water when the rifle is parallel to the ground.

The PWS Enhanced Buffer Tube is Mil-Spec.
Please Note:
Contents will be removed from Clamshell Packaging to save on shipping. If you'd like to have them shipped with the Clamshell Packaging add $5 to above price for Medium Flat Rate Box.
I accept discreet Paypal (add 3%), USPS/Bank Money Order or Personal Check. Please contact me at the email below and we'll make arrangements. Thanks for looking.
Globeflyers@gmail.com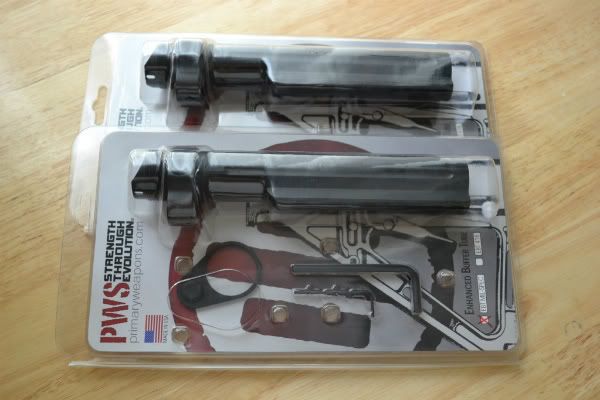 Price Reduced for Both Shipped
Package Separated - $89 Shipped Each!
You have mail.