**SOLD**
*** PRICE DROP TO $750 SHIPPED $700 LOCAL PICK UP***
*** TRADES ADDED TO 3rd POST***
For sale is my right handed Nirvana Black Warwick Corvette $$. This is not a Rockbass, it's is a real deal made in Germany Corvette $$. I bought this bass in 2007 as my main gig bass, but I'm not playing anymore. This is not a case queen and was played 5 times a week, and used to play shows every weekend for a year and a half. Because of this I am only asking $800 shipped or $750 local pickup. This bass lists for around $2400 and Guitar Center has them for $1799. Save yourself a thousand bucks and get yourself a nice rig.
A Few Features:
Bolt on Ovangkol neck
Black Swamp Ash Body
MEC Humbuckers
2 3way Swtiches to Control the Humbuckers
Strap Locks
Padded Gigbag
The good: This bass sounds like a monster. If you are a fan of the Warwick growl, the humbuckers adds even more to it. This thing plays like an absolute dream. Those who have played Warwicks know what I mean.
The bad: It has a few scratches here and there, two of the screws for the pickups have been lost but should be easy to find replacements, and the knobs show some wear. It is also in need of a string change and a setup.
Please PM me with any questions!!
Thanks,
Justin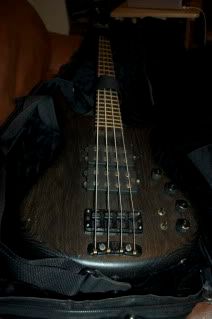 Still available. Can do $800 shipped, $750 local pickup
This bass is still for sale for $750 shipped or $700 local pick up.
Face to face trades within 2-3hrs drive from Denton Texas or will ship and might even pay shipping for both if the deal is right.
Intrested in:
Aimpoint or Eotech
a nice 14.5" upper
a complete 14.5" or 16" AR15
Kel-Tec PLR-16
XD45
191
or whatever else you might have. All I can do is say no. Please PM me with trades or for more info on the bass. Email is best.
Thanks