I have added 4 MGC M-16 prop guns for sale. They are the MGC M-16's as seen in many movies from the 1980's and on. They come in different forms of completeness , and condition. The price will be reflected on that aspect. From what I have been told by the original owner, combined with research I have done, these are whats left of some of the MGC M16's used in the movie "TAPS"! I can give some proof, but can not provide a COA, so please buy the item on it's own merits, not the story!
First up.. gun #1..(
SPF to aimforthemedic
)......This is not a MGC M16, but a Exact Replica PFC full auto M-16A1, with a 20rnd magazine. All Colt rollmarks are there on lower, and mag. It will "Not" accept real M-16 internals, but has some real parts. Such as, real triangle handguards, bolt catch, take dwn pin, and charging handle. Other parts can be modded, and it will accpet real mags with modification if you wanted to add a 30rnd mag for looks later. This is perfect for the vietnam reenactor, or anyone that wants an exact copy of a mid to late 70's M16A1. This gun was purchased in a lot from a real hollywood propmaster. It has been in several famous movies and many more TV shows. Full details, and name of who the propmaster is will be given to buyer. I am asking $250 shipped in the USA only. Payment by check or money order only (prefer USPS Money Order), Checks will need to clear first before shipping. Shipped from Boise Idaho. It might need adjustment to fire the PFC cartridges especially full auto. Does not come with any PFC cartridges. Also missing the front sling swivel, which is an easy cheap fix should be able to add a real deal swivel. I can provide more detailed pics on request....
ETA: All metal is the same as the real deal. Mostly Aluminum, with some steel.....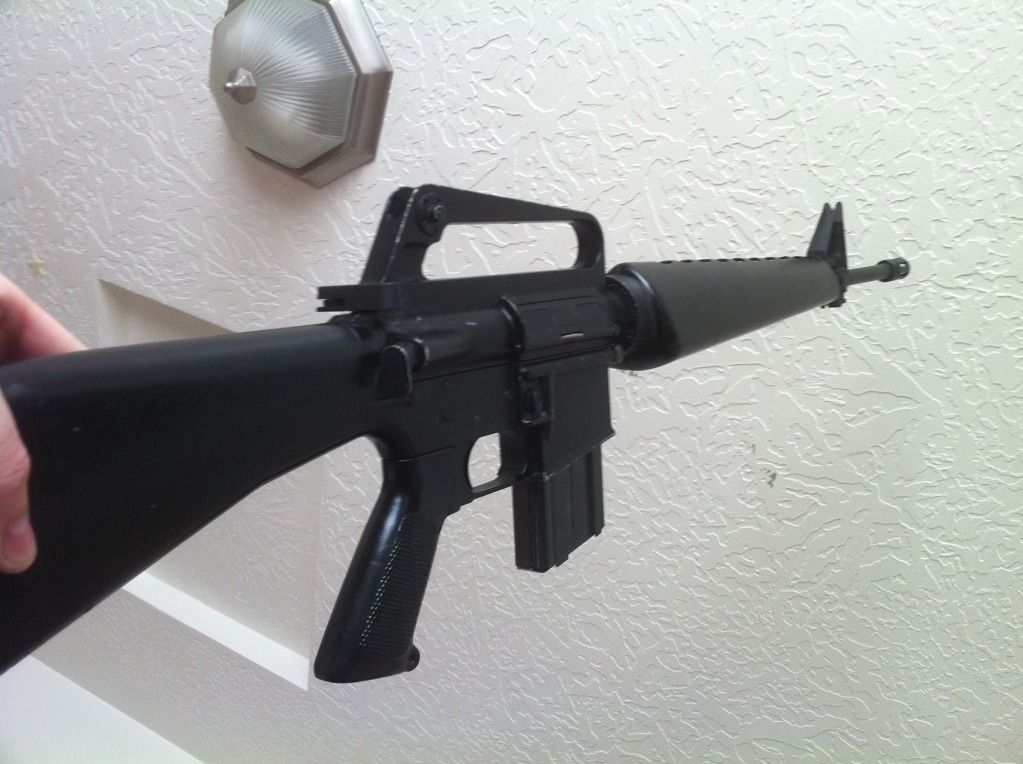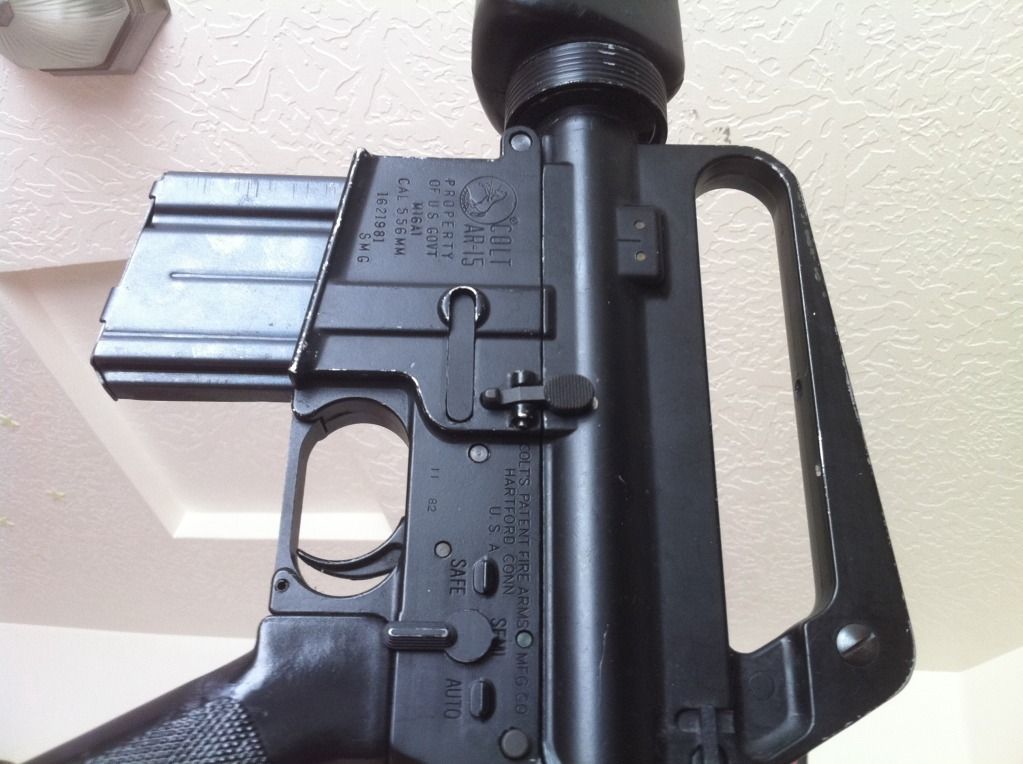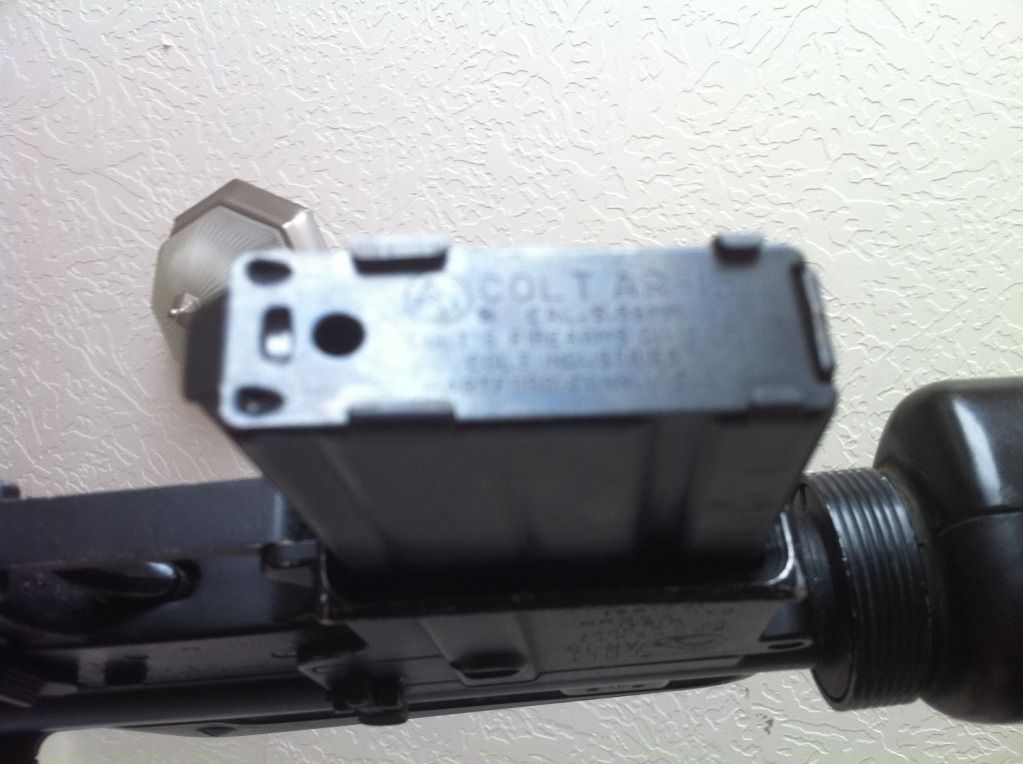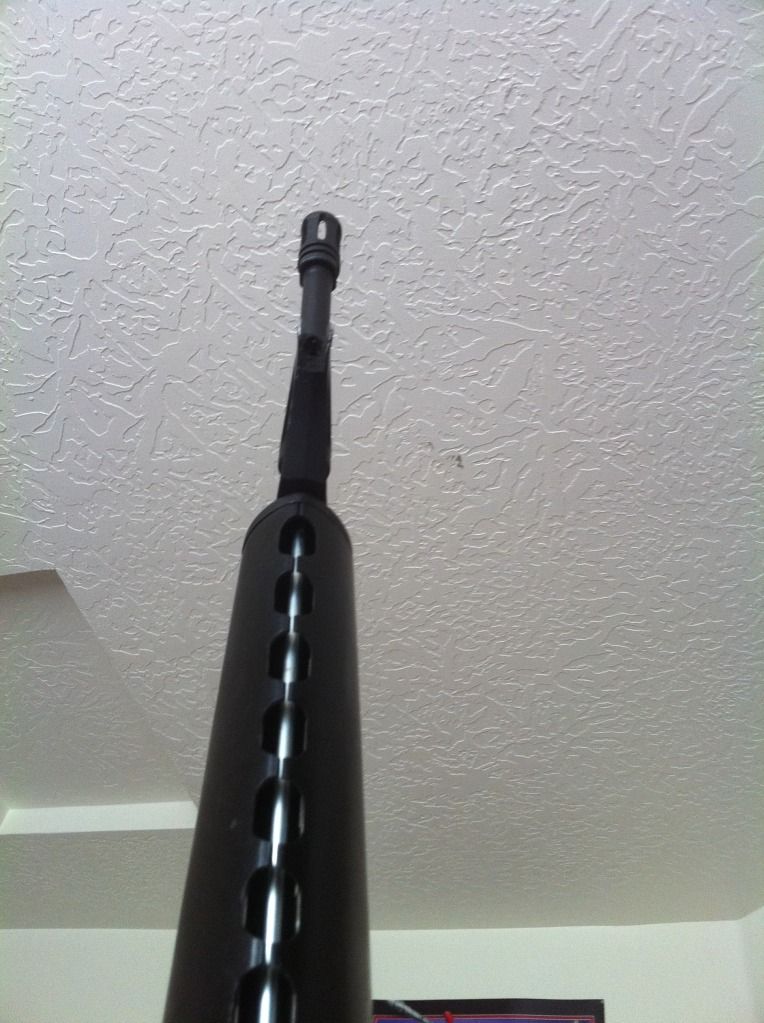 Here are the MGC M16 Prop guns
Gun #2 is a near new prop gun, and will go for $225 shipped in the USA It is complete with magazine and is excellent condition, a real beauty.
Gun #3 is in very used condition, no mag available. and is probably the same gun pictured here, which is a screen shot from the movie TAPS. might need to zoom in to see the detail. Please note the missing port cover, and safety. Asking $145 shipped in the USA only...
Gun #4 is an MGC in OK condition, but missing some parts, HG's are held on with duct tape... It had an A2 pistol grip and A2 stock added at some point. No mag available. Looks very close to a prop used in the Bakara market scene in the movie "Black Hawk Down" I posted a screen shot below so you can see for yourself the resemblance is striking, and my opinion based on what the original orwner tod me along with this screen shot makes a good case for it being the same prop. But I have no way to gaurantee it's the same. If you look at the screen shot you will see the MGC is missing its flash hider just like this one. And would explain the A2 stuff added on. Asking $115 shipped in the USA only...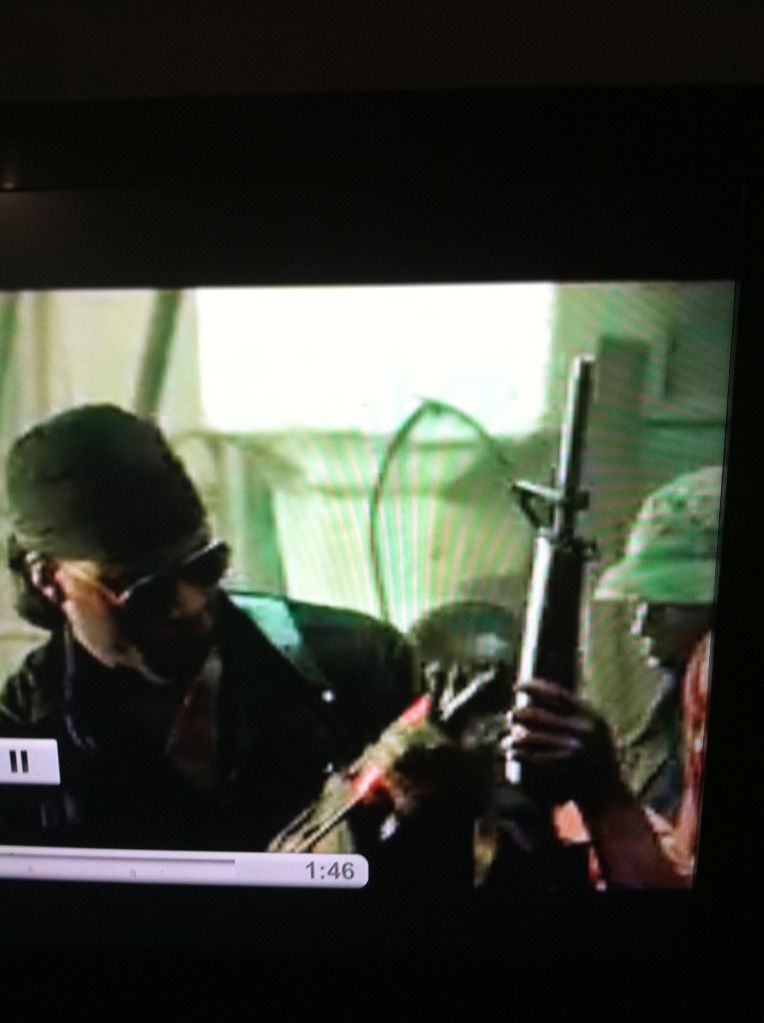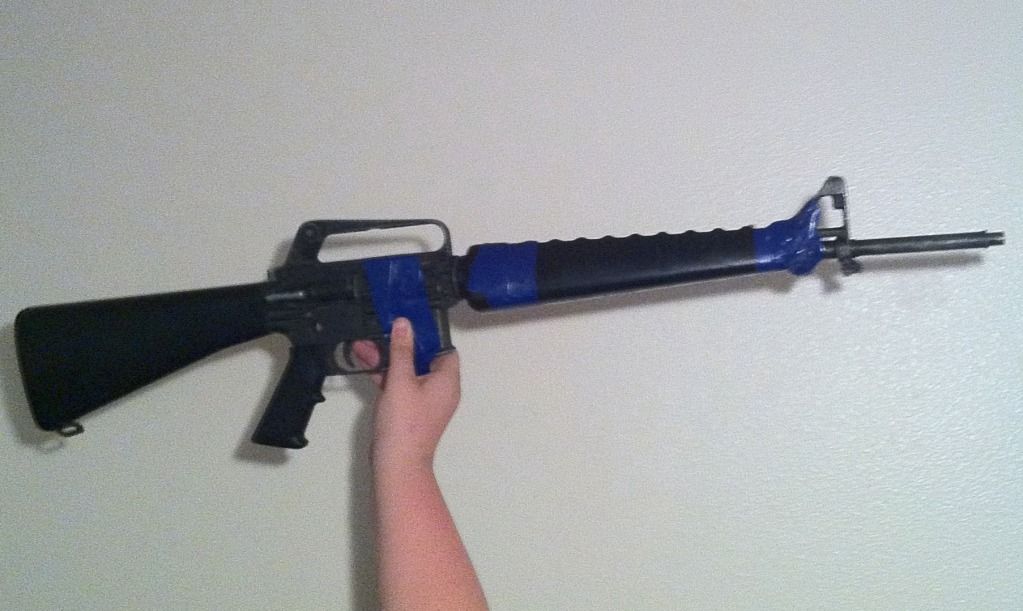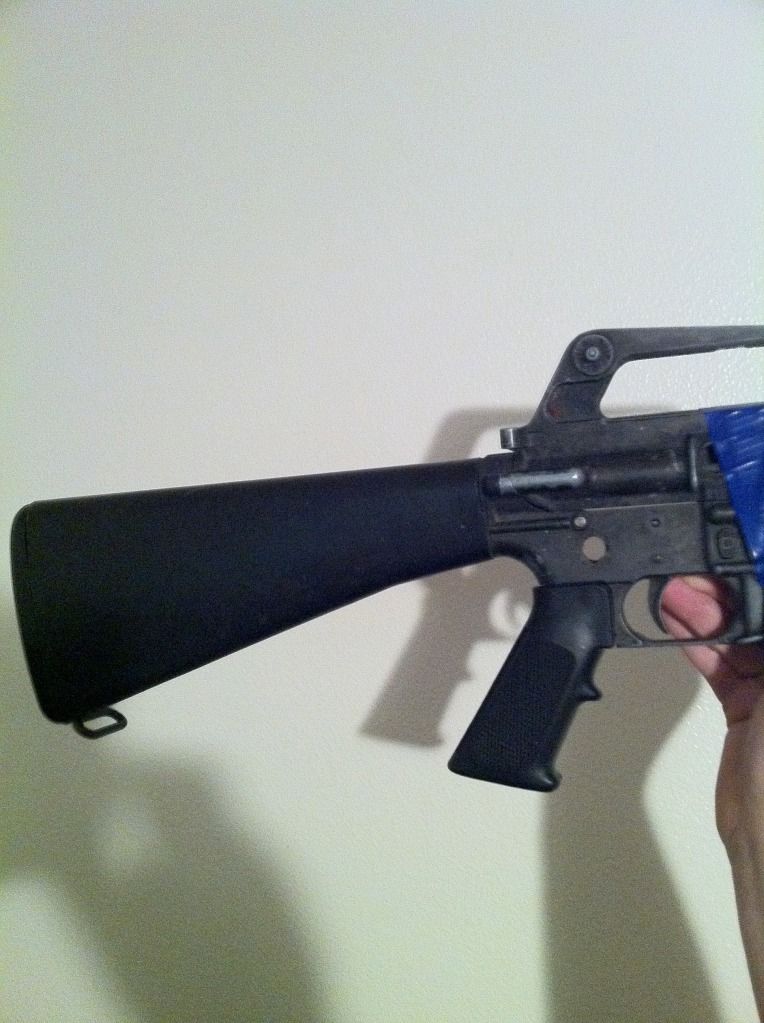 Gun#5 is just the upper and lower with buttstock. No mag available. Once again this falls in line with the TAPS guns, as some screen used guns in the movie had no port cover or safety. This can be used for a nice replica project. Asking $55 Shipped in the USA only....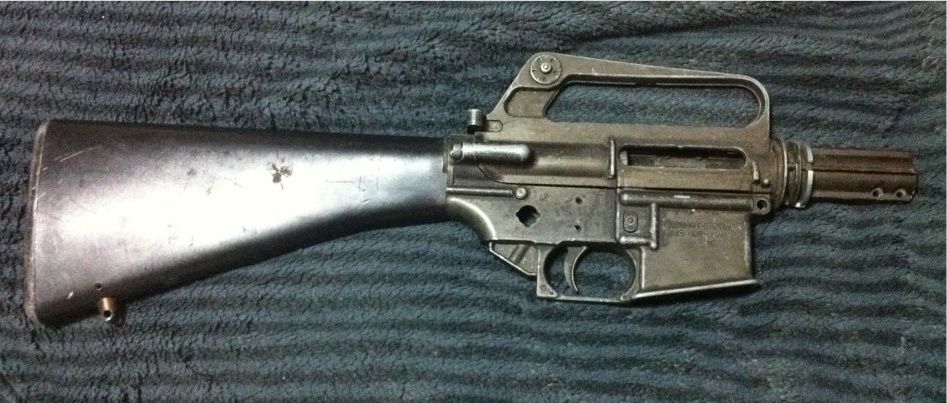 I can only accept check or money order at this time. A personal check will need to clear before item ships. I will look in to getting a paypal account if enough interest arrises. If paying by money order please make sure its a brand name like Walmart, USPS, etc...I prefer USPS Money Orders over all others thank you. If you have any questions please feel free to email me...