Hey guys, I'm waiting on a 8" Noveske barrel to finish up a new build. In the meantime, I'm stocking up on ammo and reloading components. If any of you are reloading for this caliber, could you let me know what loads are working well for you? I'm interested in subsonic loads (208-220gr bullets), and supersonic loads (110-125gr bullets).
Let me know what is working good.
Here is what came in today: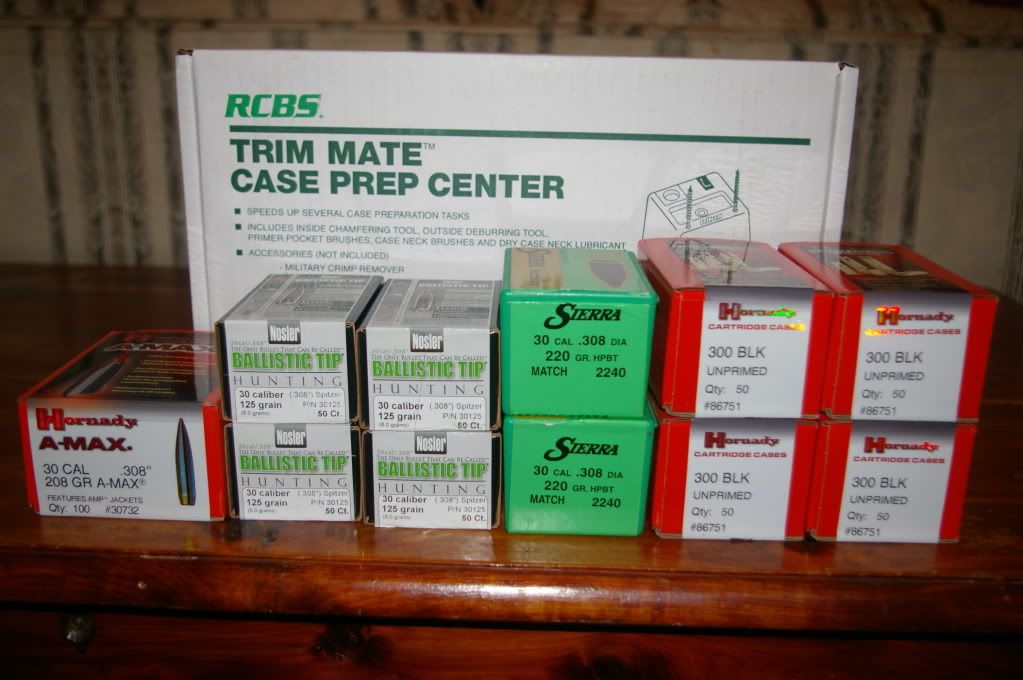 I should have a good stock ready by the time my barrel gets here I guess.
Thanks in advance.
Originally Posted By 1911smith:
Where's the picture of multiple loading manuals ??
I realize 300BLK is new and not really out until the next round of manuals. Some are updated often, others not so often.
Hodgdons, Sierra and Hornady are companies you need to have on speed dial, Hodgdons and Sierra have very good tech departments.
Anyway, soliciting load info on web is very poor practice. Some time ago we had a young man through here who'd blowed up his AR using load information he'd solicited for sub-sonic loads. May have been 300BLK. There's powders out there being recommended that fill less than half a case. Fast burning powders that will get your rifle into more trouble than can be put back together.
Yea, I know I come off like a hard ass. I'd rather be a dick to drive this one point across than have you hurt.
Good Luck and Load Safe.
david.
Not a problem. I have the latest books from Sierra, Hornady and several others along with numerous computer programs and a membership to loaddata.com.
It's not poor practice to ask for what is working for others if you check and verify the information provided against known information. There are many knowledgeable reloaders on the web with a lot of good info. Poor practice would be to just blindly go with info and hope for the best.
I've been reloading for quite a while and have spent quite a bit of money on reloading equipment including several Dillon 1050s and 650s along with the other accoutrements, so I don't want to blow myself up before I wear these machines out
Subsonic is all we have loaded so far, and we have a solid load for our 8" Noveske barrels. Don't know that they stay subsonic in a 16" barrel, but the have been accurate, reliable, and quiet for us when shooting suppressed. I used the same load data with Outlaw State Bullet's 220gr expanding subsonic bullet to crush a doe at 130-135 yards. The action noise disappeared then.....THHHWWWWWAAAAAAAAPPPPPPPPP, and the doe dropped in its tracks. I saved the bullet and keep it in my car to show people how well they expand at subsonic velocities at medium distances for the round.

Load data:
11.2 grains of Accurate 1680. <––––––so far, considered the best powder for subsonic use.
2.120" COAL
Remington 7.5 primer
Various cases all trimmed to the length recommended by RSilvers on 300BLK.com forums. (I think around 1.375"?)
Hornady 208gr AMAX, 220gr SMK, or OSB expanding subsonic bullets (all shot 1/2" or under at 50yds)



We haven't ventured into supersonic loads.....primarily because it was an afterthought for both of us, and to me, subsonic remains my only main concern.

Check around online, I found 208 AMAX's for $25.01 per box of 100. I still have 300 or so to load up, and around 500 rounds loaded up in an ammo can. You definitely want to pick up your brass and save it if you made your own from .223 cases (or spent the cash to buy new).

If you have the chance to shoot steel at a distance with subsonics, 2-400yards, it will amaze you and anyone there the amount of time it takes to hit the target and the amount of authority it arrives with. It's pretty damned cool to shoot 20-25' over the target at 400 yards.........wait for it........DONNNNNNGGGGGGGGGGGGGG. Then your friends start asking about the costs for tax stamps, reloading, silencer, parts,.....haha