Looking for ideas
I am in the process of setting up a range for personal use for me to train on. I would like to see if I could get some ideas from the community here on how to set it all up. My main obstacle here is that it all has to be mobile. I would have to set it up and tear it down for each session, which I don't rerally mind having to do. I would like to incorperate malfunction drills, weak side shooting, weapons transitions, firing from cover, moving and shooting, tactical reloads, and shooting position transitions.

I am looking for more than just a couple of 9 hole walls and would like to see pictures or videos of what you have going on or think is a nice setup for the above mentioned scenarios. I want it to be as practical as possible and physical with lots of moving and shooting. I am trying to stay trained up and to help keep me fit with this. Thanks in advance for any help with this.
Anyone? I have been looking at VTAC videos and really like their drills, but I still want to be able to set up a very modular range that I use to set up in multiple ways. I would love to see some photos of what others have set up or are using.
OK, I guess no one then. I will just post my results as I go. So here is the first installment...
This is going to be set up for me and some friends to train on. It is not going to be a match course or competition anything, just training. I scouted out the land yesterday and we found a place we can keep all of the pannels and target hangers on site.
Job One
I need to construct some modular walls so I can set up a shoot house. Thinking about just 2x4 frames with plastic sheeting on them for cost and weight savings. I figure I will make some pannels with windows, and pannels with doors and regular wall panels and have it set up so everything can be pulled apart and reconfigured to different room types.
Job Two
I plan on making at least two 9 holes to shoot from. I have a cleared area to set up a lane for these drills aside from where we will set up the shoot house.
Job Three
Target Hangers. We will be using two types of targets mainly. First will be a regular man sized target and the second will be reactive targets that use balloons to hold the target up and when the balloon is shot the target will fall. I will be using 2x4's for this as well.
Now, anyone have any ideas to add to it?
I think that my range set up will be a lot different than yours, just based on the terrain difference. I also have to assemble and break down after every session, so here goes.
For targets I use
IDPA cardboard
, I drive stakes into the ground and staple the targets to them this gives me the ability to have targets low or high, fully exposed or just the top 1/3 showing. IDPA targets are easy to repair, and you can add a t-shirt and hat to add some realism to them.
For barricades I am building a VTAC barricade, but for now I have been using square pieces of cardboard with stakes, but again the terrain really helps out.
As far as drills we have been starting out small for example this was my last one keep in mind we shoot until some one says that the target is down, and don't load our magazines to capacity (to force some reloads). You can run a drill like this support side only, or throw in some barricades to spice it up.
Starting out prone engage 1 target at 200 yards (target is set low in tall grass)
Move up 25 yards and engage 1 target at 100 yards kneeling.
Move up 25 yards and engage 1 target at 50 yards standing
Move up 25 yards and engage 2 targets at 25 yards (one target is only 1/3 exposed), then transition to pistol and engage both targets again (we never stop moving while engaging these last 2 targets).
We start at the bottom of the hill and work our way up to left of the cabin.
Top of the mountain.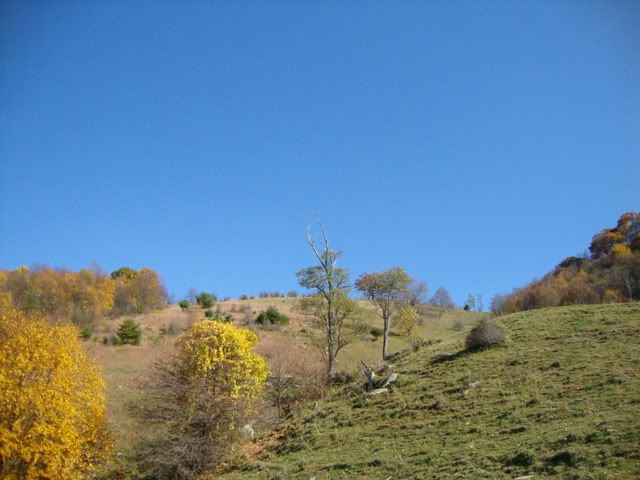 Some of the tall grass.
VTAC barricade
Hope this helps, please update this thread as you go I am always looking for new ideas too. I will try to get some pic of everything set up next time I go (early January)
Well, for weight reduction, oyu could use foamcore instead of plywood. FOr "walls", try PVC stands and a tarp. You could also cut slits, reinforced with tape to prevent splaying, in teh tarp to represent teh holes oi that vtac barrier.

If that's your land, you could also park your vehicle out there as well.
Good to see some input. Thanks for the ideas, especially the VTAC wall plans. I will try to get photos up of our area as we get it constructed. We got permission to leave all of our stuff on site, but we still have to be able to break the shoot house down.