LEO/Military Magpul Class in Calif
Ok guys,

We are endeavoring to get this class going at my Depts Range and it is now on the books. All we need now is to get enough people signed up.

Unfortunately because of the nature of the "Active Shooter" type training and information to be covered, along with our range use restrictions, this will be a class for LEO and Military only. Our range staff has reserved the right to make exceptions for others such as civilian RSOs for other departments, corporated reps etc, but this must be cleared through them.
"Hyper Violent Weapons Manipulation"



Advanced Carbine Class
(Tailored to the Active Shooter Response)
- This will be a Law Enforcement / Military Only class -
- 3 Days of intense Tactical Carbine and Handgun shooting
(1500 rds Carbine, 500 rds Handgun)

The cost for this course will be $600 per person plus the cost of ammunition.



Scheduled For February 17-19, 2010



(We need 18 students paid up by Nov 25, 2009 or the class will be canceled)

Hosted by the San Bernardino County Sheriff Academy Range



Information Contact:

Deputy Rob Kirk ( rkirk3d@msn.com )


Sign Up Contact:

Jill Reynolds ( jreynolds@magpul.com ) (877) 462-4785 EXT 126
MAGPUL DYNAMICS
HYPER VIOLENT RESPONDERS WEAPONS TRAINING SYNOPSIS

SCOPE
Magpul Dynamics is prepared to provide a comprehensive 3 day Hyper Violent Carbine Course to Local Law Enforcement personnel in the Southern California Districts hosted by San Bernardino County Sheriffs Office. This comprehensive package is specifically designed to bring together all aspects of psychological mindset and tactical carbine employment during critical incident responses. This will allow each of your personnel to function as a more efficient and effective shooter/trainer in support of your agencies mission.

This training is designed for those members of your unit who already possess the requisite mindset, basic tactics, street survival, and weapons handling skills. Magpul Dynamics will focus on progressing your professionals towards maximum efficiency and effectiveness while teaching accurate shooting in a complex and constantly changing tactical environment.

TRAINING
Course Description:
An advanced course specifically designed for the law enforcement officer in mind. Basic and advance weapons skills incorporated with realistic scenarios based on active shooter situations. The goal is to get the shooter more confident with their equipment, shooting abilities and working with others. This course is a fast-paced, hands-on, with live fire drills forcing the shooter to find the perfect balance of speed and precision. The course will also focus on team communication and tactical telepathic's. This course will introduce the students to skills necessary to successfully negotiate any active shooter situation and provide a template for training sustainment. The topics listed below will be covered in depth.

Fundamentals and BZO of the Carbine
Rapid threat analysis and acquisition and as if relates in an Active Shooter situation
Discussion of Terminal ballistics and how it relates to shooting abilities during critical stress
Shooting on the move
Multiple target engagement
Strong and reaction side shooting
Malfunctions
Transition to Secondary weapon system
Natural and improvised shooting positions
Barricade and obstacle shooting
Shooting from vehicles (Vehicle response to engagement with an active shooter)
Concealed shooting (off duty response to active shooter scenario)
Low light shooting techniques and using light to your advantage
Individual and team confidence enhancement shooting drills
Individual and team shooting and cover techniques as it applies to active shooter situations.
Psychological / Mindset training for the active shooter responder.
I am interested. My Dept is cutting back on training expenses so I may have to pay the tuition/airfair or gas myself but could go while on duty so at lest I will get paid while I am there. I'll see if the Sheriif will spring for the ammo. Is ball ok or does it need to frangible? As an LEO from Oregon can I bring an AR into California? I work with another deputy that might want to go as well. Thnaks,Russ
Russ,

Ball ammo is fine.... steel core M855/ss109 will not be good because of the richochet/fire hazard.

I dont see that there should be any problem with any LEO's bringing guns into the state. Our AWB has clear exeptions for the possesion of them by LEO's both on and off duty. Any LEO who permanently brings an assault rifle into Calif must register it withing 90 days, so even under that provision you would have no problem.

I would love to have some out of state brothers come to this....
Originally Posted By RUSS223:
I am interested.
Glad to here it and look forward to talking with you. I do believe this will be an awsome class, and our range facilities are very nice to boot!
I'd be interested. I don't know if I could make it happen or not yet, but I'd like to try. I am military, active duty Army, I know my unit will not cover any expenses for something like this. So everything would be done on my own. I'd be coming from Washington, would I not be allowed to use my personal AR? As I understand it, the State of California will not lawfully allow me to bring my AR into California, correct?
Originally Posted By ezterra:
I'd be interested. I don't know if I could make it happen or not yet, but I'd like to try. I am military, active duty Army, I know my unit will not cover any expenses for something like this. So everything would be done on my own. I'd be coming from Washington, would I not be allowed to use my personal AR? As I understand it, the State of California will not lawfully allow me to bring my AR into California, correct?
Per California Penal Code 12280,

(e) Subdivisions (a), (b), and (c) shall not apply to the sale to,
purchase by, importation of, or possession of assault weapons or a .
50 BMG rifle by the Department of Justice, police departments,
sheriffs' offices, marshals' offices, the Department of Corrections
and Rehabilitation, the Department of the California Highway Patrol,
district attorneys' offices, Department of Fish and Game, Department
of Parks and Recreation, or the

military

or naval forces of this
state or of the United States, or any federal law enforcement agency
for use in the discharge of their official duties.

So... I would say get a letter from your comander verifying your military status and stating that you are authorized to take the class for "official training" or something to that effect.
OK Guys... Good news...

Just got the word from our RSO...

Steel core ammo such as M855/SS109 or the Comm Block stuff for your AK's is ok to shoot. NO... I repeat NO tracer ammo tho (fire hazard and illegal in Calif.)
might be a stupid question, this only open for LEO's on CA?
Originally Posted By Novesh:
might be a stupid question, this only open for LEO's on CA?
Big negative there Ghost Rider....... as of this post we are looking at LEO's and Military personell from as far North as Washington and East to New Mexico considering doing this. If you are coming from out of state it might be wise to bring a "cover letter" from your commander stating this training is endorsed for your official purposes / training. This would be to satisfy the state laws AWB exceptions for LEO/Military.
Just wondering, been meaning to get a class in w/ these guys, but never been able to make it...and CA is kinda a hike w/ a trunk full of weapons ;)
Originally Posted By Novesh:
Just wondering, been meaning to get a class in w/ these guys, but never been able to make it...and CA is kinda a hike w/ a trunk full of weapons ;)
From PA, yeah I'd say so.... but would love ta have ya..
We'll see...maybe I'll ship them over, or get a flying pass

owell, at least the thought counts lol
Ok Guys,

As of today 08/31/2009 I am informed by Magpul Dynamics that only three (3) people have signed up for the class thus far. I know there are more of you than that who have expressed an interest to me via e-mail or replies on the web. If we are going to see this happen we need to get the minimum (18) signed up by 3 months prior to the class (about Nov 25,2009), otherwise Magpul will have to pull the plug on this to make the dates available for other engagements.

This will indeed be a unique training experience, so lets get it done and look forward to making many fine new friends.
PM sent
Pm returned..... Fell free to e-mail me at rkirk3d@msn.com
bumped
6 people registered now.
Email from Jill just to clarify the sign up and payment schedule....

Hi Rob,

We're up to 6 people in the class. I was just looking at the flier and it says that 18 people need to be paid up by Nov. but maybe you want to say 18 "registered". We don't bill credit cards until 30 days prior to the class. I'd hate to be scaring people away because they think they need to have the $600 up front. Just a suggestion.

JILL REYNOLDS
Training Administrator
Magpul Dynamics
www.magpuldynamics.com
1.877.4MAGPUL x 126
Email: jreynolds@magpul.com
A note on Logistics......

Payment: Just a thought but if you will notice Magpul will not be charging your credit card until 30 days prior to the class (mid January). Many of you will have filed for your income tax return by the time that bill arrives, so the problem will be solve in short order.

Ammo Transport: Any of you who buy ammo after late November when the class is set in stone can have it shipped to our range and they will hold it for you. When the time comes email me and I'll get you the details. This way all you gotta haul is guns n butts.
Update 09/17/09:

The class size is building, but we still need a few more so tell your friends. This class is shaping up to have a great cross section of people from LEO (Local and Federal) as well as various Military which we will be honored to have amongst us. I anticipate this not only being a great class, but a wonderfull oportunity to network with and meet some great people. Those who miss out may very well come to regret it on several levels.

Looking forward to meeting you all..

Rob
Class size has currently grown to 11 with two more I am aware of who will be signing up which will bring us to 13. This is shaping up well and I for one am looking forward to training with this group.

Keep the registrations comeing guys, we need at least 5 more..
A couple of pictures to wet the appetite....

One of the 50 yard ranges.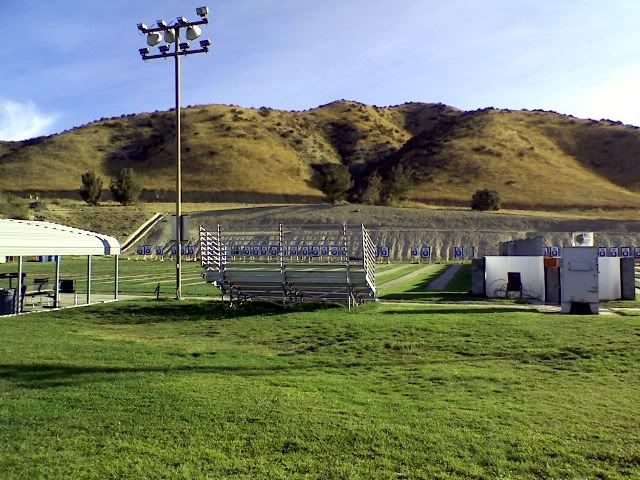 The 300 yard range.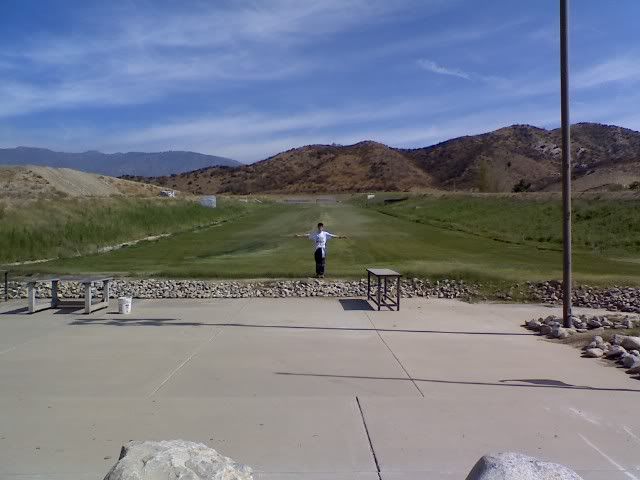 Update!!!

OK Guys (LEO/MIL Gals welcome too). We are not quite there yet with sign up, however if I was one of those who wanted to do this and had not yet signed up, I'd be getting nervous about availability.

Per Magpul the MAX CLASS size is 20. Last I knew we have 11 firm signups and there are 2 comp spots going to our range for use, putting us at 13. Only 7 spots left and I am aware of at least 3 others who are going to sign up, which will leave 4 more open, so things may get tight soon.

This will not be your ordinary "Carbine 2" class and I would hate to be one of those who missed out and regretted it later. If you have signed up but have friends still on the slow train, tell them to kick it into gear.
TWO spots left boys/girls!!!!!
Then its off to the standby list for any late comers... Looking forward to seeing those of you who made it.
CLASS IS FULL !!!!!!

STANDBY LIST HAS BEGUN WITH NAMES ON IT ALREADY!!!!
Ok Guys,

CLASS IS FULL!!!

Now it's time to get ourselves networked for the purpose of communication. If you are signed up for this class or are on the standby list please e-mail me directly at the below e-mail address to let me know who is in. I will do my best to keep everyone up to speed, and answer any questions I can.

Please send me:

Full Name / Department or Military Branch / Contact phone number / and if you are "IN" or "STANDBY". Of course I will have your e-mail address from this response.

I must say I appreciate the response from all of you in signing up for this class. There were many who doubted my sanity and the likelihood of pulling this off. I look forward immensely to meeting and training with all of you.

Sincerely,

Rob Kirk
rkirk3d@msn.com
Good job brother! Glad to see we have the class filled, it looks to be a kick ass class.
E-mail in bound with questions.
GOOD NEWS GUYS/GALS!!!! SECOND Class Announcement !!!!!

Due to the overwhelming demand for the First class (Feb 17-19, 2010), Magpul Dynamics and the San Bernardino County Sheriff's Academy will be offering a Second class for those who didn't get in it before it filled up. We were honored with the incredible response to this offering and look forward to seeing even more of you all out there.

The Second class will be on the following February 22-24, 2010 (Mon/Tue/Wed). This class is already partially full due to the "standby list" from the First class and there are many others who were interested and did not put themselves on the standby list. If you or a friend missed out on the first opportunity then you know to move fast on this final opportunity.

LINK:
http://www.magpuldynamics.com/training/schedule.shtml

CONTACT:
JILL REYNOLDS,
Training Administrator
Magpul Dynamics
www.magpuldynamics.com
1.877.4MAGPUL x 126
Email: jreynolds@magpul.com
bump......
Hey guys,

For those who may not be aware a Second class was scheduled to meet the overwelming interest in the First class. The dates for that class are Feb 22-24, which is the Mon/Tue/Wed the week following the first class.

I am told that there are 4 people who are on standby and can only schedule for the First class dates. If there are any of you who might be better off with the Second class dates, then you can call Jill to get moved to that class, as long as there are still openings . This would also free up spots for the First class for those on stanby who can only make those dates.

Looking forward to seeing you all there,

Rob
Ok every one.......



Only 5 spots left in the second class..!!!!



When I put out this message for the first class there were some who were waiting to see if the class would fill and ended up on the standby list, so don't miss this oportunity. We will not schedule a third class....
And yet again, the .mil is sending me to training while something good is going on locally. At least I'll get some 120mm trigger time out of it this go around.

Seriously though, no chance of a 3rd round?
Very tempting but I'll be doing two Bill Jeans classes with my dept in Feb/March and have to save my vacation/comp time to put myself through those.

Hey All,

Well, class time is approaching and just a reminder...... This is an advanced level class and we will all be expected to be proficient in our skills.

Lets all get our gear sorted out and weapons dialed in. For zero purposes, we will be doing most of our shooting at 50 yards or less, so use what ever zero best suits you for those ranges. The less time we spend the morning of the first day sorting things out, the quicker we'll be on to better things. The more up to speed we are up front, the more time we'll have for the good stuff towards the end of the class.

Looking forward to meeting and training with every one of you.

Rob Kirk